Dick Butkus, 1942-2023
The legendary football player and pitchman is gone at 80.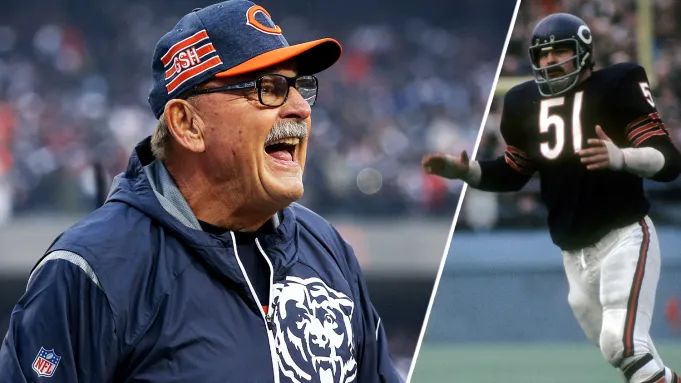 New York Times, "Dick Butkus, Fearsome Hall of Fame Linebacker, Is Dead at 80"
Dick Butkus, the Chicago Bears' famously hard-hitting Hall of Fame middle linebacker of the 1960s and '70s and a selection for the N.F.L.'s 100th anniversary all-time team, died on Thursday at his home in Malibu, Calif. He was 80.

The Bears confirmed the death but did not give the cause.

At 6 feet 3 inches and 245 pounds, good size for his era, Butkus stuffed running plays up the middle. He was also speedy and mobile enough to drop back and foil opponents' pass plays. He was cited as a first-team All-Pro five times and was chosen for the Pro Bowl game eight times. He was inducted into the Pro Football Hall of Fame in 1979, his first year of eligibility.

Sacks did not become an official statistic until 1982, so the number of times Butkus smothered opposing quarterbacks remains unrecorded. But he was considered to have intercepted 22 passes and recovered 27 fumbles while playing for the Bears from 1965 to 1973.

"When I went out on the field to warm up, I would manufacture things to make me mad," Butkus was quoted as saying by the Hall of Fame. "If someone on the other team was laughing, I'd pretend he was laughing at me or the Bears. It always worked for me."

Bill George, Butkus's predecessor as the Bears' middle linebacker, who was nearing the end of his own Hall of Fame career when Butkus was a rookie, believed he was destined for stardom. "The first time I saw Butkus, I started packing my gear," George once told The Chicago Tribune. "There was no way that guy wasn't going to be great."

Until the early 1950s, players in the middle of pro defensive lines were known as middle guards. They were hefty sorts charged mainly with stopping opponents' inside running games. George began transforming defenses by dropping back at times for prospective pass plays.

The middle linebacker position was glamorized in October 1960 when CBS aired "The Violent World of Sam Huff," narrated by Walter Cronkite, a portrayal of the Giants' star. Butkus was playing football for Chicago Vocational High School at the time as a fullback, linebacker, punter and place-kicker.

He gained national recognition in his own right as an All-American playing at linebacker and center for the University of Illinois for three seasons. As a junior, he led the Illini to an 8-1-1 record and a victory over the University of Washington in the 1964 New Year's Day Rose Bowl game.

In a 1964 cover story for Sports Illustrated, Dan Jenkins wrote that "if every college football team had a linebacker like Dick Butkus of Illinois, all fullbacks soon would be three feet tall and sing soprano."

Butkus was chosen by the Bears in the first round, third overall, in the 1965 N.F.L. draft and by the Denver Broncos of the American Football League in its second round. He went with his hometown team, a storied N.F.L. franchise owned and coached by the future Hall of Famer George Halas. In his rookie season, he intercepted five passes and recovered seven fumbles.

But the Bears fell on hard times during Butkus's years. They won 49 games, lost 74, tied four and never reached the playoffs. In his last few seasons, Butkus played on with a badly injured right knee despite having undergone surgery. In May 1974, having retired, he sued the Bears for $1.6 million, contending that the team had not provided him with the medical and hospital care it had promised in a five-year contract he signed in July 1973. The case was settled out of court.

Upon leaving football, Butkus pursued acting. In one of a series of Miller Lite television advertisement featuring athletes, he portrayed a tennis player who debated the beer's strongest point with Bubba Smith, formerly a star defensive end with the Baltimore Colts. The point of contention in the series was always: "Tastes Great! Less Filling!"

Butkus appeared in motion pictures, including "Necessary Roughness" (1991) and "Any Given Sunday" (1999). And he was a character in TV shows, including "My Two Dads" and "Hang Time."

Butkus played himself in "Brian's Song," a 1971 television docudrama about his teammate Brian Piccolo, a running back who had died of cancer a year earlier. He also appeared in an ESPN series, "Bound for Glory," which followed him for one season as he coached a high school football team.
ESPN, "Dick Butkus, Hall of Fame linebacker for Chicago Bears, dies"
Dick Butkus, arguably the fiercest Monster of the Midway, has died at age 80, the Chicago Bears announced Thursday.

Butkus became a Bears legend and Pro Football Hall of Famer in his nine-year career, which started in 1965. The middle linebacker was a vicious tackler whose intimidating presence put some players on their heels before the ball was even snapped.

In a statement released through the Bears, Butkus' family said he "died peacefully in his sleep overnight" at his home in Malibu, California.

"Dick was the ultimate Bear, and one of the greatest players in NFL history," team chairman George McCaskey said in a statement. "He was Chicago's son. He exuded what our great city is about and, not coincidentally, what George Halas looks for in a player: toughness, smarts, instincts, passion and leadership.

"He refused to accept anything less than the best from himself, or from his teammates. … His contributions to the game he loved will live forever and we are grateful he was able to be at our home opener this year to be celebrated one last time by his many fans."

The Bears took on the Commanders on Thursday night in Landover, Maryland, and a moment of silence for Butkus was held before kickoff.

Hall of Fame defensive end Deacon Jones once called Butkus a "maniac" and "well-conditioned animal." Butkus appeared to want to send a message with every tackle.

"I want to just let 'em know that they've been hit, and when they get up, they don't have to look to see who it was that hit 'em," Butkus once told NFL Films. "It shouldn't be any puzzle. When they come to, they got to say, 'It must've been Butkus that got me.'"

In a game against the rival Green Bay Packers during the 1970 season, Butkus and teammate Willie Holman hit quarterback Bart Starr so hard Starr lost his helmet and began walking toward the wrong bench.

Said the Chicago Tribune: "[Starr] looked like Oscar Bonavena after Cassius Clay [Muhammad Ali] had finished with him."

He made the Pro Bowl in eight of his nine seasons, but a chronic knee injury abruptly ended his career in 1974 at age 31.

"Dick Butkus was a fierce and passionate competitor who helped define the linebacker position as one of the NFL's all-time greats," NFL commissioner Roger Goodell said in a statement Thursday. "Dick's intuition, toughness and athleticism made him the model linebacker whose name will forever be linked to the position and the Chicago Bears.
Fittingly, the Bears snapped a 14-game losing streak last night, shortly after his passing was announced.
I didn't start paying attention to football in a serious way until a couple years after Butkus retired, so my only memories of him as a player come from NFL Films, where he was a constant presence. I almost certainly first came to know him from those iconic Miller Lite commercials.