Chelsea Manning's Short Tenure as Harvard Fellow Terminated
The Harvard Kennedy School pulled its Visiting Fellowship from the controversial figure after predictable outcry.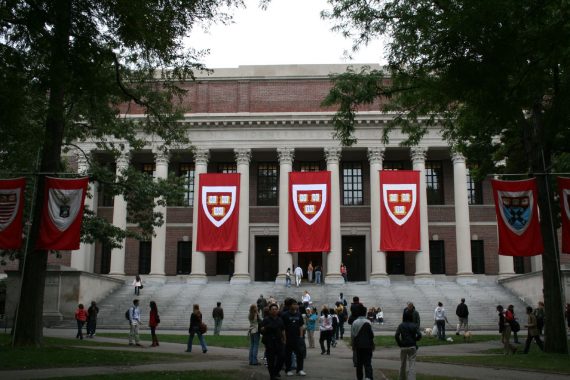 Chelsea Manning, who in her previous identity as Army Private First Class Bradley Manning committed espionage against the United States, had her fellowship at Harvard's Kennedy School revoked after a mass outcry.
I first heard of the controversy yesterday evening, after former acting CIA director Mike Morrell resigned in protest:
Former CIA Acting Director Michael Morell announced his resignation Thursday as a senior fellow at the Harvard Kennedy School of Government over its hiring of Chelsea Manning as a visiting fellow.

"Unfortunately, I cannot be part of an organization — the Kennedy School — that honors a convicted felon and leaker of classified information, Ms. Chelsea Manning, by inviting her to be a Visiting Fellow at the Kennedy School's Institute of Politics," Morell wrote in a letter to the school's dean, Douglas Elmendorf.

"Ms. Manning was found guilty of 17 serious crimes, including six counts of espionage, for leaking hundreds of thousands of classified documents to Wikileaks, an entity that CIA Director Mike Pompeo says operates like an adversarial foreign intelligence service," Morell wrote.

Pompeo said in a letter to Harvard on Thursday that he backed Morell's decision, adding that he was withdrawing from a Harvard public forum later Thursday night.

While I have served my country as a soldier in the United States Army and will continue to defend Ms. Manning's right to offer a defense of why she chose this path, I believe it is shameful for Harvard to place its stamp of approval upon her treasonous actions," Pompeo wrote.
My initial reaction was to applaud Morell. But Elmendorf's explanation leads me to think that this was essentially a misunderstanding:
Some visitors to the Kennedy School are invited for just a few hours to give a talk in the School's Forum or in one of our lecture halls or seminar rooms; other visitors stay for a full day, a few days, a semester, or longer. Among the visitors who stay more than a few hours, some are designated as "Visiting Fellows," "Resident Fellows," "Nonresident Fellows," and the like. At any point in time, the Kennedy School has hundreds of fellows playing many different roles at the School. In general across the School, we do not view the title of "Fellow" as conveying a special honor; rather, it is a way to describe some people who spend more than a few hours at the School.

We invited Chelsea Manning to spend a day at the Kennedy School. Specifically, we invited her to meet with students and others who are interested in talking with her, and then to give remarks in the Forum where the audience would have ample opportunity—as with all of our speakers—to ask hard questions and challenge what she has said and done. On that basis, we also named Chelsea Manning a Visiting Fellow. We did not intend to honor her in any way or to endorse any of her words or deeds, as we do not honor or endorse any Fellow.

However, I now think that designating Chelsea Manning as a Visiting Fellow was a mistake, for which I accept responsibility. I still think that having her speak in the Forum and talk with students is consistent with our longstanding approach, which puts great emphasis on the value of hearing from a diverse collection of people. But I see more clearly now that many people view a Visiting Fellow title as an honorific, so we should weigh that consideration when offering invitations. In particular, I think we should weigh, for each potential visitor, what members of the Kennedy School community could learn from that person's visit against the extent to which that person's conduct fulfills the values of public service to which we aspire. This balance is not always easy to determine, and reasonable people can disagree about where to strike the balance for specific people. Any determination should start with the presumption that more speech is better than less. In retrospect, though, I think my assessment of that balance for Chelsea Manning was wrong. Therefore, we are withdrawing the invitation to her to serve as a Visiting Fellow—and the perceived honor that it implies to some people—while maintaining the invitation for her to spend a day at the Kennedy School and speak in the Forum.
While I remain of the view that Manning is a traitor to her country and did not deserve the presidential commutation she received in the 11th hour of the Obama presidency, I agree with Elmendorf that she is a noteworthy and controversial figure and that HKS students might gain something useful from having a dialog with her. Indeed, that might well be true of figures I find far more loathsome than Manning.
I would, however, go slightly further than Elmendorf in rethinking the policy of awarding the "Visiting Fellow" title to guest speakers. HKS is, at least in my limited experience with these things, an anomaly. When I hear the title "Visiting Fellow," I presume that the individual has a substantial relationship with the institution for a term of at least a semester and more likely at least an academic year. So, beyond being more careful not to award the honorific to particularly controversial figures like Manning, it simply ought not award it at all to those who simply come to spend a day at the institution.
If Merrell understood the practice and still resigned, he overreacted. If he simply misunderstood, though, one hopes that he is allowed to retract his resignation and remain with HKS. Certainly, the student body has even more to learn from his vast experience in government than they do from Manning.