Chris Christie Kills Hudson Rail Project
New Jersey's governor has killed a vital infrastructure project because of huge cost overruns. It's penny wise and pound foolish.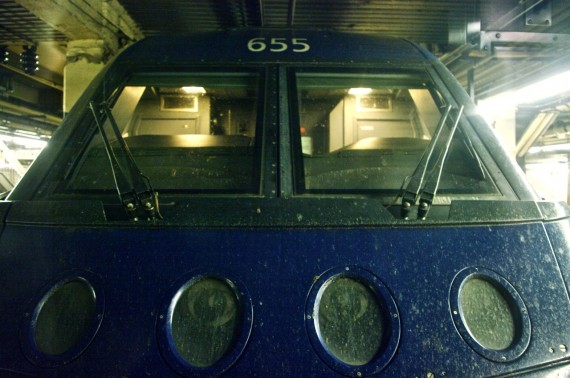 Chris Christie, a rising star in Republican politics who some are touting as a 2012 presidential contender has bolstered his fiscal conservative street cred.
The largest public transit project in the nation, a commuter train tunnel under the Hudson River to Manhattan, was halted on Thursday by Gov. Chris Christie of New Jersey because, he said, the state could not afford its share of the project's rising cost.

Mr. Christie's decision stunned other government officials and advocates of public transportation because work on the tunnel was under way and $3 billion of federal financing had already been arranged — more money than had been committed to any other transit project in America.

The governor, a Republican, said he decided to withdraw his support for the project on Thursday after hearing from state transportation officials that the project would cost at least $2.5 billion more than its original price of $8.7 billion. He said that New Jersey would have been responsible for the overrun and that he could not put the taxpayers of the state "on what would be a never-ending hook."

In scrapping the project, Mr. Christie is forfeiting the $3 billion from the federal government and jeopardizing as much from the Port Authority of New York and New Jersey. The state may also have to repay the federal government for its share of the $600 million that has already been spent on the tunnel.

The tunnel, which would have stretched under the Hudson from North Bergen, N.J., to a new station deep below 34th Street in Manhattan, was intended to double the number of trains that could enter the city from the west each day. The project's planners said the additional trains would alleviate congestion on local roads, reduce pollution, help the growth of the region's economy and raise property values for suburban homeowners.
Not shockingly, this decision has its critics.
Commuter trains so packed that passengers eye overhead racks as a tempting refuge from the crush; more cars on the road, making for longer traffic delays and dirtier air; billions of dollars in home value lost to suburbs more accessible to Manhattan and therefore more marketable; continued crushing property tax burdens; fewer income tax dollars in state coffers and an all-around grim long-term economic outlook for the state.

It is a doomsday scenario painted by critics of Gov. Chris Christie's decision to scrap construction of the trans-Hudson rail tunnel that had been planned by New Jersey Transit and approved under the former governor Christie unseated. Christie said he was acting on the recommendation of state transportation officials based on projections that the project, originally estimated to cost $8.7 billion, could top $14 billion, with New Jersey liable for the overruns in addition to the $2.7 billion the state had originally committed to the project under former Gov. Jon Corzine.

Proponents of the project said its benefits would have included a doubling of NJ Transit's 46,000-passenger rail capacity into New York, to 90,000, along with a reduction in car traffic that would have resulted in cleaner air, along with immediate and long range employment and economic benefits.

[…]

But Neysa Pranger, a spokeswoman for the Regional Plan Association, said Christie's decision "casts a dark shadow over the economic future of New Jersey." Canceling the project will effectively cost New Jersey homeowners $18 billion dollars. That's how much home values would have increased as a result of the tunnel's construction, according to a study by the planning association, based on the impact of three previous rail projects. The study found that the value of homes within a half mile of a rail station would have increased by $29,000, while homes within two miles would have appreciate by $19,000.

"When you're talking about property values, you're talking about creating a larger tax base, and a larger tax base means you don't have to raise property tax rates," Pranger said. "I feel like everybody knows and understands the merits of the project. I think the governor even understands the merits. It's just that he's stuck on this one very popular message that he's not going to spend any more money than he has."

[…]

A very real economic consequence of the decision, said Pranger, is that New Jersey will now have to come up with $200 million in federal funds already spent to return to Washington.

Jeff Tittel, executive director of the New Jersey Sierra Club, called the project's death sentence an "outrageous" decision that will hurt the environment, following estimates that the project would have taken 22,000 cars off the road, with an accompanying reduction in carbon emissions.
Paul Krugman declares this "arguably the worst policy decision ever made by the government of New Jersey — and that's saying a lot."
The story seems to be that Christie wants to divert the funds to road and bridge repair; but in so doing he would (a) lose huge matching funds from the Port Authority and the Feds (b) delay indefinitely a project NJ needs desperately ASAP. He could avoid these consequences by raising gasoline taxes. But no, taxes must never be raised, no matter what the tradeoffs.

And it's a social bad too: now is very much the time when we should be ramping up infrastructure spending, not cutting it.
Over at LOOG, David Schaengold adds:
Currently the tunnels used for this purpose operate at 100% capacity many hours every day, with the trains themselves at 100% capacity. It is impossible for any more people to commute into Penn Station from New Jersey at normal hours than currently do. Since Amtrak uses the same tunnels, it is also impossible at peak hours for any more people to take the train from Philly to Boston, say, or Providence to Washington, than currently do. Given the total economic dependency of northern New Jersey on Manhattan and the immense economic importance of Amtrak's Northeast Corridor to the entire Eastern United States, you'd think doubling capacity at this bottleneck would be an obvious thing to do. Especially if the federal government has already committed to the project the largest single transit-related grant in its history.
In a follow-up, Krugman counters the obvious "rail should pay for itself" rejoinder:
[U]rban transportation is an area in which we know that market prices bear very little relationship to true social costs. Even if you ignore environmental impacts and the national security implications of oil imports, the fact is that driving in an urban area, especially in rush hour, imposes huge congestion externalities on other people. And I mean huge: Felix Salmon had a nice piece last year putting the external cost you impose on other people by driving into lower Manhattan at $160 a day. (I can't find the reference, but Dave Barry once had an "ask Mr. Question Authority" about how long it takes to drive across Manhattan during rush hour. The answer was that nobody has ever succeeded in driving across Manhattan during rush hour.)
The project certainly seems like a no-brainer.  It's a project vital for New Jersey's economic growth and the Federal government and New York would pay for a large chunk of it.  But $2.5 billion is a lot of money and New Jersey is in crisis.   So, this is a case where long term good is trumped by short term realities.
Krugman is certainly right about the externalities issue.  People, like myself, who commute into big cities from the suburbs put a disproportionate strain on the infrastructure.  Most of our major cities — and especially those that long predate the automobile — are enormously congested.   Making rail more convenient is a no-brainer in those areas.  And it should be subsidized at least as much as driving.   Indeed, there's a good argument for allowing people to ride for free simply to encourage them to get off the road.
Funding transportation infrastructure of this sort is enormously complicated.   The benefits to people living in Montgomery, Alabama or Missoula, Montana are not obvious.  So, why should they pay for this?   At the same time, the benefits certainly go beyond New York and New Jersey and yet people in the immediate surrounding states are essentially free riding on the project.
Another issue is that these projects take decades.   That means costs are impossible to project with any accuracy.  And politicians are forced to either keep throwing good money after bad or waste all of the sunk costs.  There's got to be a better way.   But damned if I know what it is.