Chris Christie Reportedly Being Vetted For Spot As Trump's Running Mate
Chris Christie remains at the top of the list of potential Trump running mates.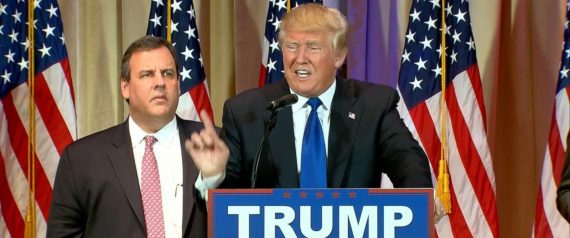 CNN is reporting that New Jersey Governor Chris Christie is among the apparently small group of people being vetted for possible selection as Donald Trump's running mate:
New Jersey Gov. Chris Christie — a former Donald Trump rival turned top defender — is being vetted as a possible running mate for the presumptive Republican nominee, a source confirmed to CNN on Thursday.

Christie has received the official paperwork for the vetting process, according to a source with knowledge of the process.

Trump has said he intends to announce his vice presidential nominee at the Republican National Convention in July in Cleveland.

The New York Times was first to report Christie's vetting.

Though Christie ran against Trump in the GOP primary, the two have been long-time friends and Christie quickly endorsed Trump and became a reliable presence at his events after dropping out of the race. The New Jersey governor has been one of Trump's highest-profile surrogates, continually defending him against critics.

When Trump was getting chastised by others in the GOP for his criticism of a federal judge over seeing a Trump University lawsuit, Christie said the billionaire was perfectly justified.

"In the end there are always going to be conflicts regarding civil lawsuits. People are always going to express their opinions. Those are Donald's opinions, and he has a right to express them," he said. "I can guarantee you that, you know, people who are going to vote today in (New Jersey) and people who are going to vote in November are not going to make their decision based upon this kerfuffle."

He added: "I've known him for 14 years and Donald Trump is not a racist."
The fact that Christie is being vetted shouldn't come a much of a surprise given the fact that his name was on the short list of potential running mates leaked by the Trump campaign earlier this month. As I noted at the time, Christie's presence on this list shouldn't really come as a surprise given the fact that he was among the first "establishment" Republicans to endorse Trump, and he did so when the outcome of the campaign was still very much in doubt. Additionally, Trump and Christie apparently have a personal and political relationship that goes back more than a decade as well as a combative political style that is arguably very compatible. Additionally, among the candidates on Trump's short list Christie would probably be the best at taking on the "attack dog" role typically left to the Vice-Presidential running mate, although Trump seems perfectly fine with being his own attack dog. Christie has also become a powerful figure within Trump's inner circle, serving as something of an Ambassador between the campaign and Republican Governors that he worked with when he was head of the Republican Governor's Association as well as an influential adviser within the campaign.
Despite all of that, it's not apparent what Christie brings to a potential ticket. His endorsement of Trump has disappointed fans among both the establishment and the conservative wings of the GOP, and his seeming obsequiousness has become the subject of jokes. Back home, Hillary Clinton's lead over Trump in the Garden State is so large that it seems unlikely that selecting Christie would have any impact on the race at all:
Hillary Clinton holds a dominating lead over Donald Trump in New Jersey, according to a new poll — although her lead narrows with Libertarian nominee Gary Johnson in the mix.

Clinton has 52 percent to Trump's 31 percent when just the two candidates are named, according to the Fairleigh Dickson University PublicMind poll released Wednesday.

When Johnson is also listed as an option, Clinton's lead shrinks. In that scenario, she gets 44 percent, with Trump at 32 percent and Johnson at 9 percent.

The Libertarian nominee particularly cuts into Clinton's support among women and white voters.

About 6 in 10 New Jersey voters expect Clinton to win in November, while just 27 percent expect Trump to win.
The same poll also shows that Christie's job approval numbers back home stand at a pathetically low 26% while President Obama's are more than twice as a high at 54%. In other words, Trump can forget about Christie coming anywhere close to helping him win New Jersey, because that's simply not going to happen.
All that being said, selecting Christie would seem to be something that would fall right in with everything we already know about Trump. As I said, the two men already seem to get along very well, and that seems to be something that goes a long way with Trump. Additionally, Christie would arguably give Trump some of the credibility that Trump lacks among the "establishment" wing of the GOP and, perhaps, help to recruit the support of Republican Governors and donors who have, so far, stood on the sidelines so far this this election cycle. It will still be several weeks before we know who the running mate selection will be, but Christie should be kept at the top of the list.