Chris Christie Turned Down Request To Appear With Romney Last Night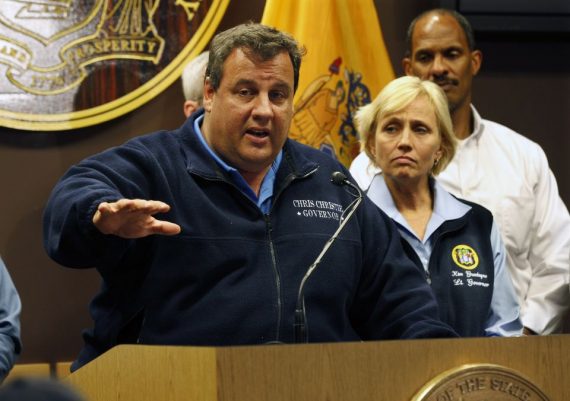 In the immediate aftermath of Hurricane Sandy, Chris Christie said that he didn't "give a damn about Election Day," in the light of the disaster that was inflicted upon his state. In case anyone doubted it, we now know that the Romney campaign asked Christie to appear at a rally in Pennsylvania last night and Christie turned them down:
New Jersey Gov. Chris Christie, who was effusive in his praise of President Barack Obama when the two leaders toured damage from Hurricane Sandy last week, turned down a request by Mitt Romney to appear with him at a rally on Sunday night in Pennsylvania, The Huffington Post has learned.

Christie's decision will only add to questions among Republicans about what the governor — who is up for reelection a year from now — is thinking, and why he went out of his way to heap praise on the president, and then refused to appear with Romney.

The Romney rally was held at a farm in Morrisville, Pa., not more than 20 minutes from Trenton, the New Jersey capital. The physical proximity of the event to New Jersey only added to questions in the Romney campaign about why Christie chose not to come.

"You can't tell me he couldn't have gone over there for a night rally," a Romney campaign source told HuffPost.
Well, anonymous Romney source, perhaps this is why:
An aide to Christie, who agreed to speak to HuffPost about the governor's decision in exchange for anonymity, noted that New Jersey still has 700,000 people without power, the state is on an odd-and-even day gasoline rationing system, there is still massive flooding in parts of the state, and many residents remain displaced.

"The entire shore is devastated," the Christie aide said. "And if you're here on the ground, you have an appreciation of how tough it is."

"All in all, it's a lot of things that require focus. We're moving toward sort of a new normal here in New Jersey," the aide said. "The governor's been pretty clear that his number one priority is the safety and security of New Jerseyans and all his efforts are focused on Hurricane Sandy recovery right now."
Indeed, although my Dad recovered power Saturday monring, there are still several thousand people in my former hometown without power and several small towns around it where as many as 75-99% of the customers serviced were without power as of that last status update, and this is in an area that is relatively safe distance from the shore and about a hundred miles from where the storm made landfall. That story is repeated in many locations up and down the Jersey coast.
I really don't know what it is about Christie that these people don't understand. When the storm hit and it's full impact became known, he made a commitment to the people of his state. Showing up at a rally in Pennsylvania while 700,000 of them still don't have power and may of those are still trying to find a way to stay warm as temperatures plunge below freezing would have been breaking his word.
Update: Another Christie adviser, speaking on the record, says that the Romney campaign never contacted the Governor:
Boston (CNN) - An adviser to Chris Christie is flatly denying a report that the New Jersey governor turned down an offer from the Romney campaign to appear at a Sunday night campaign rally in Pennsylvania.

Asked if the Romney campaign extended the invitation, longtime Christie confidante Bill Palatucci answered with a simple "No."

(…)

Palatucci said no one from the Romney campaign reached out.

"They knew better than to ask given the situation here," Palatucci told CNN.
Interesting.
Update #2: Christie is denying the report in a Tuesday press conference, and blasting the Romney staffers who made the false claim.