Clinton Clinches Democratic Nomination, Multiple Media Outlets Project
An historic achievement.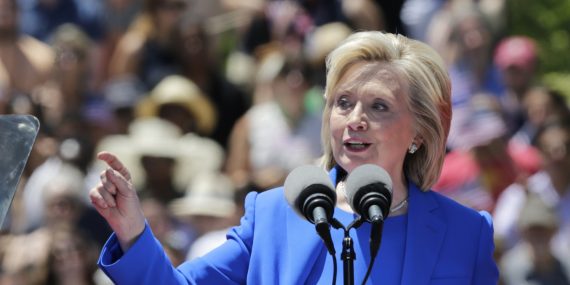 In a somewhat surprising development late yesterday, the Associated Press, NBC News, and CNN all independently projected that Hillary Clinton had obtained the support of a sufficient number of delegates to win a majority on the first ballot at the convention in Philadelphia, making her the first female Presidential nominee of a major party in American party:
Hillary Clinton became the first woman to capture the presidential nomination of one of the country's major political parties on Monday night, according to an Associated Press survey of Democratic superdelegates, securing enough of them to overcome a bruising challenge from Senator Bernie Sanders and turn to a brutal five-month campaign against Donald J. Trump.

In a yearlong nomination fight full of surprise twists, from the popularity of Mr. Sanders to the success of Mr. Trump, the revelation that Mrs. Clinton had clinched the nomination was another startling development — especially coming on the eve of major primaries in California, New Jersey and other states. Mr. Sanders added to the drama by refusing to accept the A.P. survey and vowing to fight on, while Mr. Trump argued that he had done more for women than Mrs. Clinton.

Mrs. Clinton was ebullient but also restrained as she received the news at an uncanny moment — almost eight years to the day after she ended her campaign against Barack Obama before a crowd of many teary women and girls. On Monday night, she shared the breakthrough with a jubilant audience at a campaign stop in Long Beach, Calif.

"I got to tell you, according to the news, we are on the brink of a historic, historic, unprecedented moment, but we still have work to do, don't we?" Mrs. Clinton said. "We have six elections tomorrow, and we're going to fight hard for every single vote, especially right here in California."

Like Mr. Obama eight years ago, Mrs. Clinton clinched the Democratic nomination with the support of hundreds of superdelegates — the party insiders, Democratic officials, members of Congress, major donors and others who help select the nominee. Under Democratic rules, these superdelegates — approximately 720 in all — are allowed to back any candidate they wish and can change their allegiance any time before theDemocratic National Convention in July.

Mrs. Clinton has had relationships with many of the superdelegates for years, and her campaign began seeking their support as soon as she entered the race last spring. Mr. Sanders, by contrast, has struggled to win their backing.

Mrs. Clinton and Mr. Sanders competed most aggressively for so-called pledged delegates — the roughly 4,000 delegates won through state primaries and caucuses.

The A.P. declared Mrs. Clinton the presumptive nominee by reaching out to superdelegates who had not announced which candidate they were supporting, and confirming that enough were backing Mrs. Clinton to get her to the magic number of 2,383.
But her aides were reluctant to proclaim the race over, for fear of depressing turnout on Tuesday — especially in California, where the race remains close — or appearing to take the victory for granted.

Robby Mook, Mrs. Clinton's campaign manager, said the A.P.'s call was "an important milestone" but indicated Mrs. Clinton did not intend to declare victory until Tuesday night, when she "will clinch not only a win in the popular vote, but also the majority of pledged delegates."

Advisers to Mr. Sanders took a dim view of the math. He previously said he would lobby Clinton superdelegates to shift their support to him by arguing that he is the party's best chance to defeat Mr. Trump, and he particularly plans to target those superdelegates who represent states where Mr. Sanders won primaries and caucuses.

The advisers, speaking on the condition of anonymity, said Mr. Sanders was aiming to win the California primary on Tuesday to bolster his argument to superdelegates that he is the stronger and more popular candidate than Mrs. Clinton.

Mr. Sanders, speaking on Monday night at a rally in San Francisco, did not acknowledge the news that Mrs. Clinton had clinched the nomination, and instead defiantly vowed to continue his candidacy to the convention. But he also made clear that Tuesday's vote was make or break for the future of his campaign.

"Tomorrow is the most important primary in the whole Democratic nominating process — we are going to win here in California," Mr. Sanders said. He added that if he could win the Tuesday contests in California, North Dakota, South Dakota, New Mexico, Montana and do well in New Jersey, his campaign would be "going into that convention with enormous momentum."
As I said, the announcement last night came as something of a surprise to the political media and appears to have caught the Clinton campaign slightly off-guard in that they don't appear to have been expecting that it would be the results of the New Jersey Primary tonight that would officially put Clinton over the top and effectively bring the race to an end. Indeed, on some level one suspects that the Clinton campaign would have preferred that it be voters who put Clinton over the top rather than party officials, but a win is a win. In any case, it appears that what has happened is that a number of Superdelegates decided to come off the sidelines in the last week or so and support Clinton. With the announcement last night, which will quickly be followed by tonight's expected primary victories and a likely endorsement from the President and Vice-President which could come as early as tomorrow, it's likely that we'll see even more Superdelegates come to Clinton's side. Alternatively, the idea that we would see these delegates abandon Clinton for Sanders is quite simply implausible and silly. In the entire history of the "Superdelegate" system, it has never been the case that these delegates have gotten behind the second place candidate en masse. To suggest that they are going to do so this time for some unstated reason is to engage in a silly and implausible fantasy.
In any case, while Clinton's selection won't be official until the convention, it's still worthwhile to make note of the historical significance of what is happening here. For the the second time in eight years, one of America's major political parties has chosen a Presidential nominee from a segment outside of the historical mainstream for American Presidents. Eight years ago it was an African-American and today it is a woman. While I'm generally not a person to get hung up on demographics, there is something worth being proud of as an American when these archaic barriers are broken through even though I have serious policy differences with the candidates in question. In President Obama's case, the nomination and election of an African-American President was perhaps more significant given the long and incomplete story of race relations in the United States. However, the expected nomination of Hillary Clinton is also worth taking note if only because it look so long. Women have been eligible to vote nationwide for ninety-six years now. Great Britain elected their first female Prime Minister in 1979, Indira Ghandi took office for the first time in 1966, Canada had a female Prime Minister for a brief period in 1993, and Golda Meir took office in 1969. Whether she wins or not is for the voters to decide, but with her nomination Secretary Clinton has broken through a significant 'glass ceiling,' and that's a good thing for the country as a whole.