Clinton Email Server Contained Information Classified Above 'Top Secret,' Report Contends
New email headaches for Hillary Clinton, but it's not clear what impact they will have on the race for President, if they have any impact at all.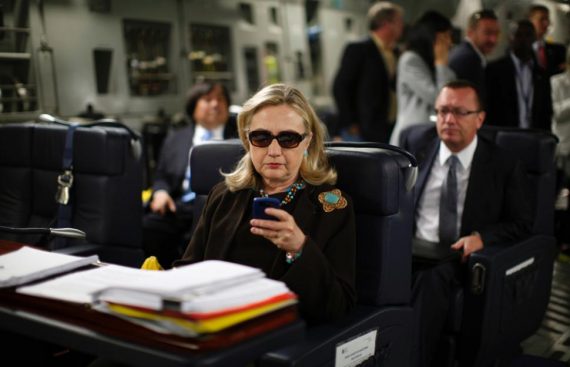 The latest revelations from the investigation into Hillary Clinton's use of a private email server while serving as Secretary of State reveals that an investigation of the emails on Clinton's server contained information at some of the nation's highest classification levels:
WASHINGTON — Intelligence officials reviewing emails on former Secretary of State Hillary Clinton's private computer server have found information they consider to be of a higher level of classification than "top secret," according to a letter sent to lawmakers last week by the intelligence agencies' inspector general.

The letter, dated last Thursday, says that some of the information in Mrs. Clinton's emails has been determined to be "top secret/SAP." That designation is usually given to information about "special access programs" — often intelligence-gathering programs and other secret programs run by the Pentagon and the C.I.A. — that are among the government's most closely guarded secrets.

The letter to Congress, from I. Charles McCullough III, the inspector general for the nation's intelligence agencies, provides no specifics about the classified material. It is not clear from the letter whether Mrs. Clinton sent or received the emails, nor how many contained the classified information.

Last year, the intelligence agencies found after the fact that two of Mrs. Clinton's emails contained information that was "top secret." The State Department disputed the determination, but it prompted an F.B.I. investigation into whether such information had been mishandled in connection with Mrs. Clinton's account. By law, classified information is not allowed outside government computer servers. The government has said that Mrs. Clinton is not a subject of the investigation.

The letter was sent to the Republican chairmen of the Senate Intelligence and Foreign Relations Committees. It was not made public.

"This is the same interagency dispute that has been playing out for months, and it does not change the fact that these emails were not classified at the time they were sent or received," Brian Fallon, a spokesman for the Clinton campaign, said.

"It appears that this may still revolve around a State Department employee forwarding a published news article about the drone program," he said. "If so, it would further reinforce how absurd it is to suggest that Secretary Clinton did anything wrong."
From the information released, it is unclear whether the information in question was marked as classified at the time it was sent or received, or whether the information was contained in emails that were sent to or received by Clinton herself. The first question is relevant, of course, because it would be quite a serious violation of the law if anyone were to knowingly send or receive information classified at any level via any means other than a secure government server. It's worth noting, however, that the relevant law also specifies that government employees have an independent duty to take care that classified information is not sent outside approved networks and means of transmission regardless of whether or not it is actually marked as classified. In that regard, several analysts have said in the wake of yesterday's reports that it would be self-evidence from the nature of the type of information that the Inspector General is talking about that it could have come from anywhere but classified sources and thus should not be transmitted on an unsecure network such as the private server that Clinton had set up to manage her email while Secretary of State. It's also unclear from the IG's remarks whether the information was contained in email sent to or by Clinton, or whether it was part of email sent or received by any number of the small handful of people close to Clinton who also had accounts on the private Clinton server, a group that included most of Clinton's closest advisers such as Huma Abedin.
News like this always sends the conservative blogosphere off on a tangent of potential criminal liability and the possibility of Clinton, or someone close to her, being indicted for mishandling of classified information in much the same way that General David Petraeus was when he was caught sharing information classified as "Top Secret" with the female biographer with whom he was having an affair. It's important to note, though, that we are at the very least very far away from that happening in this case. For one thing, while this matter is being investigated by the Federal Bureau of Investigation it's important to note that the agency has made clear that the present investigation is solely concerned with a broad investigation of whether classified information may have made its way onto Clinton's server and, if it did, how that happened and how it was handled. There has been no formal announcement or any indication at this point that any individual is being targeted by the FBI or any other agency. Second, it appears that many of the instances in which "classified" information has been found on the server have been instances in which the information was marked as classified after the fact during the course of reviewing the emails before they were released to the public. This would mean that there was no indication that the information in the email was classified at the time it was sent or received. As noted, this doesn't necessarily relieve a sending or receiving party from culpability for mishandling of classified information, but it does arguably change the nature of the activity in question. Finally, it's worth noting that this situation differs from the Petraeus case in that, at least from a distance, it appears to involve situations where classified information was being shared between and among people already authorized to have access to it. In the Petraeus case, the General shared information with someone who wasn't entitled to have it at all since her security clearance did not allow her to have access to the information in question. While this distinction doesn't necessarily relieve anyone of criminal culpability if the facts justify that, it is an important distinction that makes the attempt to analogize this to the Petraus affair disingenuous.
Leaving aside the issue of criminal culpability, though, any revelation that puts this story back in the news can't really help Hillary Clinton in either the short or the long term. It was revelations about the email server issue, after all, that helped contribute to the downturn that Clinton's campaign last summer. She managed to bounce back from those doldrums not the least because there was time for the story to be absorbed by the public in a way that it didn't do her any long term damage. With the next phase of the campaign about to begin in earnest, though, and Clinton already dealing with the fact that the Democratic race is becoming far more competitive than many believed it would be at this point, this is hardly the ideal time for something like this to come out. Even though there's little indication that Bernie Sanders' campaign intends to make a big deal out of these new revelations, they will be hanging out there at a time when Clinton can hardly afford the distraction. Whether that has an impact on the race going forward remains to be seen.