Clinton Grabs Big Endorsement A Week Ahead Of The Battle For California
Hillary Clinton is hoping to avoid an embarrassing loss in California to Bernie Sanders, and she just got some help from an unlikely source.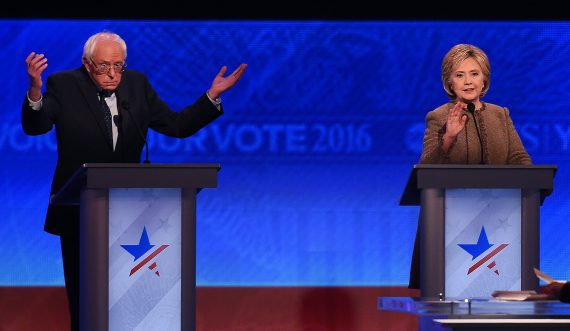 With the California primary a week away, Governor Jerry Brown has endorsed Hillary Clinton:
LOS ANGELES — Gov. Jerry Brown endorsed Hillary Clinton for president on Tuesday, intervening in the highly contested Democratic primary and telling voters she has the "tenacity and skill to advance the Democratic agenda."

"Democrats have shown, by millions of votes, that they want her as their nominee," he said.

But Mr. Brown's endorsement, which came one week before next Tuesday's primary in his state, also offered strong praise for Senator Bernie Sanders, who has been campaigning nearly full-time in California in an attempt to post a victory that might lift his long-shot battle to defeat Mrs. Clinton. In doing so, Mr. Brown took note of the similarities between the campaign the California governor ran for president in 1992 and Mr. Sanders's own appeal.

"He has driven home the message that the top one percent has unfairly captured way too much of America's wealth, leaving the majority of people far behind," he said in an open letter to Democrats and independents, who are permitted to vote in the primary. "In 1992, I attempted a similar campaign."

Mr. Brown lost that race to Mrs. Clinton's husband, Bill Clinton, in a contest that left lingering bitterness between the two men. Mr. Clinton met with Mr. Brown in his office in Sacramento last week, suggesting any remaining strain between the two political figures is easing.

But the governor, who is now 78 and midway through his fourth and final term as the state's chief executive, made it clear that more than anything, his decision was driven by his concern about Donald J. Trump, the presumptive Republican nominee.
The endorsement comes at a particularly important time for Clinton. While she presently leads Sanders in the polls out of California, the Vermont Senator has been quite a lot of time there recently and continues to promise that he will win the the California Primary as part of a plan to take his campaign against Clinton all the way to the Democratic National Convention in July where he seems to believe he would be able to convince Superdelegates to back him even though Clinton will walk into the convention with the most pledged delegates, the most popular votes, and seemingly the most credible case for Superdelegate support at the convention. As things stand, Clinton will formally clinch the nomination with a win in New Jersey, where Clinton has an overwhelming lead over Sanders, but it would obviously be somewhat of an embarrassment for her campaign if she were to lose the primary in the biggest state in the union, and one that her husband is largely responsible for turning blue thanks to his win there in the 1992 Presidential Election. Additionally, if Clinton is able to win in the Golden State it may well be the final straw necessary to convince Sanders that it's time to speak reality to his supporters and get them to rally to Clinton's side much as Clinton herself did eight years ago when her race against Barack Obama finally came to an end.
Brown's endorsement is likely to help Clinton's campaign if only because he remains relatively popular in the state after his victory in his re-election fight in 2014 and any edge that Clinton can get over Sanders in the Golden State is likely to help her. In the end, though, my guess is that Clinton will end up winning California rather easily even if the percentage difference between her and Sanders could end up being closer than expected. This victory, along with the fact that she will have clinched the nomination earlier in the evening ought to be the best signal available to demonstrate to Sanders that it's time to throw in the towel.
Incidentally, Brown's endorsement of Clinton is somewhat ironic considering the long-standing bad blood between him and the Clintons:
The endorsement was not easily won. Jerry Brown's relationship with the Clintons has been strained since his bitter primary race against Bill Clinton in 1992, when Brown called Bill Clinton "the prince of sleaze."

It was that year that Brown played a role not unlike the role Sanders is playing now, running as the outsider against the establishment, demanding the Democratic Party move in a more leftward direction and refusing to yield to the front-runner at a time party leaders were eager for unity.

At the party's 1992 national convention in New York , Brown supporters roamed Madison Square Garden with tape over their mouths, protesting what they said was the muzzling of their candidate by party leaders. They interrupted a speech by Hillary Clinton with shouts of "let Jerry speak."

"I've never known Jerry not to speak when he wants to speak," Clinton said at the time. "He's always speaking, near as I can tell."

The uneasiness still had not subsided by the time Brown had launched his campaign for governor, in 2010. His GOP rival at the time, Meg Whitman, quoted Bill Clinton to make her case that Brown had raised taxes during his first stint as governor.

Brown responded by pointing out that Bill Clinton lied about his philandering in the White House, mocking Clinton's notorious "I did not have sexual relations with that woman" line.

"Clinton's a nice guy, but who ever said he always told the truth?" Brown told a crowd at the opening of a Democratic Party office in East Los Angeles in 2010. "You remember, right? There's that whole story there about did he or didn't he. OK, I did — I did not have taxes with this state."
This bad blood in turn is rooted in comments Brown made during a debate with then Governor Bill Clinton during the race for the 1992 Democratic Presidential nomination:
Here's a longer view of the exchange:
Brown's allegations, of course, eventually became part of the myriad of real and alleged scandals that plagued the Clinton White House and Hillary Clinton's time as First Lady for the next eight year. The fact that Brown is endorsing Clinton now is, to say the least, very interesting.