Clinton Hoping For Win In Kentucky To Blunt Sanders Momentum
Hillary Clinton will be the Democratic nominee regardless of what happens in Kentucky and Oregon today, but her campaign is hoping for a win in Kentucky that puts an end to the repetitive stories about Bernie Sanders continuing to win primaries.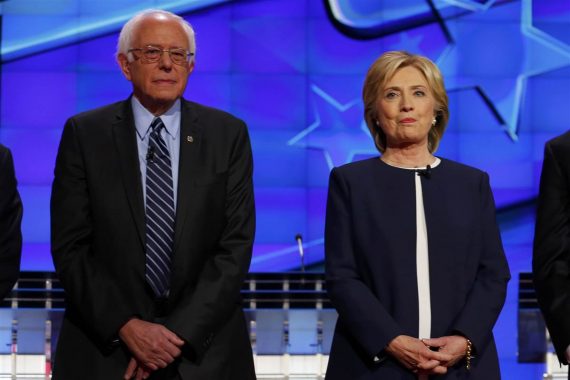 Repeating a theme that has been part of the Democratic nomination fight this year, Hillary Clinton is fighting to fend off another win by Bernie Sanders even as it remains the case that she will emerge from this contest as the Democratic nominee:
HOPKINSVILLE, Ky. — Hillary Clinton raced on Monday to fend off Senator Bernie Sanders on the eve of Kentucky's Democratic primary, hoping to avoid another show of weakness as she heads into an almost certain general-election fight with Donald J. Trump.

Mrs. Clinton snaked through a smoke-filled diner, and then she hopscotched around the state holding a series of rallies, where she urged Kentuckians to turn out to vote.

The fast-paced day, which included a combative exchange with an audience member who objected to her criticism of Kentucky's Republican governor, might have suggested a candidate fighting for survival.

Instead, Mrs. Clinton is all but certain to claim her party's nomination. But in the meantime, she would prefer to stop losing primaries, even if they are of little mathematical consequence.

Mrs. Clinton's husband, former President Bill Clinton, won Kentucky in both 1992 and 1996, and Mrs. Clinton trounced Barack Obama here in the 2008 primary. But this year's primary here is hard to predict: Polling has been scarce, and both she and Mr. Sanders have lavished attention on the state.

After visiting Kentucky last week, Mrs. Clinton on Monday wrapped up a two-day tour. She started her day in the western part of the state with a visit to the Lone Oak Little Castle restaurant in Paducah, where she was joined by Kentucky's secretary of state, Alison Lundergan Grimes.

"I'm excited about the primary tomorrow, but we got to turn a lot of people out," Mrs. Clinton said. "And I'll tell you this: I'm not going to give up on Kentucky in November."

Mr. Sanders campaigned in Puerto Rico on Monday, but over the weekend, he made several stops in Kentucky, including visits to Frankfort, Elizabethtown and Bowling Green.

At a rally in Paducah on Sunday, Mr. Sanders argued that he was the stronger candidate to defeat Mr. Trump. He also took aim at Kentucky's governor, Matt Bevin, a foe of the Affordable Care Act, saying they had stark differences over health care and education.

"If anybody in this room or in this state wants to know what kind of president I will be, take a look at Governor Bevin and what he is doing," Mr. Sanders said. "And then think about the exact opposite, and that's Bernie Sanders."

Mrs. Clinton, too, criticized Mr. Bevin, while showcasing the backing of his Democratic predecessor, Steve Beshear. At a rally here in Hopkinsville on Monday, she said Mr. Bevin was "just bent on destroying so much of what Kentucky has achieved."

Not long after, when a woman in the crowd objected to her criticism, Mrs. Clinton held her ground. "You are entitled to your opinion, but you're not entitled to your own facts," Mrs. Clinton fired back, adding: "It's time people stopped listening to Republican propaganda about the economy, education and health care."

Kentucky's primary is one of two Democratic contests on Tuesday. Oregon, which votes by mail, requires ballots to be received by Tuesday night, and the state's demographics favor Mr. Sanders. Kentucky is more competitive, and it poses another test of how much Mrs. Clinton can attract white working-class voters, who have been receptive to Mr. Sanders's populist message.

On Monday, Mrs. Clinton appealed to voters who have fond memories of her husband's administration. "I want to help bring back the kind of economy that worked for everybody in the 1990s," she said at the diner.

Losses in Kentucky and Oregon would not imperil her grip on the Democratic nomination, but Mrs. Clinton is in the awkward position of running two campaigns at once: urging voters to turn out in the primary while also laying out arguments geared toward a face-off with Mr. Trump in November.
The actual state of the race in Kentucky is anyone's guess at this point given the relative lack of polling. The most recent poll in the state was conducted at the beginning of March and showed Clinton with a five point lead, but that's hardly indicative of anything given the fact that it was taken so long ago. In the time since that poll was taken, Bernie Sanders has continued to stubbornly rack up wins even as Clinton inches closer to a delegate majority. Perhaps more importantly, it was after that poll that Clinton made her remarks about the coal industry that caused her so many troubles in last week's West Virginia primary. Given the fact that coal is also an important part of Kentucky's economy, it's anticipated that voters will not exactly be turning out to vote for Clinton, although she probably won't be harmed as much by the comments this week as she was last week. Notwithstanding those remarks, Clinton's ties to the state, which go back to Bill Clinton's victories there in 1992 and 1996, apparently have her campaign hoping that she can pull off a win there that will at least avoid another week of headlines about Sanders winning even as she gets closer and closer to achieving a goal that's been within her grasp for the past decade. Clinton has spent the week fighting hard in Kentucky and that could help her pull off a win, but the coal comments will obviously hurt her so the outcome is likely to be close if she does.
There is similarly sparse polling in today's other Democratic contest in Oregon, and one recent poll even shows Clinton leading Sanders by fifteen points, but the lack of any contemporaneous polling makes it impossible to tell is that poll is accurate or an outlier. Moreover, the general assessment seems to be that Oregon's Democrats are more like other states that Bernie Sanders has won than states that Clinton has won both demographically and politically. Even the Clinton campaign appears to concede this since the candidate has spent very little time in the state and the campaign spent the week concentrating its resources on the race in Kentucky. For this reason, most analysts expect Sanders to win here. If Clinton does win, though, you can expect the pressure on Sanders to step aside to increase.
Regardless of what happens today, of course, Clinton will continue her march toward winning the nomination unabated. As thing stand today, she is a mere 142 delegates away from clinching a majority of convention delegates if you include Superdelegates and 666 delegates away if you don't. Sanders, meanwhile, is 909 delegates away from a majority if you count Superdelegates and 949 if you don't. Based on those numbers the outcome of the race is rather obvious, the only question is how quickly Clinton will get there. Even under the most difficult scenario for her, she will likely go over the top with the final primaries on June 7th, and that will happen whether she wins or loses going forward thanks to the Democratic Party's proportional delegate allocation rules. Obviously, her campaign would prefer to go out on a series of wins rather than limping across the finish line. In the end, though, a win is a win and Clinton is going to win this race. The only question is when.