Clinton Wins Puerto Rico Primary, Inches Closer To Clinching Democratic Nomination
Closer to making history.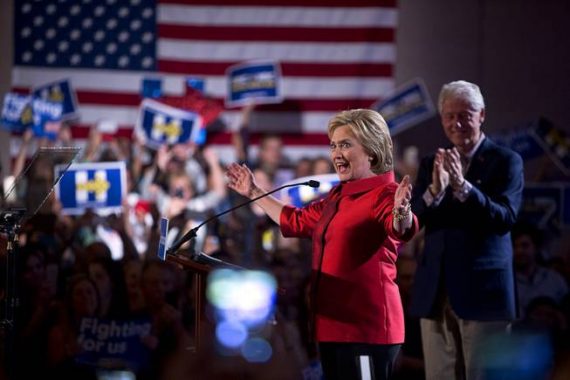 As expected, Hillary Clinton easily won the Puerto Rico Primary yesterday, putting her one step closer to winning the nomination as a whole:]\
Hillary Clinton is claiming victory the Democratic presidential primary in Puerto Rico, putting her very close to the number of delegates she needs to clinch her party's nomination.

The Associated Press reports Clinton led Bernie Sanders by a wide margin in Puerto Rico's vote Sunday. After a blowout victory Saturday in the U.S. Virgin Islands and a decisive lead in Puerto Rico, Clinton is now less than 30 delegates short of the 2,383 needed to win the nomination, according to an AP count.

"I'm for Hillary, girl," said 83-year-old Candida Dones. "I can't wait for a female president. She's one of us. She wears the pants. If we don't look out for our own interests, who will?"

The results were slow to arrive on Sunday, as officials counted ballots by hand and focused first on releasing results tied to the island's local primary elections, said Kenneth McClintock, Puerto Rico's former Democratic National Committeeman.

As the results from Puerto Rico trickled in, Clinton maintained a steady 2-to-1 lead over Sanders.

Sunday evening, Clinton posted a celebratory tweet about her victory: "We just won Puerto Rico! ¡Gracias a la Isla del Encanto por esta victoria!"

While Puerto Rican residents cannot vote in the general election, the island's politics could reverberate into the fall campaign. Tens of thousands of Puerto Ricans have left the island to escape a dismal economy, with many resettling in the key electoral battleground of Florida.

Both Clinton and Sanders spent Sunday campaigning in California, the biggest prize among the five states voting on Tuesday. Clinton told an enthusiastic crowd at Greater St. Paul Baptist Church in Oakland the country is "getting indifferent to the great toll of gun violence," while Sanders made a series of stops in Los Angeles before an evening rally in San Diego.

"Sorry to disturb your brunch," Sanders said at Hamburger Mary's, taking the microphone during their "drag brunch" as disco lights swirled inside. "I just wanted to say that on Tuesday as you all know there is a very important Democratic primary here in California. And my hope is that everyone will stand up and make clear it is too late for establishment politics."
As with her victory in the Virgin Islands on Saturday, Clinton's victory in Puerto Rico yesterday was largely expected and it appears that the win puts her within 25 delegates of winning the nomination. Absent the announcement of a new round of Superdelegate endorsements today, it's now basically inevitable that Clinton's expected win in New Jersey tomorrow, which will likely be announced shortly after polls close in the Garden State at 8:00pm Eastern time, will also come with the unofficial projection that she has in fact won enough delegates to clinch the nomination and, no doubt, a celebration at whatever location Clinton has chosen to spend Tuesday night. Clinton, of course, has already begun to move on to the General Election phase of the race, with most of her recent attacks and campaigning being directed at Donald Trump rather than Bernie Sanders even as Sanders continues to challenge her in California and continues to insist at least publicly that he will take the fight all the way to the convention.
Notwithstanding that rhetoric, there seem to be at least some signs that some of Sanders' advisers are beginning to recognize reality:
A split is emerging inside the Bernie Sanders campaign over whether the senator should stand down after Tuesday's election contests and unite behind Democratic front-runner Hillary Clinton, or take the fight all the way to the July party convention and try to pry the nomination from her.

One camp might be dubbed the Sandersistas, the loyalists who helped guide Mr. Sanders's political ascent in Vermont and the U.S. Congress and are loath to give up a fight that has far surpassed expectations. Another has ties not only to Mr. Sanders but to the broader interests of a Democratic Party pining to beat back the challenge from Republican Donald Trump and make gains in congressional elections.

Mr. Sanders in recent weeks has made clear he aims to take his candidacy past the elections on Tuesday, when California, New Jersey and four other states vote. But the debate within the campaign indicates that Mr. Sanders's next move isn't settled.

For now, Democratic officials, fund-raisers and operatives are getting impatient, calling on Mr. Sanders to quit the race and begin the work of unifying the party for the showdown with the Republican presumptive nominee.

Orin Kramer, a New York hedge-fund manager who has raised campaign funds for both President Barack Obama and Mrs. Clinton, said with respect to Mr. Sanders's future plans: "I would hope people would understand what a Trump presidency would mean and act accordingly—and 'accordingly' means quickly."

(…)

Tad Devine, a senior Sanders strategist who advised Democratic nominees Al Gore in 2000 and John Kerry in 2004, among others, suggested the "path forward" is uncertain, hinging on the outcome in California and other states that have yet to vote. He voiced a conciliatory note, describing how the two campaigns might set aside differences that have grown more pronounced in the heat of the year-long campaign.

"What will happen hopefully when the voting is done, our two campaigns will begin to talk once more to one another and figure out where the common ground is," he said.

Campaign manager Jeff Weaver, who has worked in Mr. Sanders's congressional offices and Vermont-based campaigns dating to the mid-1980s, takes a more aggressive approach.

Mr. Weaver has long been one of the more tenacious loyalists on Team Sanders, having sparred repeatedly with Democratic National Committee chairwoman Debbie Wasserman Schultz over the party's treatment of the Sanders campaign.

A victory in California and elsewhere on Tuesday would "strengthen" the argument for the nomination, Mr. Weaver said, but it isn't necessary to keep the candidacy alive through the convention.

"The plan is as the senator has described it: to go forward after Tuesday and keep the campaign going to the convention and make the case to superdelegates that Sen. Sanders is the best chance that Democrats have to beat Trump," Mr. Weaver said. "The trajectory is the same regardless of the outcome in California."
To a large degree, Sanders' decision at least in the short term is likely to be influenced by the outcome of Tuesday's primaries. A win Tuesday evening, especially in delegate-rich California, would likely fuel Sanders determination to stay in the race notwithstanding the fact that the numbers are most assuredly not on his side and the odds that "Superdelegates" will suddenly switch loyalty from Clinton to him. This would be an understandable reaction, especially given the fact that Sanders seems to recognize the mistakes he has made during the course of this campaign that have made it easier for Clinton to win and to repel his momentum several times during the course of this race. In the end, though, as I detailed yesterday, the "Superdelegate" strategy seems to be as doomed to failure as the rest of Sanders' campaign. If Sanders loses in California, his choice would seem to be a lot easier, and one could easily see him following the same path Hillary Clinton did in 2008 after it was apparent that she could not win a delegate majority against Barack Obama. As you will recall, back then Clinton did not concede the race for the nomination the night of the final primaries but instead made the announcement that she was suspending her campaign several days later, followed by a unity rally with then Senator Obama in New Hampshire. In that regard it is worth noting that the Democratic race does not technically end until June 14th with the primary in the District of Columbia. Sanders may choose to wait until after that primary to officially announce anything vis a vis his campaign. Whatever day it happens, the inevitable concession is coming whether Sanders wants to admit it publicly or not.