Coaching Through Tragedy
How two head coaches got struggling NFL teams ready to play one day after the shocking death of a teammate.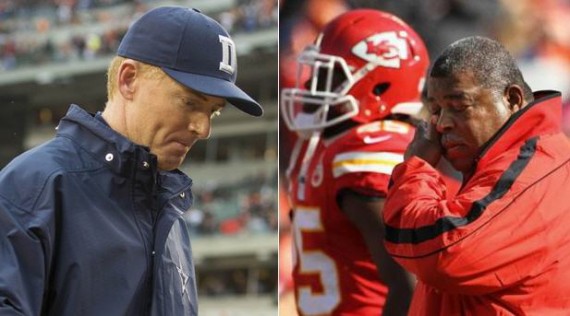 Two weeks in a row, a struggling NFL team had to deal with the shocking death of a player one day before playing a football game. Two head coaches got them ready.
ESPN's Todd Archer recounts how 46-year-old Dallas Cowboys coach Jason Garrett went about it this past weekend:
When the Cowboys arrived in Cincinnati on Saturday night, coach Jason Garrett met with his captains Tony Romo, DeMarcus Ware and Jason Witten to discuss how the team would proceed after learning of the death of teammate Jerry Brown.

"I talked to our players about, 'Hey, guys, what do you want to do Saturday night? Do you want to have a team meeting? Do you want to have offensive and defensive meetings? Is that the right thing to do? Is that the wrong thing to do? Does routine helps us? Does it hurt us? Just tell me what you think. I'm not going to stand here and say, This is the way you handle it. I can't say that I know the way to handle it,'" Garrett said. "But I know collectively when we talked about it and worked our way through it, I think everybody was together on how we're going to handle it."

The Cowboys kept the Saturday routine as normal as possible with the exception of a 25-minute special teams meeting. Offensive and defensive meetings were shortened.

"Afterwards we had a snack in the dining room, encouraged everybody to go in there and hang out with each other," Garrett said. "Some guys chose not to. A lot of guys did and kind of hung out and were together. Another thing I said at the outset of the meeting was if anybody wants to leave this meeting, leave the next meeting, you don't feel up to hear all this stuff, leave. Do whatever you need to do. I'm not telling you how to handle anything. I'm just saying we are here for each other. If you feel like you don't want to be a part of this, if you want to walk out of the room and take a moment for yourself, you do that. There were no restrictions. There wasn't a lot of structure. We just tried to handle it the best we could all together."
Garrett is in only his second full season as a head coach and he's still growing into the role in a football sense. But this strikes me as an incredibly deft show of leadership under an impossibly difficult circumstance. Romeo Crennel, a 65-year-old grizzled veteran of the league, took a similar approach just one week earlier, when linebacker Jovan Belcher committed suicide right in front of him. SI's Dennis Dillon:
During his 31 seasons in the NFL, Crennel has been a three-time Super Bowl-winning defensive coordinator for the New England Patriots, the head coach of the Cleveland Browns for four seasons and the defensive coordinator-turned-interim head coach-turned head coach of the Chiefs. None of that vast wealth of experience, however, prepared him for the shocking event that happened on Saturday morning.

[…]

After gathering his players together, Crennel had to tell them what had happened. Then the team had to decide whether to proceed as usual and play a football game the next day.
Although the question first was put before the team's captains, the consensus of the entire team, to a man, was to play. As it turned out, it was a therapeutic experience because it allowed players and coaches alike to take their minds off of what happened on Saturday, even if it was only a temporary relief.

[…]

The story line on Sunday was an emotionally hurting group of players coming together under the leadership of a strong, even-keeled man who hurt more than anyone else.

"You can measure a man by how he faces adversity," said Lilja, one of the last players in a Chiefs locker room that emptied quickly after the game. "That tells you all you need to know about Coach."

Despite witnessing a scene that could scar him mentally for the rest of his life, the soft-spoken, mild-mannered Crennel somehow managed to switch back to his role as leader of this football team and give it the emotional nourishment it so badly needed.

"I did the same thing that I always do," Crennel said after the game. "I'm thoughtful about what is important, what I think they need to hear, what they need to know, and then I tell them that. The thing that helped me the most was talking to them yesterday morning and telling them about the circumstance. We were able to lean on each other a little bit and let a little bit out. By letting a little bit out, that helped us all get through what we had to get through."
Athletic coaches tend to adopt an authoritarian style of leadership. That's especially true in football, where the physical grind of the game requires constantly pushing through pain and fatigue. Yet, both Crennel and Garrett instinctively shifted to democratic, affiliative styles. Most likely, they understood that they didn't have any better idea than their players how to deal with a situation that's not in any playbook.