Coates Ad: Obama Forcing Seniors into "Government Run Healthcare"
Dan Coates has an ad that makes a claim that should make your head explode.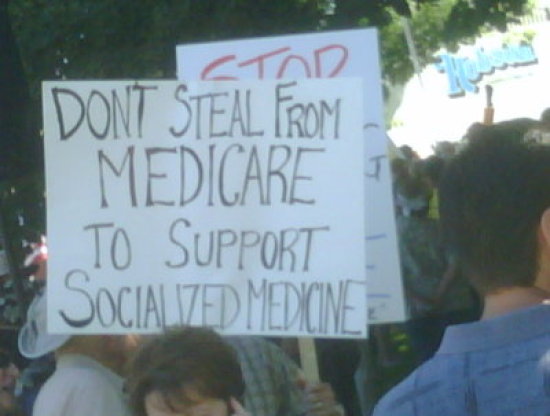 To follow up on Alex Knapp's post on Roy Blunt's campaign commercial that asserted Obama health care bill :"cuts Medicare to pay for government run healthcare" we have another example from the Dan Coates campaign.  Coates is the GOP candidate for Senate in Indiana.
In his commercial the following statement is made:  "Ellsworth voted with Nancy Pelosi to force seniors into Obama's government run healthcare program."
The commercial is here (clip at about :17):
Such claims ought to make our heads explode.  For those who are missing the point, I would note that Medicare is government-run healthcare, indeed, moreso than what the healthcare bill created, which was really health insurance reform, but within a system of private insurance (remember:  no public option).  Medicare is essentially government provided health insurance for all persons 65 and older and it is a universal program once one hits the target age.
Beyond that, the healthcare reform didn't force seniors into anything, as they were already under Medicare, healthcare bill or no.  In short:  the ad is criticizing government involvement in healthcare by extolling the value of a government healthcare program.  As such, this tactic plays on the popularity of government involvement in healthcare.
One can debate the specifics of the healthcare billor the methods by which it is funded, but these are reality-bending claims.
I know that commercials are extremely brief and therefore cannot go into complex policy issues, but is it too much to ask for a little intellectual honesty?  Yes, I know the answer to that question and it is Sisyphean to even make such a plea.  Still, this kind of this has the quality of claiming that black is white and that up is down.
It would not surprise me if the ads come from the same agency:  the basic style is the same and each using the "that's wrong" tagline after describing what Obama/the opponent has done/supported.
Beyond just the parallel universe quality of the claims, these ads do underscore a point I have continually made in various places for years:  the GOP makes noise about what to shrink government, but they also know that program like Medicare are extremely popular and that they won't be able to cut them.  Further, their voters claim that they want massive cuts and government out of their lives as long as the government keeps its hand off of Medicare, of course! (not to mention to make sure that we have a strong national defense!  And don't close that military base in my town, and please don't cancel that defense contract that employees so many in my state.  Oh, and the bridges on the local interstate are a disgrace!  And the list goes on).