Trump takes to USAT to Attack Medicare for All
Fear-mongering of various types on full display.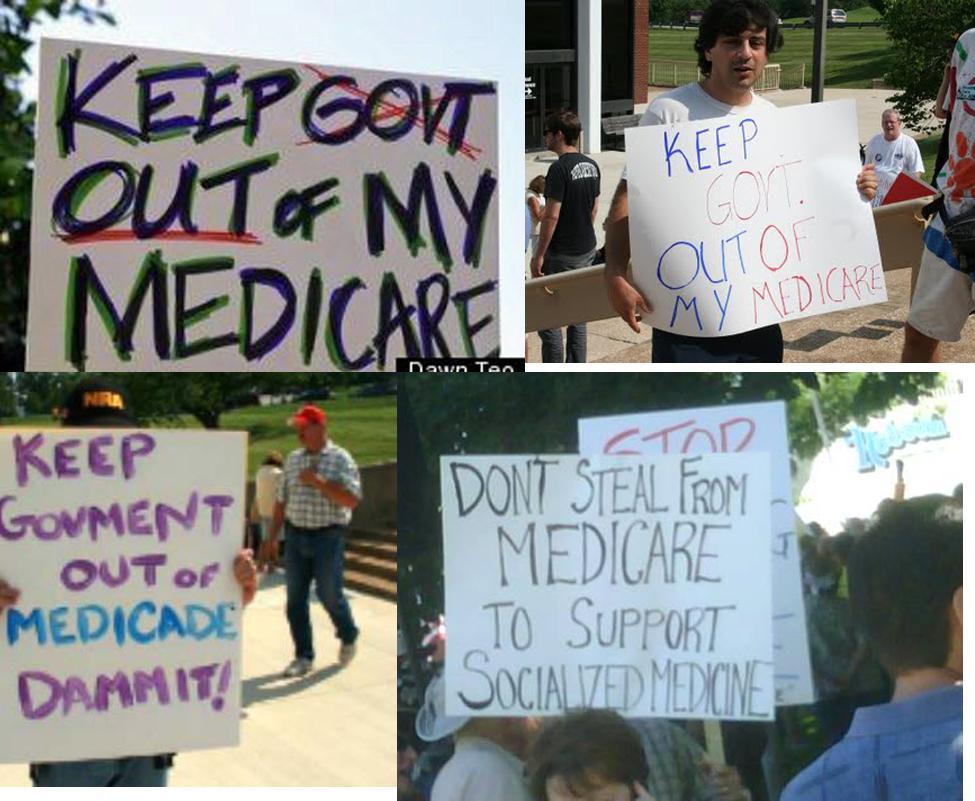 President Trump has an op/ed in USAT that is remarkable:  Donald Trump: Democrats 'Medicare for All' plan will demolish promises to seniors.
I am not a fan of these types of op/eds signed by the president (any president) because we all know full well that the president almost certainly didn't write the thing (in this case, I am certain of that assertion) and because they almost always nakedly propagandistic vehicles draped in the clothe of an official statement (but, in some ways, I suppose that can describe a lot, if not all, of presidential statements to one degree or another). My only exception are when they are used in the wake of some national tragedy.  This, however, is naked electoral politics.
Regardless of how one might wish to classify these kinds of missives, this one is doozy. It is a melange of scare tactics and misrepresentations.   The foundational scare tactic is that the Democrats are going to take away Medicare for seniors:
The Democrats' plan means that after a life of hard work and sacrifice, seniors would no longer be able to depend on the benefits they were promised. By eliminating Medicare as a program for seniors, and outlawing the ability of Americans to enroll in private and employer-based plans, the Democratic plan would inevitably lead to the massive rationing of health care. Doctors and hospitals would be put out of business. Seniors would lose access to their favorite doctors. There would be long wait lines for appointments and procedures. Previously covered care would effectively be denied.

In practice, the Democratic Party's so-called Medicare for All would really be Medicare for None. Under the Democrats' plan, today's Medicare would be forced to die.

The Democrats' plan also would mean the end of choice for seniors over their own health care decisions. Instead, Democrats would give total power and control over seniors' health care decisions to the bureaucrats in Washington, D.C.
So, we have the specter of rationing, loss of favorite doctors, the collapse of the medical industry, and a not so subtle reference to death.  There is also a clear attempt to pretend like Medicare isn't already a federal social welfare program currently targeted at persons of a certain age and that "Medicare for all" would mean, at least in simple terms, the same kind of program without age restrictions. (Also, anyone with an even passing familiarity with Medicare as it currently exists knows that one does not always get the doctor one wants and, further, anyone with private insurance knows that private-sector bureaucrats frequently make cost-based decisions about care).
Now, there are arguments to be had against "Medicare for all" but the notion that universal health care, which every industrial democracy has had for decades (some with systems like Medicare for all, many with very different systems), leads to the collapse of health care is simply false.   And while I understand that politics is very frequently about emotion and not policy facts, this piece really relies very heavily on the former.
To wit:
The truth is that the centrist Democratic Party is dead. The new Democrats are radical socialists who want to model America's economy after Venezuela.

If Democrats win control of Congress this November, we will come dangerously closer to socialism in America. Government-run health care is just the beginning. Democrats are also pushing massive government control of education, private-sector businesses and other major sectors of the U.S. economy.

Every single citizen will be harmed by such a radical shift in American culture and life. Virtually everywhere it has been tried, socialism has brought suffering, misery and decay.
I am no defender of the Venezuela created by Hugo Chávez and worsened by Nicolás Maduro. The Venezuela economy is unequivocally a man-made disaster.  It certainly illustrates any number of terrible consequences of the insertion of government fiat into the marketplace.  There is no excuse for the shortages of food and medicine that occurred.  That was purely created by governmental decisions.  The degree to which Venezuela is the ideal type for socialism that many make it out to be is another discussion.  (It isn't, by the way, and I say that not as a defender of Venezuela, nor of socialism but, rather of accuracy).  For that matter that op/ed uses "socialism" is a pretty amorphous way, which is almost amusing in context since Medicare itself is a social welfare program that has itself been attacked as "socialism."
But, of course, it gets worse (emphasis mine):
Indeed, the Democrats' commitment to government-run health care is all the more menacing to our seniors and our economy when paired with some Democrats' absolute commitment to end enforcement of our immigration laws by abolishing Immigration and Customs Enforcement. That means millions more would cross our borders illegally and take advantage of health care paid for by American taxpayers.
So, not only are Democrats trying to infuse socialism in Medicare, they plan to give it away to illegal immigrants.  Also note:  Medicare isn't a "commitment to government-run health care" but Medicare for all would be.  How this is the case, I do not know.
And, in case one still hasn't got the message:
Today's Democratic Party is for open-borders socialism.
The piece concludes:
Republicans believe that a Medicare program that was created for seniors and paid for by seniors their entire lives should always be protected and preserved. I am committed to resolutely defending Medicare and Social Security from the radical socialist plans of the Democrats. For the sake of our country, our prosperity, our seniors and all Americans — this is a fight we must win.
I could, perhaps, take an attack on "radical socialist plans" that focused on purely market-driven policies.  However, to pretend like social welfare programs that, by definition, share social cost and benefits, as somehow a counter to "socialism" is pretty amazing.  Also:  while it is true that we have all paid into these systems our whole lives, we have been paying for current recipients, not towards our own retirement benefits or care.  There is a great deal of wealth transfer taking place in what is being presented as some bulwark against socialism.
One can have plenty of principled arguments for opposing Medicare for All or other universal healthcare proposals.  That it will be ushering in the Venezuelan economy while at the same times allowing Latin hordes to invade and get free health care, however, is not one of them. That argument is racist scaremongering.  Further, to pretend like Medicare isn't social welfare is flatly absurd, making this column the prose equivalent of those "keep the government our of my Medicare" signs.
See, all, via WaPo:   Fact-checking President Trump's USA Today op-ed on 'Medicare-For-All'  (I would recommend listening to the Reagan clip from 1961 to note a) how his predictions did not come to pass, and b) how much his arguments then are still being used now).