Colin Powell Shoots Back At Dick Cheney Over Book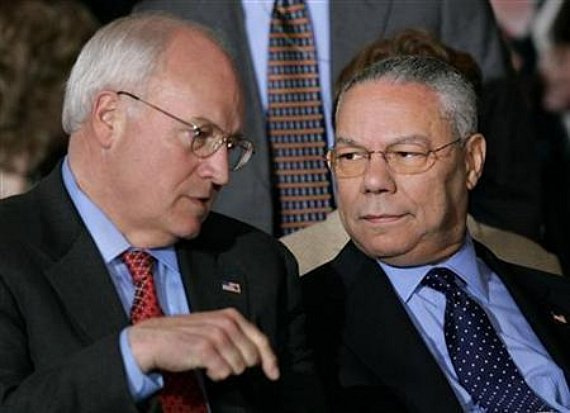 Back during the days of the George H.W. Bush Administration, Colin Powell and Dick Cheney were colleagues. Cheney was Secretary of Defense and Powell as Chairman of the Joint Chiefs of Staff and, along with President Bush, they successfully guided the United States through its largest military engagement since the end of the Vietnam War. Something changed along the way, though, and by the time the two served together in the second Bush Administration the relationship was quite different, a fact that Cheney made quite apparent in his upcoming book:
Just as reporters and former administration insiders have noted that dissenting opinions tended to be unwelcome in the Bush White House, so Mr. Cheney demonstrates here a distinct antipathy toward people who opposed him on matters of policy. Colin L. Powell — who clashed with Mr. Cheney over Iraq and who was characterized in one of Bob Woodward's books as thinking that "Cheney took intelligence and converted uncertainty and ambiguity into fact" — is repeatedly dissed in this volume. Mr. Cheney says he "thought it was for the best" that President Bush had accepted Mr. Powell's resignation as secretary of state in 2004; he says that Mr. Powell handled policy differences not by voicing objections in meetings, but "by criticizing administration policy to people outside the government."
Powell shot back yesterday in an appearance on Face The Nation:
Former Secretary of State Colin Powell said Sunday that former Vice President Dick Cheney took "cheap shots" in his forthcoming memoir, and that he was taking his aggressive promotional techniques "a bit too far."

Powell, speaking on CBS' "Face the Nation," targeted Cheney's claim that the book, "In My Time," would "make heads explode."

"My head isn't exploding, I haven't noticed any other heads exploding in Washington, D.C.," Powell pointed out. "From what I've read in the newspapers and seen on television it's essentially a rehash of events of seven or eight years ago."

In fact, Powell suggested, the most notable thing about the book was Mr. Cheney's characterization of it.

"What really sort of got my attention was this way in which he characterized it: it's going to cause heads to explode," he said. "That's quite a visual. And in fact, it's the kind of headline I would expect to come out of a gossip columnist, or the kind of headline you might see one of the supermarket tabloids write. It's not the kind of headline I would have expected to come from a former Vice President of the United States of America."

He added: "I think Dick overshot the runway."

Powell also took issue with Cheney's claim that, during his tenure as Secretary of State, he declined to fully present his positions to former President George W. Bush.

"Mr. Cheney may forget that I'm the one who said to President Bush, 'If you break it you own it,'" Powell said, referencing the administration's actions in Iraq. "I gave the president my best advice."

(…)

Powell implied that Cheney's characterizations in the book are a reflection of what was at the time a dysfunctional White House.
"I'm not going to attribute any emotion to Mr. Cheney in the writing of his book, but it was clear in 2004 that the team wasn't functioning as a team," Powell said. "It was not a smoothly functioning team at that point. … I felt that I had to leave the administration. And frankly, I always intended to just serve one term."
One possible explanation for Cheney's relentlessness in attacking the State Department in his book (he also goes after Condi Rice) may lie in the fact that Cheney was close friends with Donald Rumsfeld, and sided with him in most of the disputes between Defense and State over the Iraq War. In any case, if this book is any indication, it would seem clear that Cheney still refuses to admit that he made even a single mistake during his time as Vice-President. Which is perhaps his greatest failing.