Colorado Shootings Had Little Impact On Public Opinion On Gun Laws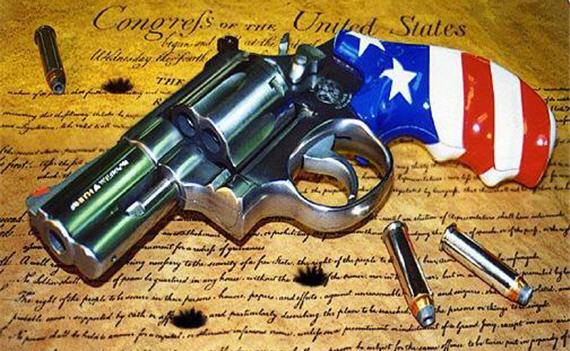 A new Pew Research Center poll indicates that the shooting in Aurora, Colorado has had no discernible impact in public opinion regarding gun rights and gun control:
A new poll shows Americans views on gun control unchanged after the movie theater massacre in Aurora, Colo. earlier this month, with the public almost evenly split on the need for more laws.

Forty-seven percent say it is more important to pass laws controlling gun ownership, while 46 percent say protecting Second Amendment rights are more important, according to a new Pew Research Center poll.

That figure is similar to results from the same survey taken in April which showed 49 percent prioritizing gun ownership rights and 45 percent calling for more gun control.

Most respondents saw the Aurora incident as an isolated event. Sixty-seven percent said such shootings were "the isolated acts of troubled individuals," while 24 percent said they "reflect broader problems in American society."

The poll found a sharp partisan divide over the issue, with self-identified Republicans prioritizing gun ownership rights by 71 to 26 percent. Democrats prioritize gun control restrictions by a 72 to 21 margin.

Independents are split with 50 percent wanting a focus on protecting gun rights and 43 on gun control.

The reaction in the aftermath of the July 20th Aurora shootings matches other gun massacres, the poll found.

"There was no significant change in the balance of opinion about gun rights and gun control after the January, 2011 shooting in Tucson, Arizona in which Congresswoman Gabrielle Giffords was injured. Nor was there a spike in support for gun control following the shooting at Virginia Tech University in April, 2007," said a Pew statement announcing the poll.
This isn't entirely surprising. Support for increased gun control has not been the majority opinion in the United States for some time, and while there was a slight uptick in support for restrictions on gun ownership in this poll, it's not clear that is a statistically significant move. Moreover, phenomenon such as the surge in gun purchases in Colorado in the wake of the shootings suggests that it's supporters of gun rights who are more strongly motivated on this issue. At best, this remains a 50/50 issue, but given the political power of organizations like the NRA it's unlikely we'll see restrictions on gun ownership become law any time soon.