Commercializing Juneteenth
The longstanding celebration that become a national holiday last year is being exploited for profit!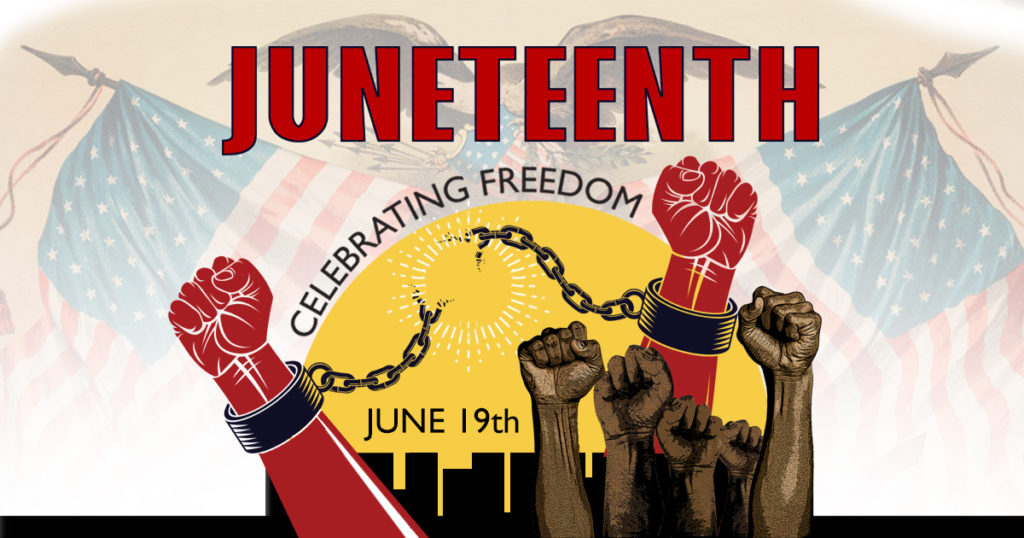 NPR's Jonathan Franklin says "Companies are selling Juneteenth branded products. Here's why that's a big problem."
From store-branded Juneteenth ice cream to Juneteenth-themed paper plates and party supplies, to even selling a Juneteenth watermelon salad, many large companies and brands are facing backlash for their efforts to commemorate the federal holiday signed into law last year.

Following its negative reaction on social media, Walmart pulled its special edition flavor of ice cream commemorating Juneteenth from shelves, with many critics calling out the retailer for capitalizing on the holiday for profit.

"There were several missteps with this. When you collectively look at all these missteps — the branding, the marketing, the visual rhetoric — you understand that there weren't Black creatives in the room that had a voice at the table," Christina Ferraz, founder and head consultant of marketing agency Thirty6five, told NPR.

Last month, the giant retailer apologized for selling its "Celebration Edition: Juneteenth Ice Cream" under its Great Value brand.

"Juneteenth holiday marks a celebration of freedom and independence. However, we received feedback that a few items caused concern for some of our customers and we sincerely apologize," the company said in its statement to NPR.

The Children's Museum of Indianapolis apologized and removed its Juneteenth-themed watermelon salad from its food court menu ahead of its Juneteenth Jamboree celebration.

"As a museum, we apologize and acknowledge the negative impact that stereotypes have on Black communities. The salad has been removed from the menu," the museum said in its statement. "We are currently reviewing how we may best convey these stories and traditions during this year's Juneteenth celebration as well as making changes around how future food selections are made by our food service provider."

But while companies are working continuously to remove their Juneteenth items off shelves, experts argue that companies who are selling and promoting Juneteenth-branded products are tone-deaf — claiming they are only profiting off Black suffering.

"When a corporation comes in, uses that further marketing march and then capitalizes off it and sells it, what we're seeing is modern-day colonialism," said Ferraz.

Experts say the true meaning of the commemoration can easily be lost through consumerism and widespread consumption.
Well, no shit. Welcome to America.
Look, rather obviously, rolling out watermelon and fried chicken themes to commemorate milestones in Black history is a blunder of epic proportions. I'm befuddled that people running a major museum didn't understand that.
But commercializing celebrations of events with deep meaning for people is a time-honored tradition.
Easter, the holiest day of the year for most American Christians, marking the resurrection of Jesus Christ after he died on the cross, is marked by weeks of sales of everything from chocolate bunnies to fashion accessories to kitchen appliances.
Memorial Day, on which we honor the Americans who gave the ultimate sacrifice in our nation's wars, is marked by a three-day extravaganza of markdowns on everything from mattresses to hardware to personal electronics.
And that's to say nothing of Christmas, on which there has been a longstanding war. It's quite possible your local mall is already decorated for it. Almost certainly, toy companies are already marketing for it.
Rather obviously, our nation has a long history of maltreatment of its Black population. Our original sin of slavery lasted some 250 years and that was followed by roughly another century of Jim Crow. Things have improved markedly in the last half-century but the fact that a Black Lives Matter movement exists would seem a decent indicator we have a way to go. So, I get the notion that these events are somehow more sacred. But that's just not how the world works.
To the extent there are Juneteenth celebrations, people will want to buy commemorative t-shirts, party favors, yard signs, and the like. Why not a limited-time-only ice cream flavor? Presumably, Black-owned businesses would have a marketing advantage but, since Black people shop at Walmart, too, of course the retailer is going to try to make money off the celebration. It's the American way.