Whitewashing Juneteenth
It's becoming just another day off work!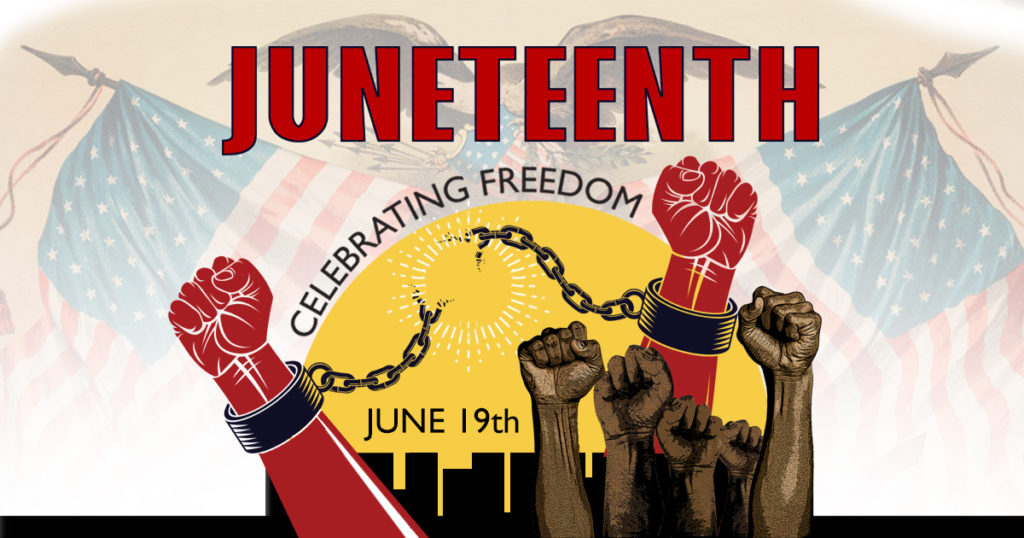 Ernest Owens takes to the Daily Beast to ask, "Can We Admit Mainstreaming Juneteenth Has Been a Disaster?"
On June 17, 2021, nearly a year after the murder of George Floyd, President Joe Biden thought it was a bright idea to make Juneteenth an official U.S. holiday—signing it into law, to be observed by all.

"Making Juneteenth a federal holiday is a major step forward to recognize the wrongs of the past," Senate Majority Leader Chuck Schumer (D-NY), said at the time, "but we must continue to work to ensure equal justice and fulfill the promise of the Emancipation Proclamation and our Constitution."

Sure, Chuck.

Growing up in Houston, Juneteenth—an event that commemorates June 19, 1865, as the day enslaved Black people in Galveston, Texas, learned they were free (more than two years after the Emancipation Proclamation had been signed)—was a Black holiday in my hometown.

I remember spending my summers down at Galveston Beach and watching the procession of decorated cars with live music proceed as the Jubilee parade commenced. I can still smell the tasty barbeque, remember the gallons of signature red soda passed around, and all that hot sauce doused on my plate as the red and blue Juneteenth flags were waved.

Juneteenth was our Fourth of July—a celebration which reminded me that the South still had something to say, and that Black people didn't have to wait for the validation of our white peers to gather around our history.

Since the racial uprisings of 2020, this sacred holiday has now become mainstreamed into something that now feels whitewashed, co-opted, and highly performative.

It's hard to witness something so personal in your life become ruined on the national stage—that's the current case with Juneteenth.

I started to notice it last year when Walmart thought it was being progressive when they released a red velvet and cheesecake-flavored Juneteenth ice cream with a Pan-African decorated carton.

Fun fact: Juneteenth has never incorporated African themed colors/designs as part of its official flag (organizers use red, white, and blue to replicate the U.S. and Texas state flags)—Walmart just couldn't help but pander to customers as a way to flex that they were recognizing Black people. The controversy led to the corporation to apologize and discontinue the line of tone-deaf ice cream, along with canceling other ill-advised Juneteenth-themed merchandise it was selling.

[…]

In so many ways, the desire to mainstream Juneteenth has now led to much of its press and publicity being met with pandering or controversy. It reminds me of Black History Month, when perhaps there was a moment in time in which America tried to take the shortest timeframe of the year seriously to acknowledge the contributions of Black people. Or perhaps Juneteenth has quickly descended into the rainbow capitalism vibes of Pride month—during which more of the festivities are being monetized for high visibility, without any intentional focus on the community.

Skip Corporate Juneteenth Branding, Invest in Black People

So, great, more people know about Juneteenth—but how does that actually ensure the very freedoms and concepts of emancipation for Black Americans that the holiday speaks of?

For what it's worth, symbolism will do nothing to liberate a marginalized group. At a time when racial disparities continue to worsen and white supremacy feels even more visibly prevalent—corporations and city/state governments bandwagoning on Juneteenth celebrations do very little to combat this reality.

As with Black History Month, I would like to see these powerful institutions actually put their money/policies/influence where their mouths are and let Black people celebrate Juneteenth in peace. Seriously, there are some things that should just be left alone.
I first learned that the Senate was even considering making Juneteenth a holiday two years and two days ago, when they did so unanimously. I first got the holiday off two days later—thus two years ago today—when President Biden signed it into law and put it into effect immediately. Then, as now, I'm at the beach. (The confluence of my short summer hiatus and all of the kids' school or work schedules aligning is rather brief.)
People were already complaining about the commercialization of Juneteenth the second time it was a national holiday. In fairness to American capitalists, they simply didn't have enough notice to commercialize it the first time. As I wrote then,
[C]ommercializing celebrations of events with deep meaning for people is a time-honored tradition.

Easter, the holiest day of the year for most American Christians, marking the resurrection of Jesus Christ after he died on the cross, is marked by weeks of sales of everything from chocolate bunnies to fashion accessories to kitchen appliances.

Memorial Day, on which we honor the Americans who gave the ultimate sacrifice in our nation's wars, is marked by a three-day extravaganza of markdowns on everything from mattresses to hardware to personal electronics.

And that's to say nothing of Christmas, on which there has been a longstanding war. It's quite possible your local mall is already decorated for it. Almost certainly, toy companies are already marketing for it.

Rather obviously, our nation has a long history of maltreatment of its Black population. Our original sin of slavery lasted some 250 years and that was followed by roughly another century of Jim Crow. Things have improved markedly in the last half-century but the fact that a Black Lives Matter movement exists would seem a decent indicator we have a way to go. So, I get the notion that these events are somehow more sacred. But that's just not how the world works.
The good news is that there's nothing stopping Owens and others from putting on a Jubilee parade with all the trimmings. And, hell, maybe it'll catch on—it sounds like a hoot.
And, while I get the desire for Black Americans, especially those whose families have been here long enough to have endured enslavement, to want to keep this day for themselves, there's something to be said for its absorption into the broader culture. That Black history is American history should simply become instinctive.