The Steady Decline of News
The business of the media is business. Business is not good.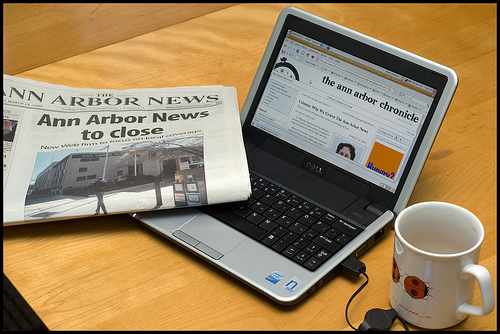 The business of the media is business.  Business is not good.  For more than a decade now, the Internet has been squeezing the profit out of newspapers and news magazines. Not only has the proliferation of online content made it next to impossible to get people to pay for any but the most unique and time-sensitive information but Craig's List and others have taken over most of the old advertising business newspapers in particular rely on.  Two stories in the New York Times today show that things are only getting worse.
John Herrman ("Media Websites Battle Faltering Ad Revenue and Traffic"):
The business of online news has never been forgiving. But in recent weeks, what had been a simmering worry among publishers has turned into borderline panic.

This month, Mashable, a site that had just raised $15 million, laid off 30 people. Salon, a web publishing pioneer, announced a new round of budget cuts and layoffs. And BuzzFeed, which has been held up as a success story, was forced to bat back questions about its revenue — but not before founders at other start-up media companies received calls from anxious investors.

"It is a very dangerous time," said Om Malik, an investor at True Ventures whose tech news site, Gigaom, collapsed suddenly in 2015, portending the flurry of contractions.

The trouble, the publishers say, is twofold. The web advertising business, always unpredictable, became more treacherous. And website traffic plateaued at many large sites, in some cases falling — a new and troubling experience after a decade of exuberant growth.

Online publishers have faced numerous financial challenges in recent years, including automated advertising and ad-blocking tools. But now, there is a realization that something more profound has happened: The transition from an Internet of websites to an Internet of mobile apps and social platforms, and Facebook in particular, is no longer coming — it is here.

[…]

Audiences drove the change, preferring to refresh their social feeds and apps instead of visiting website home pages. As social networks grew, visits to websites in some ways became unnecessary detours, leading to the weakened traffic numbers for news sites. Sales staffs at media companies struggled to explain to clients why they should buy ads for a fragmented audience rather than go to robust social networks instead.
This is a disturbing trend. Not only is the revenue being extremely concentrated into a duopoly, but it's going to the distributors rather than the creators. Neither Google nor Facebook are writing the things we want to read, but they're making all of the money. Distributing is cheap. Creating is expensive. Not shockingly, it's having a major—and I would argue negative—impact on content creation.
Jim Rutenberg ("For News Outlets Squeezed From the Middle, It's Bend or Bust"):
Earlier this month, a couple of inventive young go-getters at BuzzFeed tied enough rubber bands around the center of a watermelon to make it explode. Nearly a million people watched the giant berry burst on Facebook Live. It racked up more than 10 million views in the days that followed.

Traditional journalists everywhere saw themselves as the seeds, flying out of the frame. How do we compete with that? And if that's the future of news and information, what's next for our democracy? President Kardashian?

Grandkids: It was not so long ago — oh, say, five, maybe six years — that traditional news organizations like this one could laugh at BuzzFeed's gag along with everyone else, smugly secure. An exploding watermelon was just an exploding watermelon.

These days, however, news articles — be they about war, voting rights, the arts or immigration policy — increasingly inhabit social media feeds like thefrighteningly dominant one that Facebook runs. They are competing for attention against zany kitchen experiments; your friend's daughter's bat mitzvah; and that wild video of a train whipping through a ridiculously narrow alleyway in India.
That entertainment often trumps serious content is hardly a new phenomenon. We had sensationalism and Yellow Journalism more than a century ago. And even during the heyday of professionalized news, there were always sports pages, crosswords, comics, and other amusements. But, increasingly, the latter are simply driving out the former. And some prominent voices are arguing that it should happen more quickly.
We may not yet be the watermelon. But executives who run news organizations almost universally say that we'd all better find our own watermelons — and find them yesterday.

It means big changes are coming fast in the way major news institutions present their journalism, what that journalism includes, and how decisions are made about what to include. The goal: to draw big, addicted audiences.

A lot of it is being done in the rushed panic that comes with the demands of quarterly earnings. And yet, given the highest calling of the news industry — hold politicians to account, unearth corruption — the importance to our political and civic life could not be greater.

A good way to understand the fast-evolving thinking is to check in on people who are trying to build a news and information business from scratch. I did that last week over breakfast with Jim VandeHei, a co-founder of Politico, and Mike Allen, one of the site's best-known journalists. Both are also veterans of The Washington Post.

Mr. VandeHei, who stepped down last week as Politico's chief executive, and Roy Schwartz, the company's departing chief revenue officer, have been seeking potential investors and video and television partners. Mr. Allen is for the time being continuing to write his vital morning tip sheet at Politico, "Playbook," seven days a week.

When I met with Mr. VandeHei and Mr. Allen, they were tight-lipped about their next venture. They would only describe it in the broadest terms, as "a media company" that will focus on news and information, exist largely on mobile devices and social media, and not directly compete against Politico.

But that was O.K. for my purposes. I was more interested in hearing what this venture wouldn't be doing. Their answers may require a trigger warning for the proudly ink-stained set.

It starts with Mr. VandeHei's admittedly provocative proposition that "journalists are killing journalism." They're doing this, he says, by "stubbornly clinging to the old ways." That's defined as producing 50 competing but nearly identical stories about a presidential candidate's latest speech, or 700-word updates on the transportation budget negotiations.

Survival, Mr. VandeHei says, depends on giving readers what they really want, how they want it, when they want it, and on not spending too much money producing what they don't want.

It's not only about creating big audiences for advertisers, he and Mr. Allen said. It's about convincing already-inundated audiences that they want what you're producing, and they want it so badly that they will pay for it through subscriptions. That's essential as advertising revenue drops to levels that will not support robust news gathering.
VandeHei certainly has a point on the noise inherent in the standard business model. Fifteen years or more into the age when most news stories are available to everyone with an Internet connection, we no longer need ever single outlet to produce the same banal story about the political horse race or the latest goings on in Congress.  But I'm not sure the alternative is to have everyone racing to find the next Grumpy Cat or exploding watermelon video.
In the days of media as gatekeepers, it was taken for granted that it was the job of the press to give people the news they needed, not just the news they wanted. But we're quickly shedding that conceit:
Through real-time analytics, reporters and editors know how many people are reading their work and through which devices and sites, how long those readers are sticking with it, and what they're ignoring. Screens featuring these analytics are increasingly showing up, prominently, in American newsrooms, including those of The New York Times and The Washington Post.

This is the biggest and least talked about development in traditional print media as it converts to digital: It now has ratings, just as television does.

The findings from these ratings have been fairly consistent. Videos, podcasts, short items of interest that can be read easily on smartphones, and almost anything with the words "Donald Trump" rate well. Perhaps counterintuitively, deeply reported features and investigative pieces like The Times's coverage of ISIS' brutality or its nearly 8,000-word article about one man's lonely death in Queens can draw readership levels that were never possible in the print-only era.

That's a big deal, and in Mr. VandeHei's and Mr. Allen's view — as well as those of the bosses at The Times, The Post and elsewhere — it shows that big, important work will prove more valuable than fun stunts that may or may not draw big online audiences.

What do not necessarily rate well, however, are the (often important if sometimes unsexy) articles about yesterday's doings — or, nondoings — at the Federal Election Commission, or the latest federal budget fight.

"We didn't know if, in a newspaper, people were reading our 600-word piece on the transportation markup on A10 — now we do," Mr. VandeHei said. "I'm not saying you let the audience dictate everything, but a smart, aggressive, forward-leaning media company is going to write what it thinks is important and its audience thinks is important."

This is talk you hear in newsrooms across the country, and it's where there is some cause for concern.

Those drier articles may not score in the ratings, but they can lead to the bigger ones. Watergate started as a story about a burglary. The wide-ranging sex abuse scandal in the Catholic Church that The Boston Globe exposed — captured in the movie "Spotlight" — began as a 700-word column about a single priest.

Once ratings come into the picture, will reporters still want to pursue those smaller stories? And will their editors, who once called these stories "spinach," want to publish them?

The answer from Mr. VandeHei and like-minded news executives is yes, but it's incumbent upon news organizations to do a better job with them — make them shorter and more distinctive, with data and striking visual presentation.
Ezra Klein and Matt Yglesias have produced something not only entertaining but valuable with Vox, There's certainly room for more ventures along those lines.  The problem with that business model is that it only works if someone is doing the pick-and-shovel work of gathering the banal data that has formed traditional news coverage. And there's no money in that.  And, increasingly, there's no money even in the Voxification of the content. Or, more accurately, the money that's there is going to Google and Facebook, not Vox—much less the myriad news outlets doing the shoeleather reporting that makes creating the cute listicles and infographics possible.