Leo Gallagher, 1946-2022
The stand-up comic is gone at 76.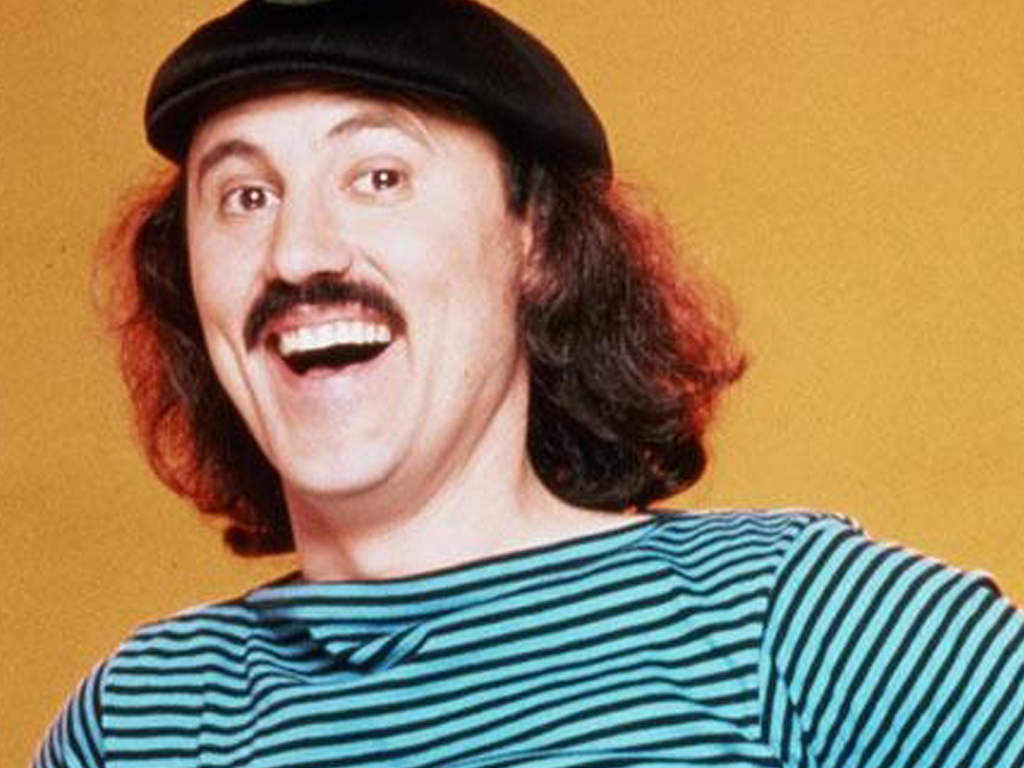 New York Times, "Gallagher, Watermelon-Smashing Comedian, Is Dead at 76"
Gallagher, who became one of the most recognizable comedians of the 1980s for an outrageous act that always concluded with him smashing a watermelon with a sledgehammer, died on Friday at his home in Palm Springs, Calif. He was 76.

His death was confirmed by his longtime former manager, Craig Marquardo, who said the cause was organ failure after "numerous heart attacks" over the course of Mr. Gallagher's life.

The self-proclaimed "Wizard of Odd," Gallagher — his first name was Leo, although for many years he refused to reveal it — said his job was to "yell at the world." To the thousands of his front-row fans who were honored, or at least not visibly offended, by being splattered with cantaloupes, cottage cheese and all manner of other groceries, Mr. Gallagher offered himself as an exuberant release from life's strains.

In a 1984 interview with The Miami Herald, he spoke of people's worries about money, family and responsibilities. "If you make fun of it, the people laugh," he said. "They release the tension and are somehow healed — a bit."

In addition to reaching the rarefied position of going by just one name like Cher or Madonna, Mr. Gallagher was the star of more than a dozen one-man specials on Showtime and a series of Budweiser commercials, including one in which he used a watermelon as a bowling ball. He played more than 100 concert dates a year for more than 30 years, obliterating more than 15,000 melons.

Adorned with a mustache, shoulder-length hair and, for much of his career, a cap or beret, he wrote his own jokes and traveled with 15 footlockers of props, among them a "handgun" that fired plastic hands.
Associated Press, "Gallagher, watermelon smashing comedian, dies at 76"
Gallagher, the long-haired, smash-'em-up comedian who left a trail of laughter, anger and shattered watermelons over a decadeslong career, has died at age 76.

[…]

With a beret on his head and a few simple props, from a can of oil to a bull whip, the man born Leo Anthony Gallagher Jr. built a nationwide following in the 1970s and '80s, appearing on the "Tonight" show with Johnny Carson and starring in numerous Showtime specials. His act included observational humor ("What about Easter? Whose idea was it to give eggs to an animal that hops"), political commentary ("They don't call a tax a tax. They call it a revenue enhancer"), invented sports (synchronized Ping-Pong) and his trademark Sledge-O-Matic destruction.

"Ladies and gentlemen! I did not come here tonight just to make you laugh. I came here to sell you something, and I want you to pay particular attention!" he would call out in his best rapid-fire impersonation of a late-night television pitchman. "The amazing Master Tool Corporation, a subsidiary of Fly-By-Night Industries, has entrusted who? Me! To show you! The handiest and the dandiest kitchen tool you've ever seen."

Gallagher was a Fort Bragg, North Carolina, native who started out in 1960 as road manager for the comedian/musician Jim Stafford and soon began performing himself, honing his act at the Comedy Store and other clubs.
Pretty much all of the stories reference his trademark watermelon smashing, which was indeed integral to his act. It's what I remember from his appearances on Carson and elsewhere when I was a kid. I saw several of his "Showtime" specials in my 20's and his act went well beyond that.
While Gallagher will never been mentioned favorably alongside the likes of Lenny Bruce, Richard Pryor, George Carlin and so many others who did daring political comedy, often working blue, there's something to be said for the Jerry Seinfelds and Jim Gaffigans of the world, whose jokes are less topical and more family-friendly.
Alas, I haven't thought much of Gallagher in recent years and was completely unaware of a disturbing incident from a decade ago. From the AP story:
The elder Gallagher became increasingly controversial in recent years, chastised for racist and homophobic remarks. Gallagher even cut short an interview in 2011 with Marc Maron after the WTF podcast host confronted him about his statements.

"I'm the problem?!" Gallagher said at one point. "Do you think when I'm dead, gays will finally have an opportunity in America? Have I really been holding them down?"
I gather that some of his later work was, well, less family friendly and displayed a much more bitter personae than in his heyday.