Congress Poised to Block Trump's Emergency Declaration
While not subject to filibuster, it's still subject to Presidential veto.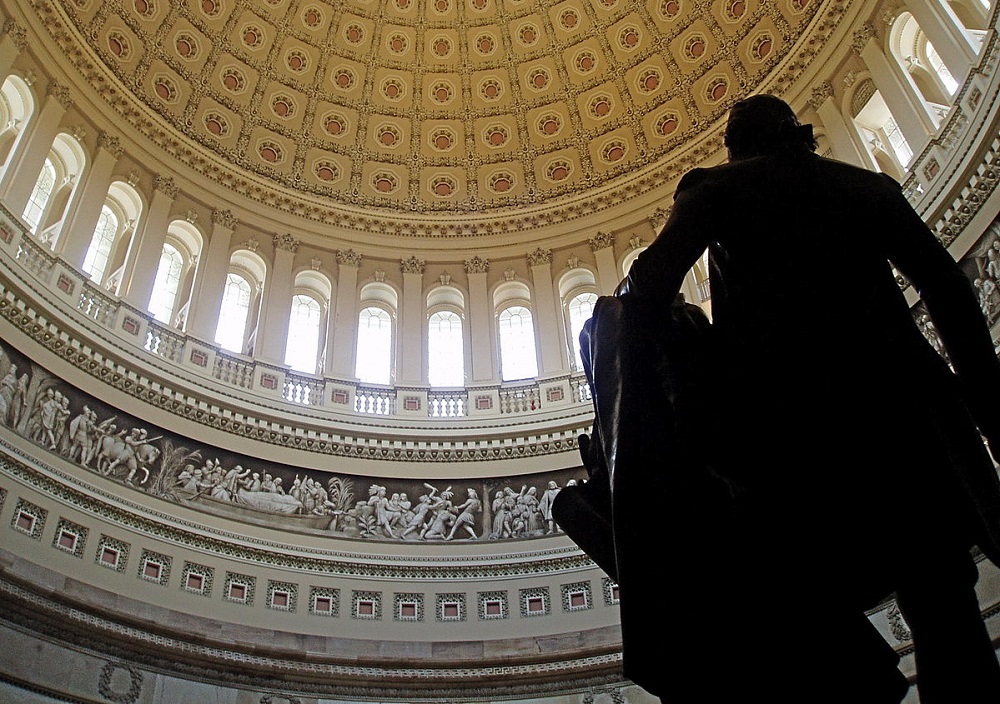 President Trump's attempt to divert billions of dollars of money to border security through misuse of emergency powers may finally force Congressional Republicans to show some spine.
NYT ("G.O.P. Tries to Hold Down Defections Before Vote to Block Trump's Emergency"):
Republican leaders scrambled to keep rank-and-file members in line ahead of a House vote on Tuesday to kill President Trump's declaration of a national emergency on the Mexican border, as Democrats appealed to Republicans to protect Congress's constitutional power to control federal spending.

The House's vote on a declaration of disapproval will force Republicans to choose between the congressional prerogative over federal spending established in the Constitution and a president determined to go around the legislative branch to secure funds for a border wall that Congress has refused to grant.

Many Republicans were clearly uneasy with the president's action, but few were ready to declare their support for legislation overturning it.

On Monday, Senator Thom Tillis, Republican of North Carolina, became the second Republican senator to say he would support the Democratic resolution.

"There is no intellectual honesty in now turning around and arguing that there's an imaginary asterisk attached to executive overreach — that it's acceptable for my party but not thy party," Mr. Tillis wrote in an opinion article published Monday in The Washington Post.

Last week, Senator Susan Collins, Republican of Maine, said she would support a resolution, barring any extraneous additions. Other Republicans were holding their fire.

[…]

The resolution is expected to sail through the House on Democratic votes, but significant Republican defections would give it momentum in the Senate and could raise the specter — however remote — that Congress could override Mr. Trump's promised veto, should the resolution reach his desk.

Democrats framed Tuesday's vote as a referendum on protecting the separation of powers and Congress's constitutional right to determine federal spending levels — an argument that appealed to several conservatives in both chambers.

[…]

But Democrats were also making a less lofty case to wavering Republicans. They circulated a list of all of the possible military construction projects in each district that could lose money shifted instead to Mr. Trump's wall.

Several lawsuits have already been filed to challenge the merits of the declaration, but the easiest way for Congress to counter it is through the resolution of disapproval, authorized by the National Emergencies Act of 1976. Once it passes the House, the Senate is required under the law to take it up within 18 days.

[…]

Several conservative senators have expressed concern that Mr. Trump's declaration is setting a precedent that could be used by a Democratic president determined to secure funds that Congress will not give.

Others have balked at the prospect of siphoning money away from military projects. Senator Charles E. Grassley, Republican of Iowa — who said he was "leaning no" on voting for the resolution — suggested that Congress review the power to declare national emergencies granted to the president under the National Emergencies Act.

Senator Lamar Alexander, Republican of Tennessee, called Mr. Trump's declaration "unnecessary, unwise and inconsistent with the Constitution." Yet he declined to say how he would vote on a resolution ending it, telling reporters, "I'm going to wait and see what the resolution says."
Passage through the Democratic-majority House is a foregone conclusion. But Republicans have a 53-47 (including two nominal independents who caucus with the Democrats) majority in the Senate. They've already lost 3 votes. One more and Vice President Pence can't break the tie.
And apparently, this is not a matter subject to a filibuster. A recent PBS NewsHour report notes that,
Were the House to approve the resolution, Senate Majority Leader Mitch McConnell would be required to bring it up for a vote on the Senate floor within 18 days. The resolution is "privileged" under parliamentary rules, meaning that it takes precedence over other matters that could be brought to the floor. Under Senate rules, the resolution cannot be delayed by a filibuster.
Our own Doug Mataconis refers us on Twitter to 50 U.S. Code § 1622 – National emergencies which states, in relevant part:
c) Joint resolution; referral to Congressional committees; conference committee in event of disagreement; filing of report; termination procedure deemed part of rules of House and Senate

(1) A joint resolution to terminate a national emergency declared by the President shall be referred to the appropriate committee of the House of Representatives or the Senate, as the case may be. One such joint resolution shall be reported out by such committee together with its recommendations within fifteen calendar days after the day on which such resolution is referred to such committee, unless such House shall otherwise determine by the yeas and nays.
(2) Any joint resolution so reported shall become the pending business of the House in question (in the case of the Senate the time for debate shall be equally divided between the proponents and the opponents) and shall be voted on within three calendar days after the day on which such resolution is reported, unless such House shall otherwise determine by yeas and nays.
(3) Such a joint resolution passed by one House shall be referred to the appropriate committee of the other House and shall be reported out by such committee together with its recommendations within fifteen calendar days after the day on which such resolution is referred to such committee and shall thereupon become the pending business of such House and shall be voted upon within three calendar days after the day on which such resolution is reported, unless such House shall otherwise determine by yeas and nays.
(4) In the case of any disagreement between the two Houses of Congress with respect to a joint resolution passed by both Houses, conferees shall be promptly appointed and the committee of conference shall make and file a report with respect to such joint resolution within six calendar days after the day on which managers on the part of the Senate and the House have been appointed. Notwithstanding any rule in either House concerning the printing of conference reports or concerning any delay in the consideration of such reports, such report shall be acted on by both Houses not later than six calendar days after the conference report is filed in the House in which such report is filed first. In the event the conferees are unable to agree within forty-eight hours, they shall report back to their respective Houses in disagreement.
Doug believes that multiple "shalls" take the filibuster off the table. That seems to be a reasonable reading.
It's not fully clear whether President Trump still has the ability to filibuster but, given that the Supreme Court has ruled the legislative veto unconstitutional, one presumes so. That would require gaining a two-thirds majority in both Houses.
One hopes the trifold rationale of 1) preserving Congressional prerogative, 2) protecting military spending already appropriated by Congress from being raided, and 3) the prospect of a Democratic President using the precedent to force her preferred policies through over Congressional objection will be enough to stiffen the Republican spine.
At the same time, it's worth noting that the politics of this are complicated. In most Republican House districts, Trump remains quite popular. His border wall is less popular but the issue of border security remains salient. A vote for the resolution—which is legally and institutionally unassailable—is therefore politically risky. A vote against it will be seen by the Republican base as a vote against Trump and against border security. The explanation for the vote, which is procedural and legal, is a much harder sell.
One would think a courageous vote here would be easier for Republican Senators, many of whom were just elected or re-elected and therefore have almost six years before they face the voters again. Still, don't discount the real power of arm-twisting. Mitch McConnell has demonstrated that he's willing to play hard ball.