Senate Appears Poised To Block Trump's National Emergency
There appear to be enough votes in the Senate to pass the resolution disapproving President Trump's border wall "emergency," but there's not enough Republican support to override an expected veto.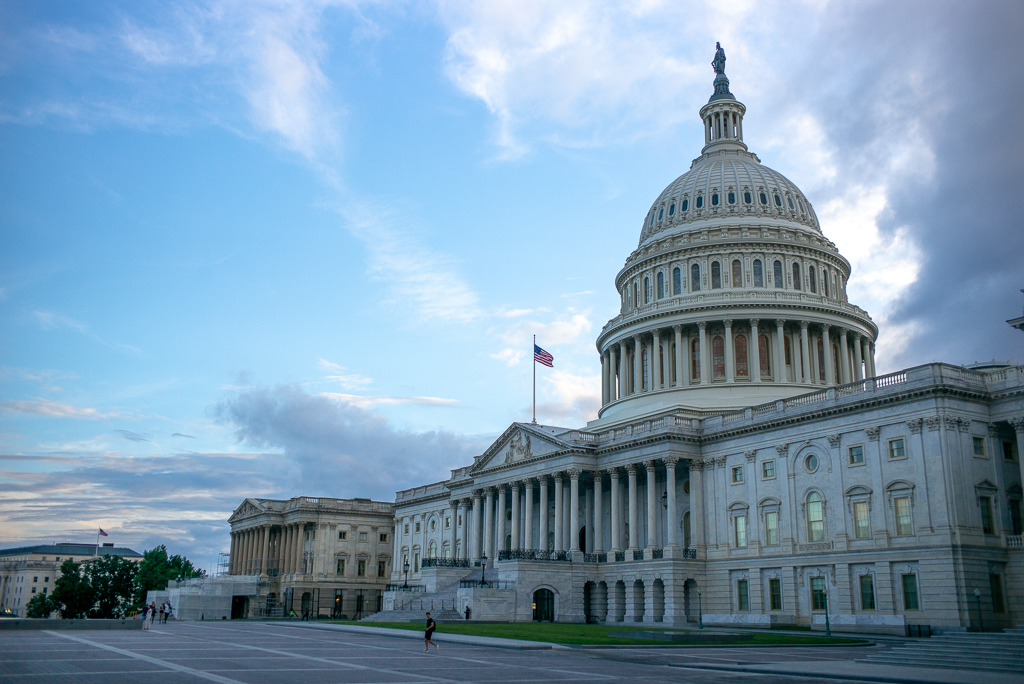 Kentucky Senator Rand Paul has announced that he will be joining Senate Democrats in voting to disapprove of the President's declaration of a national emergency at the southern border in order to fund his border wall:
WASHINGTON — Senator Rand Paul, Republican of Kentucky, said on Sunday that he would support a resolution that would overturn President Trump's declaration of a national emergency at the southern border, appearing to provide the crucial vote needed for the Senate to pass the measure.

"I stand with the president often, and I do so with a loud voice," Mr. Paul wrote in an opinion piece published late Sunday on Fox News's website. "Today, I think he's wrong, not on policy, but in seeking to expand the powers of the presidency beyond their constitutional limits."

"I cannot support the use of emergency powers to get more funding" for a wall along the border with Mexico, he wrote, "so I will be voting to disapprove of his declaration when it comes before the Senate."

Mr. Paul joins three other Republican senators — Susan Collins of Maine, Thom Tillis of North Carolina and Lisa Murkowski of Alaska — in backing the resolution. His support appears to provide the slim majority Democrats need to send the measure to the president's desk, offering a stinging repudiation of the declaration.

The House, largely on party lines, passed the resolution on Tuesday, and under the National Emergencies Act of 1976, the Senate is required to vote on the resolution in the coming weeks. Mr. Trump has said he would veto the measure, and it is unlikely that either chamber could muster the two-thirds majority needed to override a veto.

But with several lawsuits already filed in court, a resolution of disapproval from Congress — the simplest mechanism for lawmakers to challenge a declaration — could help opponents of the declaration.

Mr. Paul, a Kentucky libertarian who frequently rails against government spending and often has no qualms about bucking his party, urged his Republican colleagues to recall their frustration with President Barack Obama's use of executive power. He warned about the legal merits of the order, writing that "I think the president's own picks to the Supreme Court may rebuke him on this."

He had signaled in remarks on Saturday at the Southern Kentucky Lincoln Day Dinner that he would vote for the resolution, saying he was opposed to giving "extra-constitutional powers to the president," according to The Bowling Green Daily News.

But with time before the Senate has to vote, Mr. Trump and his allies have an opportunity to lobby Mr. Paul. Such tactics have been successful before: The Senate Foreign Relations Committee was poised to give Mike Pompeo's nomination as secretary of state an unfavorable recommendation until Mr. Paul bowed to pressure and gave his approval.

Mr. Trump, who was repeatedly denied wall funding by lawmakers, hopes to use $3.6 billion from military construction projects to fulfill his campaign promise to build a wall along the southern border. He has dismissed concerns about the precedent, saying in a speech on Saturday that "they're going to do that anyway, folks."

Some Republican senators — including Senator James M. Inhofe of Oklahoma, the chairman of the Senate Armed Services Committee — have voiced concerns about the effect on military readiness, seeking assurances that projects in their states will not be affected. The Defense Department has yet to release a list of projects affected.

Others, including Mr. Paul, have objected to a possible overreach of executive power that future presidents could take advantage of. But few have been willing to publicly say how they will vote on the resolution.
Here's an excerpt from Paul's Op-Ed:
There are really two questions involved in the decision about emergency funding. First, does statutory law allow for the president's emergency orders, and, second, does the Constitution permit these emergency orders?  As far as the statute goes, the answer is maybe — although no president has previously used emergency powers to spend money denied by Congress, and it was clearly not intended to do that.

But there is a much larger question: the question of whether or not this power and therefore this action are constitutional. With regard to the Constitution, the Supreme Court made it very clear in Youngstown Steel in 1952, in a case that is being closely reexamined in the discussion of executive power.  In Youngstown, the Court ruled that there are three kinds of executive order: orders that carry out an expressly voiced congressional position, orders where Congress' will is unclear, and, finally, orders clearly opposed to the will of Congress.

To my mind, like it or not, we had this conversation.  In fact, the government was shut down in a public battle over how much money would be spent on the wall and border security.  It ended with a deal that Congress passed and the president signed into law, thus determining the amount.

Congress clearly expressed its will not to spend more than $1.3 billion and to restrict how much of that money could go to barriers.  Therefore, President Trump's emergency order is clearly in opposition to the will of Congress.

Moreover, the broad principle of separation of powers in the Constitution delegates the power of the purse to Congress.  This turns that principle on its head.

I, and many of my fellow members, called out President Obama for abusing executive authority. President Obama famously said that if Congress wouldn't do what he wanted, he had his pen and his phone ready.  That was wrong.  Many of those voting now spent a good portion of their campaigns running ads against these words and actions of President Obama.  They will and should be condemned for hypocrisy if they vote to allow this because they want the policy or want to stand with the president in a partisan fight.

Some are attempting to say that there isn't a good analogy between President Obama's orders or the Youngstown case. I disagree. Not only are the issues similar, but I think Youngstown Steel implications are even more profound in the case of emergency appropriations. We spent the last two months debating how much money should be spent on a wall, and Congress came to a clear conclusion: $1.3 billion. Without question, the president's order for more wall money contradicts the will of Congress and will, in all likelihood, be struck down by the Supreme Court.

In fact, I think the president's own picks to the Supreme Court may rebuke him on this.

Regardless, I must vote how my principles dictate. My oath is to the Constitution, not to any man or political party. I stand with the president often, and I do so with a loud voice. Today, I think he's wrong, not on policy, but in seeking to expand the powers of the presidency beyond their constitutional limits. I understand his frustration. Dealing with Congress can be pretty difficult sometimes. But Congress appropriates money, and his only constitutional recourse, if he does not like the amount they appropriate, is to veto the bill.
Assuming Paul stick to his position, which is by no means certain given the fact that he's allowed his arm to be twisted by the President and others in the past on issues such as his votes to confirm Jeff Sessions as Attorney General and Mike Pompeo as Secretary of State, then this would mean that there would be enough votes in the Senate to approve the resolution that passed the House last week. With the Republicans presently holding a 53-47 majority and assuming all the Democrats stick together, then the final vote on the resolution would be 51-49. Now that we know for sure, or as sure as we can be until the vote actually takes place, that the resolution will pass the Senate, though, we could see other Republicans cross the aisle to join the Democrats. One potential candidate in that regard is Tennessee Senate Lamar Alexander, who is retiring at the end of the current session of Congress, and who has already expressed reservations about the declaration. Other potential crossover votes include Mike Lee of Utah, who often votes with Senator Paul on issues like this but who has remained quiet on the national emergency issue, and his fellow Utahan freshman Senator Mitt Romney. Romney has not spoken publicly on the emergency issue, but he has been critical of the idea of using a national emergency as a means for the President to make an end run around Congress on the border wall issue.
Assuming the measure passes the Senate, it would constitute a strong Congressional rebuke of the President, albeit one that was decidedly one-sided. In the House, there were only thirteen Republicans willing to join with the Democratic majority to vote in favor of the resolution last week. As we sit here this morning, it appears likely that there will be no more than five or six Republican Senators who will join with Senate Democrats to vote in favor of the resolution. This is important because the White House has already made clear that the President will veto the resolution if it reached his desk, which would be the first veto of his Presidency. In order to override that veto, Democrats would need the support of 55 Republicans in the House and 20 Republican Senators to override that veto. That, quite clearly, is not going to happen. Nonetheless, while the resolution will ultimately fail, the fact that it will pass Congress at all is a notable event and, hopefully, a sign that Congress is no longer going to sit back and let this and future Presidents take it upon themselves to use extra-Constitutional means to achieve policy goals.