Congressional Retirements Open Up Key Districts In Virginia, Utah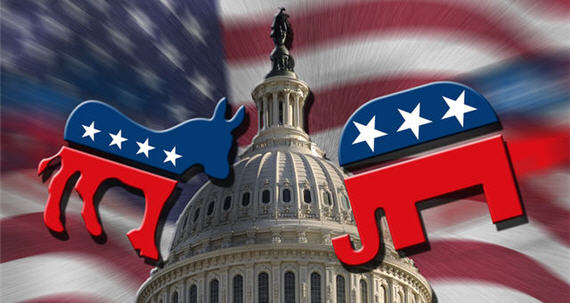 Frank Wolf has represented the 10th Congressional District in Virginia since he was first elected in 1980 and, during that time, he's been easily re-elected regardless of who the Democrats put up against him. This was the case even in 2008 when President Obama narrowly won Wolf's District in the first Democratic win by a Democratic Presidential candidate since 1964. During his time in office, Wolf has gained a reputation as a moderate conservative, although his record also shows that he's been very much a defense hawk, although that is no doubt in part related to the fact that his district has long included both active duty and retired members of the military as well as the offices of several defense contractors. For the most part, he's been a reliable vote for Republican leadership and, with the election of Gerry Connolly to Congress in the 11th Congressional District in 2008, the sole Republican Member of Congress from the immediate Washington, D.C. suburbs. That may all soon change, though, since today Wolf announced that he would not be seeking reelection in 2014:
Virginia Republican Rep. Frank Wolf announced Tuesday that he will not run for re-election in 2014, setting up a competitive race to replace him in the suburbs and exurbs outside Washington, D.C.

Wolf, first elected in 1980 and the dean of the Virginia delegation, said in a written statement that he was grateful to his constituents for his 34 years of service in Congress, but he's decided to focus on other efforts.

"As a follower of Jesus, I am called to work for justice and reconciliation, and to be an advocate for those who cannot speak for themselves. I plan to focus my future work on human rights and religious freedom – both domestic and international – as well as matters of the culture and the American family," Wolf said.

The 10th congressional district in northern Virginia was already considered a swing area in what has become a battleground state. In the 2012 election GOP presidential nominee Mitt Romney narrowly won the district, but four years earlier then Sen. Barack Obama prevailed there.

Wolf already had two Democratic challengers, but last week he got a more high profile one when Fairfax County Supervisor John Foust also announced he was filing petitions to run for the seat.

Some of the Republicans who could now decide to run with Wolf's retirement, according to a GOP source, include Virginia State Delegate Barbara Comstock, a former Bush Administration official, as well as two other state elected officials – Delegate Tim Hugo and state Senator Jill Vogel.
Wolf's retirement is also likely to bring out other Democrats who might be interested in running given that an open seat in this part of Virginia is quite rare, although Foust would seem to be the strongest candidate in the race at present. On the Republican side, it appears at first glance that Comstock would be the strongest candidate that the Virginia GOP could put forward, but Hugo would also be fairly formidable.
As noted, Mitt Romney narrowly won Wolf's district in 2012, and it also should be noted that Republican Gubernatorial candidate Ken Cuccinelli narrowly won the district last month. So, this would likely be a competitive district likely to attract much outside interest next year.
Also announcing his retirement today is Utah Democratic Congressman Jim Matheson, who has represented Utah's 2nd and 4th Congressional Districts (change coming in 2012 due to redistricting) since 2001:
Rep. Jim Matheson (D-Utah) will not seek reelection in 2014, he announced Tuesday, a move that will bring to an end a career in Congress that has spanned more than a decade, and will leave Republicans in a very good position to pick up his seat.

In a statement posted on Facebook, Matheson didn't specify what he plans to do next, but noted that he intends to continue serving the public in some capacity.

"It has been a tremendous privilege to serve the people of Utah during my time in the United States House of Representatives, but my time in the House should not be the sum total of my service. Today, I am announcing that I will not seek reelection to the House of Representatives," he said.

Matheson sits in the most conservative House seat in the country held by a Democrat. He survived against odds in 2012, defeating Republican Mia Love by a slim margin.

Mitt Romney carried 67 percent of Matheson's 4th district in 2012, illustrating how difficult it will be for Democrats to compete there. The son of a former governor, Matheson had cultivated a conservative profile over the years that allowed him to survive. He's often broken ranks with his party. For example, he voted with Republicans earlier this year for a spending bill that would strip funding from the federal health-care law.

Love, the mayor of Saratoga Springs and a highly touted Republican recruit, is running again in 2014. She is seeking to become the first black woman Republican elected to Congress.
Love lost by a mere 768 votes in 2012 so she seems to be in a very good position to accomplish that feat next year.