Considering a World without Roe
Some considerations on the politics of Roe v. Wade.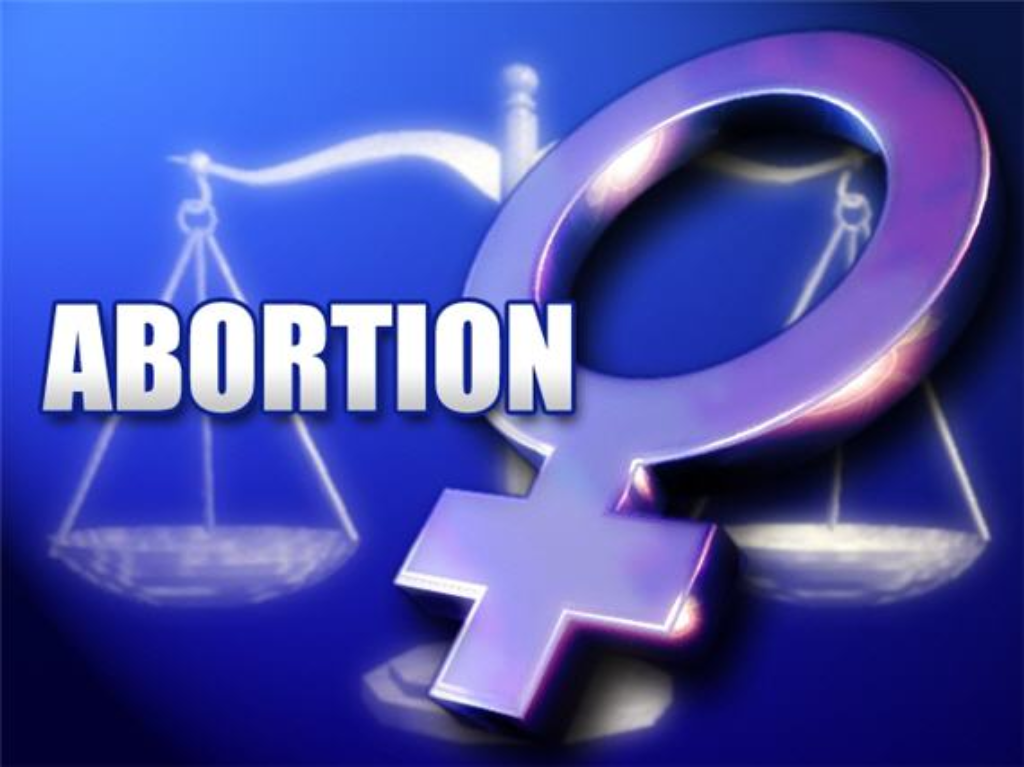 The recent vacancy on the Supreme Court has stirred up a considerable amount of discussion about Roe v. Wade, the 1973 case that granted constitutional protection for abortion and took the basic question of abortion's legality out of the legislative realm (although it did not remove the power to regulate the procedure).*
This post is not about abortion, per se, insofar as I am not seeking a debate on its morality.  Hence, for purpose of this post I am not trying to stake out an overt position on the policy. I am simply thinking here about the way in which our institutional structures interact with this highly contentious issue and policy about it is made (or not made).
I do make the following assumptions:
Pro-choice advocates often see the issue as one of the inherent right of a woman to have control over her own person and body.

Anti-abortion advocates see this as a matter of life and death for the embryo/fetus, and indeed many see abortion as a modern holocaust, with all the commensurate moral implications of the word.

Abortion won't go away, even if it is declared illegal across the land.
The top two assumptions alone underscore the contentious and highly charged nature of the debate. No one should discount the degree to which abortion rights are seen by many as essential human rights for women in terms of personal autonomy, nor should anyone discount the fact that many people see abortion as literal mass murder.  Still, the third point also hits at the reality of the situation (and it is an observation with a historical track record). I think it is important to accept that no matter what happens, no matter how the Court rules, and no matter what laws are passed, this issue is not going away.
Another factor that underscores the difficulties of this discussion, I know that my language choices in the above ("pro-choice," "anti-abortion," and "fetus") are all contested terms in this discussion (everything in this debate is contested).  I use "pro-choice" because I think that, on balance, that is the driving policy preference for that group (they believe that women ought to have an individual choice–there are those who favor choice, for example, but who are not "pro-abortion").  I use "anti-abortion" because that is the action that is opposed, abortion. I use "embryo" and "fetus" as a linguistically accurate medical terms.
But none of that is what I want to write about.  What I want to ask, as an intellectual exercise, is whether having Roe overturned is what everyone thinks it is.  Further, I wonder if the general health of our system might not be served by its removal. Not surprisingly (to any regular reader), I am especially interested in the way in which our institutions play into this debate.
No More Roe? 
Most people, whether pro or con, take an extremely simplistic view of the situation. Let's start with this:  Roe supporters and Roe opponents both over-estimate what the decision does.  Both groups often assume (or, at least talk like) overturning the case means the end of abortion.
Of course, this is not the case. If Roe is overturned then the question of abortion's legality shifts from the judicial realm, where it has resided since 1973, to the legislative realm.  It will not signal an end of the debate, but the transmigration of the debate into another place. I expect that a lot of anti-Roe folks will be ultimately surprised by that fact.
Likewise, it isn't as if the current legal status of abortion is one of unfettered access.  There are a large numbers of laws regulating abortion to the point of making access to the procedure quite limited in some states.  Take, for example, Mississippi. Via the LAT from March of 2018:  In a state with only one clinic, Mississippi approves the most restrictive abortion ban in the U.S.
Mississippi lawmakers on Thursday passed what may be the most restrictive abortion law in the nation — a bill that prohibits women from obtaining an abortion more than 15 weeks after their last menstrual cycle.

[…]

No other state restricts abortions as early as 15 weeks. Mississippi's current abortion law — which bans most abortions at 20 weeks — is already one of the most restrictive in the nation.
There are two issues here to focus on.  Let's start with the headline's observation that their is only one abortion clinic in Mississippi.  That means that, effectively Roe or no Roe, it is incredibly difficult for a woman to get an abortion in the state, for good or for ill.  If the case were overturned tomorrow that remaining clinic would close but the basic level of access for most women, especially poor women, would not change.
In general it is the case that there are already significant restrictions in some states in terms of access. Despite Roe, federalism has effects on the implementation of the policy.  Other rules, such as those designed to use building codes or hospital connections for clinics can also restrict access regardless of Roe.  538 had a piece from 2014 that shows a number of the types of restrictions that states might impose.
The second issue is the 15 week demarcation line.  This is interesting because in most of Europe, a less religious, more liberal place (on balance), the typical cut-off to unrestricted access to abortion is 12 weeks.   Indeed, because of Roe, the US has some of the most liberal restrictions in the world.  As Megan McArdle noted in a WaPo column recently wherein she criticized the original decision:
That poor drafting quasi-accidentally left America with some of the most permissive abortion laws in the world, far beyond what most legislatures would permit if the matter were open to public debate. Today, the United States is one of only a handful of countries to allow elective abortions after the 20th gestational week.

And that, in turn, is the biggest problem with Roe: It has given the most religious developed country in the world one of the world's most permissive abortion laws. This is not some peculiar quirk of the American political psyche. The abortion law is out of step with what the majority of the population wants, and given the seriousness of what's involved, it is Roe, more than any other opinion, that is driving both the radicalization and the judicialization of American politics, as pro-lifers fight like caged tigers to amend the law through the only avenue left open to them.
It is worth considering the degree to which there is a clear disjuncture between the permissiveness created by Roe and deep public sentiment in some quarters about the procedure in general.  At a minimum this underscores a seeming paradox:  more secular Europe has stricter gestational limits on abortion than does the more religious United States.  That does raise some concerns, on democratic grounds, as to whether leaving abortion solely in the judicial realm is appropriate.**
Institutions and the Politics of Abortion
This disjuncture also is heavily relevant to our institutional context.
Consider the degree which popular SCOTUS discussions are all about abortion.  How many times have we gone through some version of "will the nominee support or oppose Roe?"  It is the sine qua non of SCOTUS nominee discussions for many citizens.  It is as if the function of SCOTUS is to decide abortion policy and abortion policy alone.  Even back in those quaint old days in which presidents promised that their was no Roe litmus test for nominees, we all knew that was not true save in the most literal of senses.
As I noted the other day, the life tenure of Justices makes every appointment a multi-decade proposition.  So, if we take that parameter, throw in a issue that is either seen as a fundamental human right or the new holocaust, and you get, as McArdle noted, people fighting like "caged tigers."
So, if SCOTUS is the way to manage abortion policy, then the way to manage SCOTUS is via POTUS.  As such, for a lot social conservatives, abortion is a major issue (if not the issue).  One of the ways to understand evangelical support for Donald Trump in the general election in particular is abortion.  The reason social conservatives applauded Mitch McConnell's shredding of institutional norms over SCOTUS nominations was abortion.  The jubilation at Kennedy's retirement is over abortion.
Abortion is polarizing and it is given more significance in our politics because of various institutional factors, not the least of which being presidential appointments to the Supreme Court and their lifetime tenure.   Since the contentiousness of the policy is not going away, perhaps we would be better off moving that debate to legislatures, both at the state and federal level.
So What?
Ok, you say, I have read this ridiculously long post: what's your point?
My point is this:  Roe is not the on/off switch that is gets treated as.  Federalism already has created a context in which abortion is far more accessible in some places than it is in others.  While a post-Roe world would further depended that divide, it would also force a different kind of debate about the policy area–one that would take presidential elections and the Supreme Court largely out of the discussion. That last point alone might make overturning Roe worth it.
There is also a argument to be made that a more democratic outcome could be reached if this matter were returned to the realm of legislative politics. And I say that knowing the flawed nature of our democratic institutions, as well as the fact that fundamental rights ought not be subject to mere majoritarianism.  Still, we are already in a highly imperfect policy circumstance, and one that I think is creating distortions to broader national politics.  It seems possible that removing abortion from a central issue in presidential elections, and in our central understanding of the Supreme Court, would be worth the trade off of state-level decisions.
As such, McArdle may have a point:
Somewhat paradoxically, the way to make abortion less contentious is to throw the matter back to the states so that people can argue about it. Debating the difficult decisions regarding gestational age and circumstances would force people to confront the hard questions that abortion entails, which tends to have a moderating effect on extreme opinions.

Returning the matter to the states would give most people a law they can live with, defusing the rage that permeates politics and has more than once culminated in acts of terrorism against doctors who perform abortions.

If you're pro-choice, it's probably hard to swallow the idea of "permissive in New York and illegal in Alabama"; you'd much prefer to keep the status quo. But that's politics: both sides settling for less than what they want. The alternative is for one side to seek total victory in a total war. That's not an alternative you should endorse unless you're surer than any American can be that your side will be the one that ultimately wins the war. After all, Roe once seemed like total, permanent victory. Not anymore.
This strikes me as especially true given that, again, abortion access is not currently uniform across the US. In short, Roe provides far less policy clarity than is needed for such a contentious policy issue at the same time it distorts how the US electorate looks at the presidency and the Supreme Court.
—-
*I am aware that subsequent SCOTUS cases have altered abortion policy since Roe was originally decided.  Nonetheless, Roe is the linchpin, judicially speaking, and it is certainly the shorthand everyone uses in this discussion, so I will stick with it here.
**Those who think I only have concerns about democratic quality and representativeness when it comes to liberal/Democratic concerns, please take note.