Continuing the Discussion of Confederate Symbols
History matters.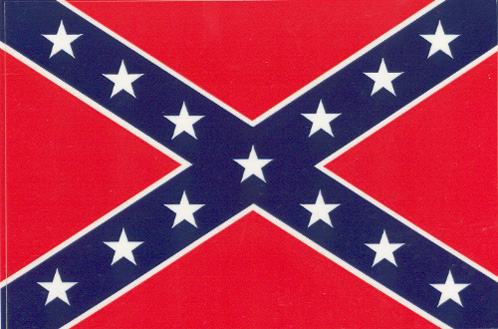 Ta-Nehisi Coates has a piece at The Atlantic online on the ongoing issue of the Confederate battle flag that is worth reading:  Brad Paisley and the Politics of Offense and Offense-Taking.
The piece is especially useful for those who want to tell themselves that the flag is naught but a symbol of southern pride:
If you accept that the Confederacy fought to preserve and expand slavery, then you might begin to understand how the descendants of the enslaved might regard symbols of that era. And you might also begin to understand that "offense" doesn't even begin to cover it. Reading Penthouse while having Christmas dinner with your grandmother is offensive. Donning the symbols of those who fought for right to sell Henry Brown's wife and child is immoral.

It is important to speak this way. Nothing is changed by banishing the Confederate Flag out of a desire to be polite or inoffensive. The Confederate Flag should not die because black people have come to feel a certain way about their country, it should die when white people come to feel a certain way about themselves. It can't be for me. It has to be for you.
Indeed.  This is certainly a route I have personally taken.  As a child growing up in Texas I was never as enamored of the battle flag as many in the truly deep south still are, but I did, at one point, own a small battle flag (along with several small flags I collected at the time).  I thought it looked "cool" and accepted, even into my twenties, the notion that the flag, even with its ugly associations, could be a symbol of southern pride.
However, even if many southern whites think of the flag that way even now (and many do) its basic and fundamental association with a government whose very existence was founded on defending and perpetuating slavery mean that it is utterly impossible to divorce the symbol from its origins and transform it into some generic, innocent symbol of southern-ness.  That white-washing (pun more or less intended) is made all the more difficult when one recognizes that the battle flag was a symbol of resistance to integration in the 1950s and that today it is a favorite of neo-confederates and white supremacists.
And for those who will continue to insist that the confederacy and the civil war were not about slavery, but about economics, states rights,* and so forth, I have a reading challenge.  Read the following rather key documents from the era, all associated with the founding of the Confederacy, and then make an argument that slavery wasn't central.   (I will agree, by the way, that war was very much about economics—but the central economic issue was the ability to keep slaves and to expand a slave-based economy into the west).
Here are the readings:
I really do not understand how one can read these (and other) documents from the time and then pretend like symbols of the Confederacy can be used in some innocent fashion as generic southern symbols.
Having discussed this with defenders of the battle flag (and the Confederacy in general), I recognize that minds are hard to change on this topic.  Still, perhaps these observations are useful for folks who have not thoroughly thought through these topics to their logical conclusions.
*BTW, I think a lot of people who assert the "states' rights" argument are not trying to defend the Confederacy as much as they engaging in pure denial.  If the CSA was about "states' rights" in some abstract sense, then it is not necessary to confront, directly, the slavery issue and the history of racism that flowed from it.