Court Rules Teacher Calling Creationism "Superstitious Nonsense" Does Not Violate First Amendment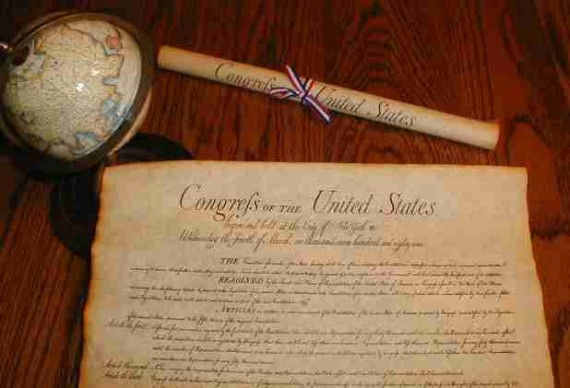 An interesting decision from the 9th Circuit Court of Appeals last week, in which the Court threw out an Establishment Clause lawsuit against a California School District over a teacher's classroom comments deriding the arguments that suppose that a Supreme Being must have been behind the origin of the universe:
The dispute began in 2007 when Chad Farnan, then a 15-year-old sophomore in Corbett's class, took issue with comments about creationism the teacher made during his lectures.

Aristotle … argued, you know, there sort of has to be a God. Of course that's nonsense," Corbett said according to a transcript of his lecture. "I mean, that's what you call deductive reasoning, you know. And you hear it all the time with people who say, 'Well, if all this stuff that makes up the universe is here, something must have created it.' Faulty logic. Very faulty logic."

He continued: "The other possibility is, it's always been there…. Your call as to which one of those notions is scientific and which one is magic."

"All I'm saying is that, you know, the people who want to make the argument that God did it, there is as much evidence that God did it as there is that there is a giant spaghetti monster living behind the moon who did it," the transcript says.

Corbett told his students that "real" scientists try to disprove the theory of evolution. "Contrast that with creationists," he told his students. "They never try to disprove creationism. They're all running around trying to prove it. That's deduction. It's not science. Scientifically, it's nonsense."
It's worth noting that the class in question here wasn't a biology class, but an Advanced Placement European History Class that included the following course description as described in the Opinion:
AP Euro is a college-level course for which students can receive college credit if they pass the AP exam administered by the College Board. The AP Euro standards are equivalent to a University of California course. The College Board dictates that AP Euro cover a number of topics touching on religion, including: "[c]hanges in religious thought and institutions," "[s]ecularization of learning and culture," "[s]cientific and technological developments and their consequences," and "[c]hanges in elite and popular culture, such as new attitudes toward religion, the family, work, and ritual." The College Board's course description explains that these "cultural, economic, political, and social developments . . .played a fundamental role in shaping the world in which [we] live," and accordingly provide "context for understanding the development of contemporary institutions, the role of continuity and change in present-day society and politics, and the evolution of current forms of artistic expression and intellectual discourse."
In his lawsuit seeking to impose civil liability on Corbett and the School District, Farnan contended that Corbett's dismissive comments toward creationism constituted an "establishment of religion" in violation of the First Amendment. However, as the Court found, there is simply no legal support for the argument he was making:
Nothing in the law would make clear to a reasonable person that he might violate the Establishment Clause by making the challenged statements in the context of a classroom discussion in an Advanced Placement history course. Even as a general matter, precedent on the Establishment Clause is scarce and we "have little guidance concerning what constitutes a primary effect of inhibiting religion." Am. Family, 277 F.3d at 1122; see also Vasquez v. L.A. Cnty., 487 F.3d 1246, 1256 (9th Cir. 2007)  (same). More to the point, we are aware of no prior case holding that a teacher violated the Establishment Clause by appearing critical of religion during class lectures, nor any case with sufficiently similar facts to give a teacher "fair warning" that such conduct was unlawful. Flores, 324 F.3d at 1136-37; see also al-Kidd, 131 S. Ct. at 2084. The only cases that Farnan argued in his briefs clearly establish the law in the relevant educational context involve claims that school officials were promoting religion rather -than expressing hostility toward it, and challenge systemic actions such as state laws and school district policies rather than parsing individual teachers' classroom discussions.
Moreover, the Court held, the broader interest in encouraging academic discussion and debate trumps whatever offense Farnan may have suffered in hearing his beliefs challenged:
The Supreme Court has long recognized the importance of protecting the "robust exchange of ideas" in education, "which discovers truth 'out of a multitude of tongues.' " Keyishian v. Bd. of Regents, 385 U.S. 589, 603 (1967) (quoting United States v. Associated Press, D.C., 52 F. Supp. 362, 372 (S.D.N.Y. 1943)). "Teachers and students must always remain free to inquire, to study and to evaluate, to gain new maturity and understanding . . . ." Id. (quoting Sweezy v. New Hampshire, 354 U.S. 234, 250 (1957)) (internal quotation marks omitted); see also Nat'l Sch. Bds. Ass'n, School Board Policies on Academic Freedom 2, 5 (1973) ("Academic freedom is an essential for responsible teachers. . . . To prepare students for adult roles in a democratic society, teachers and the schools must try to maintain an atmosphere of free inquiry."). This academic freedom will sometimes lead to the examination of controversial issues. Both parties agree that AP Euro could not be taught without discussing religion. We have no doubt that the freedom to have a frank discussion about the role of religion in history is an integral part of any advanced history course. Indeed, a collective of organizations including the American Association of School Administrators, American Federation of Teachers, National Education Association and National School Boards Association, has long acknowledged that "[b]ecause religion plays a significant role in history and society, study about religion is essential to understanding both the nation and the world." Religion in the Public School Curriculum: Questions and Answers, 8 J.L. & Religion 309, 310 (1990); see also Tenn. Educ. Ass'n, A Teacher's Guide to Religion in the Public Schools 2 (2008) (same).

(…)

In broaching controversial issues like religion, teachers must be sensitive to students' personal beliefs and take care not to abuse their positions of authority. See Edwards, 482 U.S. at 584 ("Families entrust public schools with the education of their children, but condition their trust on the understanding that the classroom will not purposely be used to advance religious views that may conflict with the private beliefs of the student and his or her family."). But teachers must also be given leeway to challenge students to foster critical thinking skills and develop their analytical abilities. This balance is hard to achieve, and we must be careful not to curb intellectual freedom by imposing dogmatic restrictions that chill teachers from adopting the pedagogical methods they believe are most effective.
In other words, the fact that something that's said in a classroom challenges your beliefs doesn't mean you have a right not to hear it.