COVID-19 Has Killed More Americans than 9/11
We're passing grim milestones on a daily basis.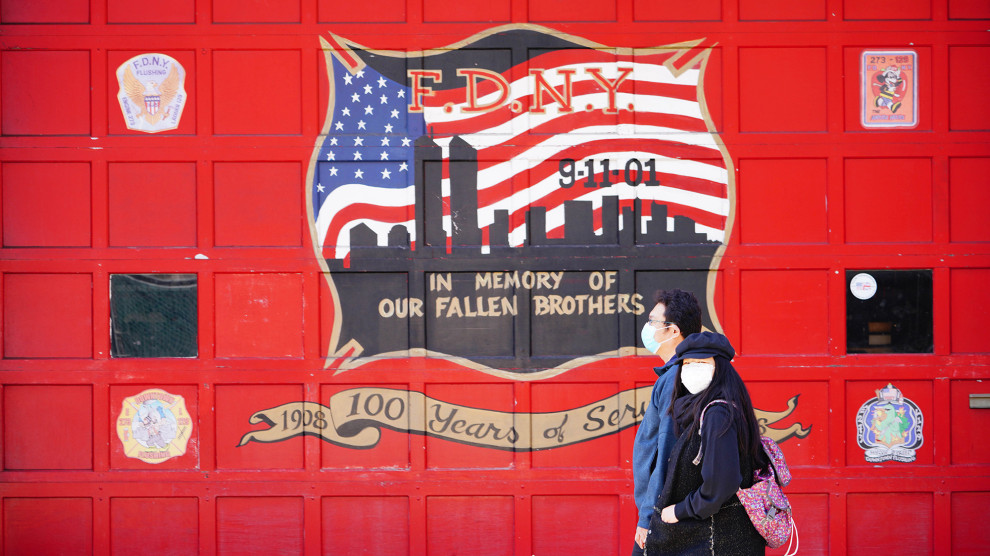 A Newsweek report Sunday night noted that more Americans had already died from the novel coronavirus than in the eighteen-plus-year war in Afghanistan. As of this morning, we've passed the fatalities from the terrorist attacks that begat that war.
The U.S. covid-19 death toll reached over 3,000 on Monday night, surpassing the number of people who died in the terrorist attacks of September 11, 2001, when 2,977 people were killed. The grim milestone comes from the latest figures updated by Johns Hopkins University, which has maintained an online tracker for the new coronavirus since January. At least 163,429 people in the U.S. have been infected.

The state of New York has the highest number of cases in the country, where over 67,300 have been infected and 1,228 have died. New York City, America's most populous metro area, has been the hardest hit, with at least 914 deaths attributed to covid-19. New York was also the site of the worst terrorist-related death toll in U.S. history on September 11, 2001.

The 9-11 attacks took place at three locations, including the World Trade Center in New York, where 2,753 people died after terrorists hijacked American Airlines Flight 11 and United Airlines Flight 175, flying them into the two towers of the World Trade Center. The Pentagon in Washington, D.C. was also attacked, killing 184 people after terrorists flew American Airlines Flight 77 into that building. And 40 passengers and crew died in a field near Shanksville, Pennsylvania, where United Airlines Flight 93 crashed.

Today, the coronavirus pandemic is officially more deadly than 9-11, and if the current projections from the White House Coronavirus Task Force are accurate, the U.S. will suffer many more 9-11's worth of dead Americans in the coming weeks and months.
Back on March 12—less than three weeks ago, though it feels like three months—I mused that we were entering "The greatest crisis the nation has faced in my lifetime" and warned that it was likely to be "Worse Than 9/11 and the Great Recession Combined." I may have seriously undershot the severity.
When I wrote that, my kids' public schools were open and I was still teaching classes. Their schools are now shut down through the end of the school year and we're in a state-wide shelter-in-place through at least mid-June. I'm tentatively scheduled to go back to the office May 11 but would be shocked were that to happen.
When I wrote that, the President was still downplaying the disease, comparing it to the seasonal flu. Now, he says he'll be doing a "very good job" if less than 200,000 die.