Dave Weigel's Anti-Conservative Rants Go Public
Sharing your unvarnished thoughts on a listserv is just asking for trouble, as Dave Weigel is the latest to discover.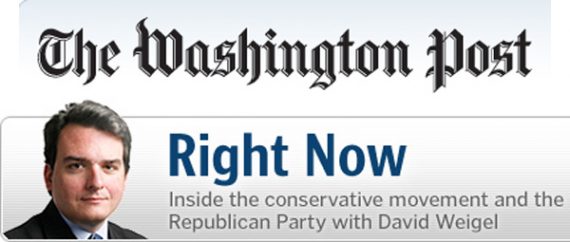 Dave Weigel, who writes a blog for the Washington Post "covering" the conservative movement, has been embarrassed by revelations of things he's written on Ezra Klein's listserv for liberal media insiders, JournoList.
FishBowl DC's Betsy Rothstein publishes a series of quotes, including:
"This would be a vastly better world to live in if Matt Drudge decided to handle his emotional problems more responsibly, and set himself on fire."
"It's all very amusing to me. Two hundred screaming Ron Paul fanatics couldn't get their man into the Fox News New Hampshire GOP debate, but Fox News is pumping around the clock to get Paultard Tea Party people on TV."
Daily Caller's Jonathan Strong follows up with a much longer piece with quotes including:
Following news of Rush Limbaugh's being rushed to the hospital with chest pains: "I hope he fails."
"Honestly, it's been tough to find fresh angles sometimes-how many times can I report that these [tea party] activists are joyfully signing up with the agenda of discredited right-winger X and discredited right-wing group Y?"
"It's really a disgrace that an amoral shut-in like Drudge maintains the influence he does on the news cycle while gay-baiting, lying, and flubbing facts to this degree."
[The problem with the mainstream media is] "this need to give equal/extra time to 'real American' views, no matter how fucking moronic, which just so happen to be the views of the conglomerates that run the media and/or buy up ads."
Dave apologizes to his readers and offers explanations and clarifications for the quotes in Rothstein's piece.  Here's the thing that sticks out:
Unwisely, I lashed out to Journolist, which I've come to view as a place to talk bluntly to friends.
Even if Joe Klein hadn't found himself in similar trouble when his emails from JournoList became public several months back, this displays a soundness of judgment just this side of a four star general emoting to a reporter from Rolling Stone while on a Bud Lite Lime buzz.   Emails — let alone mass emails — just are not a safe place for public figures to vent.
The buzz on Twitter and the blogs this morning is that this just goes to show that Weigel holds conservatives in contempt and having him cover the movement for a major newspaper is journalistic malpractice.   But, frankly, his feelings toward social conservatives and Tea Partiers were hardly a state secret before now.  No one who read Dave at Reason, The Washington Independent, or his Twitter feed is shocked.
Do I think someone more sympathetic to the movement would be a better fit for the beat?  I do.  It would be more insightful to get a broad spectrum view of a Tea Party rally, say, than a series of posts making fun of the looniest members of the crowd.
Dave does actual reporting and provides interesting insights that someone writing longer form articles for the paper would miss.   But the tone of Right Now is one of someone on a mission to expose just how crazy conservatives are.  As Stacy McCain notes, "Weigel's editors are getting what they want. Conservatism to them is terra incognita, that part of the old maps emblazoned with the motto, 'Here Be Dragons.'"
But, fundamentally, a single author blog on such a narrow topic is perilous.  As I noted back in March, when Weigel was hired,
Dave's a strong writer with good instincts.  My only complaint with his reporting for TWI, which strikes me as starkly different from what he produced for Reason, is that being so narrowly focused topically makes it sometimes seems that he's piling on.  That's almost unavoidable when one guy writes 20 pieces a day about a single topic.
That's pretty much been borne out by the blog.
Aside from canning the project altogether, I'm not sure what the solution is.  They could pair Dave with someone more sympathetic to the movement and turn in the blog into a dialogue rather than a monologue, I suppose, but I can't think offhand of a successful blog — and can think of several unsuccessful ones –  that's followed that model.
UPDATE:  This has been a fast-breaking story, occasioning several updates throughout the day. See: