DC Circuit Delays Trump Paper Release
The matter of Executive Privilege and former Presidents is settled law.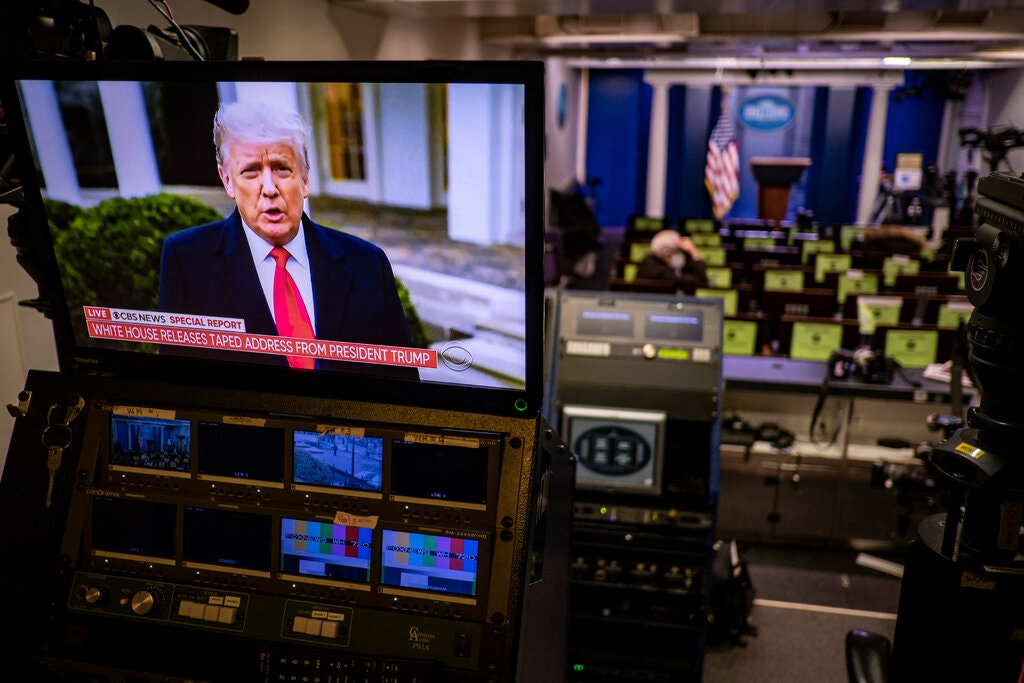 WaPo ("Appeals court temporarily bars release of Trump White House records to House Jan. 6 committee"):
A federal appeals court on Thursday blocked the imminent release of records of President Donald Trump's White House calls and activities related to the Jan. 6 Capitol attack after a lower court found that President Biden can waive his predecessor's claim to executive privilege.

The U.S. Court of Appeals for the D.C. Circuit granted a temporary injunction while it considers Trump's request to hold off any release pending appeal, and fast-tracked oral arguments for a hearing Nov. 30.
Only in the judicial system is a three-week delay considered "fast-tracked."
The order came after U.S. District Judge Tanya S. Chutkan of Washington on Tuesday cleared the way for handover of documents to a House investigative committee, ruling that an ex-president's claim to a residual right to withhold records from Congress after leaving office does not continue in perpetuity.

"Presidents are not kings, and Plaintiff is not President," Chutkan wrote.
That's indisputable.
In a 15-page emergency motion filed Thursday, Trump's attorneys asked to keep the documents secret for now, and proposed that all sides brief the court next week on whether to keep them so for the weeks or months an appeal may take to decide. Trump's legal team said the case presented serious, novel questions about whether a former president can sue a successor to withhold government records from Congress, and that the institution of the presidency would be irreparably harmed if the documents were released beginning at 6 p.m. Friday as planned.

"The disagreement between an incumbent President and his predecessor from a rival political party highlights the importance of executive privilege and the ability of Presidents and their advisers to reliably make and receive full and frank advice, without concern that communications will be publicly released to meet a political objective," Trump attorney Jesse R. Binnall wrote.
That is not a terrible argument. The point of executive privilege, after all, is to allow Presidents and their staffs to communicate openly and freely without fear that said communications will be made public. If they're subject to subpoena less than a year out of office, there's certainly a chilling effect. Then again, privilege can't be infinite. If the President is credibly accused of high crimes, he doesn't have a right to keep those crimes secret.
And time is of the essence here:
Capping days of legal drama, the appeals court rocketed consideration of the case through federal courts in Washington. While granting an injunction pending further order, the court set a schedule that signaled it would act swiftly to decide whether to withhold records while an appeal is pending. If it declines, the documents would be released, effectively mooting the case in a victory for the House.

Trump could still appeal to the Supreme Court, and a ruling keeping records secret could work to his advantage if litigation is prolonged through the November 2022 midterm elections, when Republicans hope to take the majority in what is now a Democratic-led Congress.
I have long railed against the criminalization of politics, wherein the legal system is used to gain leverage against opponents. But we're now seeing the flip side: one political party that consistently and almost universally refuses to pursue justice in the case of their own members. Republicans refused to cooperate in the impeachment proceedings after the 6 January attacks and have stonewalled the subsequent Congressional inquiry. And there's simply no question that it will go away if not concluded before the next Congress is seated, presuming the natural gain by the out party.
The scheduling order was issued by Judges Patricia Millett, Robert Wilkins and Ketanji Brown Jackson, who also will hear the case. All three were nominated to the bench by Democratic presidents and Jackson is a recent nominee of Biden.
So, I don't love this. I think the ruling will and should go against Trump but the optics of an all-Democratic panel will just further politicize and thus delegitimize the judiciary.
The district court judge almost certainly got it right:
In her ruling Tuesday, Chutkan said Trump failed to identify any "injury to privacy, property, or otherwise that he personally will suffer" from the production of records.

As for the presidency, the judge quoted a landmark 1977 Supreme Court ruling saying that executive privilege serves the republic, not any individual. Chutkan noted that former presidents waived executive privilege when dealing with matters of "grave national importance," including the Watergate break-in of Democratic national headquarters by Richard M. Nixon's 1972 reelection campaign, the arms-for-hostages Iran-contra affair under Ronald Reagan, and the 9/11 terrorist attacks on New York City and the Pentagon during George W. Bush's presidency.

"The incumbent President — not a former president — is best positioned to evaluate the long-term interests of the executive branch and to balance the benefits of disclosure against any effect on the ability of future executive branch advisers to provide full and frank advice," Chutkan said.

Trump's assertion of executive privilege "is outweighed by President Biden's decision not to uphold the privilege," Chutkan wrote, adding, "He [Trump] retains the right to assert that his records are privileged, but the incumbent President 'is not constitutionally obliged to honor' that assertion."
I would be shocked if the Supreme Court, even with three Trump appointees and only three Democrats among its members, overturned this precedent. It's imperfect, as it does potentially lead to cross-partisan score-settling, but President of all parties tend to be very protective, indeed, of the prerogatives of the office.