The Debt Ceiling Will Be Raised — Get Used To It
Demanding that the new GOP House hold the line at the current number is satisfying rhetorically, but all-but-impossible politically.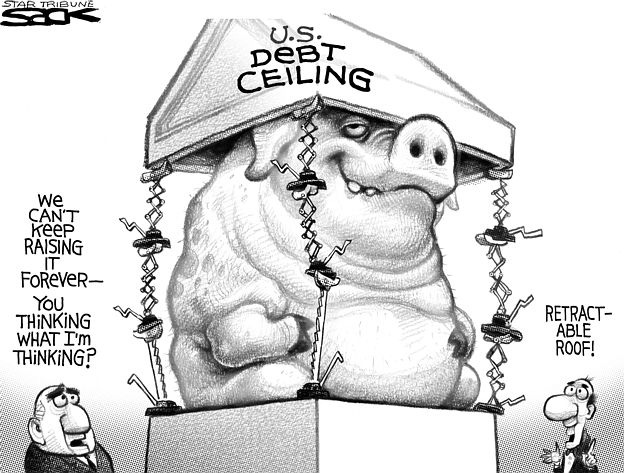 Sometime in the next several weeks, federal government debt will hit the Debt Ceiling, which Congress raised to $14.29 trillion last February, a mind-boggling number. I'm fond of the Boxcar Metaphor, so I ran some back-of-the-envelope calculations to bring that popular visualization up to date:
A single $1 bill measures 0.06890922 cubic inches.
One million dollar bills total 68,909.22 cubic inches (39.88 cubic feet)
So $1 trillion dollars is 39,880,000 cubic feet.
A standard CSX 50′ boxcar has an interior capacity of 5,238 cubic feet.
Thus, $14.29 trillion would fill 108,798.24 boxcars.
The total length over couplers of a 50′ boxcar is 54′ 5″ (653″).
Thus, $14.29 trillion dollars in singles would fill a train 1,121 miles long to transport, not counting engines. Such a train would stretch from my hometown of Louisville, KY to the outskirts of Santa Fe, NM, assuming a straight track all the way.
Well, I'm sorry to have to say this to my fellows on the right who are so adamant that we not raise the Debt Ceiling, but we're going to have no choice at all but to add quite a few miles to that train. Demanding that the new GOP House hold the line at the current number is satisfying rhetorically, but all-but-impossible politically. Our fiscal house is simply too disordered to bring it into line in the very short window before the magic number is reached. That would be true even if we had a Senate that would go along.
The federal government will not default on its debt obligations if it doesn't raise the Debt Ceiling. That claim is obviously specious, amounting to little more than fear-mongering. In reality, a few exceptions aside, both positions are mere posturing. Speaker Boehner has, thankfully, avoided this seductive trap and framed the issue more realistically:
I've been notified that the Obama Administration intends to formally request an increase in the debt limit. The American people will not stand for such an increase unless it is accompanied by meaningful action by the President and Congress to cut spending and end the job-killing spending binge in Washington. While America cannot default on its debt, we also cannot continue to borrow recklessly, dig ourselves deeper into this hole, and mortgage the future of our children and grandchildren. Spending cuts – and reforming a broken budget process – are top priorities for the American people and for the new majority in the House this year, and it is essential that the President and Democrats in Congress work with us in that effort.
The idea of tying a Balanced Budget Amendment to any increase in the Debt Ceiling is powerfully attractive but, alas, probably more than can be accomplished right now. That's not to say it shouldn't be a bargaining chip in the debate, it's just that we run into the aforementioned problem of a Democratic Senate that simply won't go that far. There's always utility in the leadership being pulled by its base, but I fear that they'll take any compromise that falls short of their desires as "caving." In the long run, that would do more harm than good.
As a practical matter, Boehner's call for significant spending cuts and meaningful budget reform are the sort of reasonable, achievable goals we should expect to be accomplished in the current political environment. And with the overwhelming majority of the public opposed to raising the Debt Ceiling at all, he's got the leverage to make it happen. If Boehner & Co. can accomplish that and put us on a long-term path toward fiscal sanity, they'll deserve applause.