Debunking The "White House Wanted Libyan Bomber Released" Story
Today's outrage of the day comes in the form of a new report claiming that the United States supported the release of the only man accused. But the report itself proves that isn't what happened.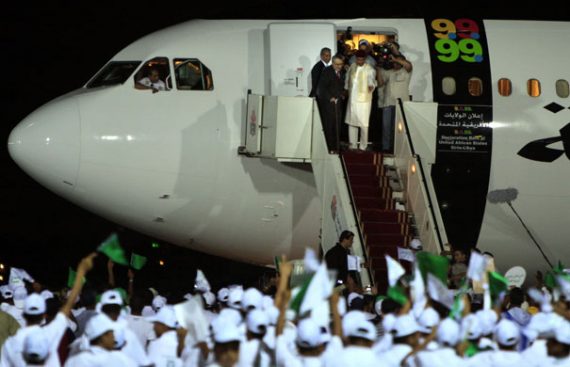 There's plenty of chatter in the blogosphere this morning about a story that, by it's own headline, claims that the Obama White House backed the release of accused convicted Pan Am Flight 103 bomber Abdel Baset al-Megrahi:
THE US government secretly advised Scottish ministers it would be "far preferable" to free the Lockerbie bomber than jail him in Libya.

Correspondence obtained by The Sunday Times reveals the Obama administration considered compassionate release more palatable than locking up Abdel Baset al-Megrahi in a Libyan prison.

The intervention, which has angered US relatives of those who died in the attack, was made by Richard LeBaron, deputy head of the US embassy in London, a week before Megrahi was freed in August last year on grounds that he had terminal cancer.

The document, acquired by a well-placed US source, threatens to undermine US President Barack Obama's claim last week that all Americans were "surprised, disappointed and angry" to learn of Megrahi's release.

Scottish ministers viewed the level of US resistance to compassionate release as "half-hearted" and a sign it would be accepted.
Sounds fairly outrageous, doesn't it ? Well, not so much if you bothered to continue reading:
In the letter, sent on August 12 last year to Scottish First Minister Alex Salmond and justice officials, Mr LeBaron wrote that the US wanted Megrahi to remain imprisoned in view of the nature of the crime.

The note added: "Nevertheless, if Scottish authorities come to the conclusion that Megrahi must be released from Scottish custody, the US position is that conditional release on compassionate grounds would be a far preferable alternative to prisoner transfer, which we strongly oppose."

Mr LeBaron added that freeing the bomber and making him live in Scotland "would mitigate a number of the strong concerns we have expressed with regard to Megrahi's release".

The US administration lobbied the Scottish government more strongly against sending Megrahi home, under a prisoner transfer agreement signed by the British and Libyan governments, in a deal now known to have been linked to a pound stg. 550 million oil contract for BP.

It claimed this would flout a decade-old agreement between Britain and the US that anyone convicted of the bombing would serve their sentence in a Scottish prison. Megrahi was released by Scottish Justice Secretary Kenny MacAskill on the grounds that he had three months to live, making his sentence effectively spent.
In other words, according to this report, the Obama Administration told Scottish authorities the following:
1. Don't release Megrahi
2. If you do release him, make it a compassionate release conditioned upon him remaining in Scotland, presumably under some form of house arrest
3. Under no circumstances should you send him back to Libya.
While it would be helpful if the White House were to clear the air on this and release the August 12th letter, it is fairly clear that any claim that the Obama Administration lobbied Scotland to release Megrahi is, on it's face, an absolute lie.
Now, it is perhaps possible to be outraged that the U.S. would take any position that would allow Megrahi to be released from prison, but it's worth remembering that, at the time, the world was operating under belief that Megrahi was dying. We now know that wasn't true, and, yesterday, one doctor said he told the Scottish Government that Megrahi's cancer would not kill him as other physicians were claiming at the time. Based on the information publicly available at the time, though, it was the common belief that Megrahi would be dead within a very short period of time.
There is no story here. The Obama White House did not lobby for Megrahi's release. It's time to move on.
Update: The State Department has released the complete text of the August 12, 2009 letter.