Defense Department Weighing COCOM Realignment and Rebrand
The Pentagon is considering doing away with two combatant commands---and no longer calling them combatant commands.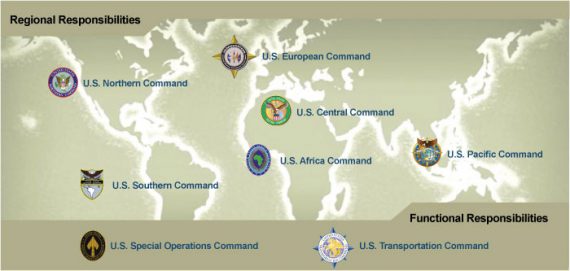 The Pentagon is considering doing away with two combatant commands—and no longer calling them combatant commands.
Defense News ("DoD Weighs Major COCOM Realignment"):
The Pentagon is considering a major overhaul of its geographical combatant commands, possibly realigning oversight within hot-button areas of the world and eliminating thousands of military and civilian positions, according to defense sources.

While the plans for combatant command (COCOM) realignment and consolidation are still notional, sources say some options include:

Combining Northern Command and Southern Command to form what some are calling "Americas Command" or "Western Command."
Dissolving Africa Command and splitting it up among European Command and Central Command.
Expanding Pacific Command to include Afghanistan and Pakistan, which are part of Central Command.

In all, the realignments could shutter two COCOMs and eight service-supporting commands, totaling more than 5,000 people, both uniformed and civilian.
This would be a bold step, although the cost savings would be minor by Pentagon standards. Offhand, all of the proposals listed above seem odd. Southern Command, which oversees Latin America minus Mexico, is arguably our most functional COCOM, characterized by repeat assignments and language and cultural proficiency. AFRICOM is largely useless but the symbolism of shuttering what is already a Potemkin COCOM so soon after standing it up would be horrible.  While AfPak is part of the Asian continent, nobody thinks of it as Asian.
But there's at least some real thinking behind this.
Combining Northern and Southern commands could lead to greater resources for activities in South and Central America, which experts say has long been DoD's most neglected region.

Combining the regions could better address cross-border issues — particularly drug trafficking — among Mexico, South America and the United States, said Bob Killebrew, a retired Army colonel and senior fellow at the Center for a New American Security.

Mexico is part of Northern Command, which also includes the contiguous United States, Alaska and Canada.

"[I]t makes … sense not to have a kind of artificial DoD boundary, not only between Mexico and Central America, but between Mexico and the American border as well," Killebrew said.
It strikes me that the more obvious solution would be to place Mexico into SOUTHCOM, where it belongs linguistically and culturally. For all intents and purposes, NORTHCOM isn't a fighting command but an administrative creature. So,  combining the two would simultaneously take away SOUTHCOM's unique culture while lumping it in with the least prestigious of the COCOMs; it's not at all clear why that would improve focus on Latin America.
Organizing oversight of Africa has been a topic of debate — mostly in the academic community — ever since Africa Command split from European Command and became a stand-alone COCOM in 2008. Before that, European Command oversaw much of the continent, with Central Command overseeing the Horn of Africa.

"The [oversight] that was diffused over multiple commands really wasn't something that was in our best interest nor in the best interest of our partners on the continent," said Kip Ward, a retired Army general who was the first commander of Africa Command.

Major changes to the existing Africa Command construct are not likely during a COCOM reorganization, experts say. US military operations in Africa, ranging from the 2011 overthrow of Moammar Gadhafi in Libya to the recent campaign against terrorists in Mali, underscore the need for a dedicated COCOM, defense officials say.

Since its establishment, Africa Command has added value and has been well received on the continent, Ward said. "I think that the focus that AFRICOM is able to bring to that vital, important part of the world is still important," he said.
AFRICOM is an odd duck but at least sends a strong signal that we care about Africa. Unique among COCOMs, it's headed by a four-star officer with a civilian deputy, symbolizing that it's as much a diplomatic mission as a military one. And it has essentially no organic fighting capability; it's a headquarters staff. Headquartered in that most venerable of African cities, Stuttgart. Still, I can't see it going anywhere.
Meanwhile, experts agree that Afghanistan, Pakistan and India should fall under the same COCOM, regardless of whether it's Pacific or Central. India falls under Pacific Command while Pakistan and Afghanistan are part of Central Command.

Since security, foreign policy, economic and trade issues with India predominantly involve Pakistan and vice versa, placing them under the same COCOM could better streamline US military ties with each country, some experts say.

The same is true for security and policy issues involving Afghanistan, since much of the violence in the nation is along the Pakistani border.

"It's better that the people who are dealing with India are the ones that are at least fully aware of, or completely in the picture, of what was discussed between two top dignitaries between the US and Pakistan," said Hassan Abbas, a former Pakistani government official who served in the administrations of Prime Minister Benazir Bhutto and President Pervez Musharraf.

"If they are the same team, or the same group of people that are in the same institution who are dealing with India, it actually provides more leverage for the United States and more opportunities to go for a coherent policy rather than dealing through two different commands," said Abbas, a senior adviser and fellow at the Asia Society and a professor at National Defense University's College of International Security Affairs. He stressed that this is his personal view, and he was not speaking for the university or the US government. "I think this makes sense."
So do I. While South Asia isn't part of the Western notion of "Asia," it has to be treated as a unit. Somebody, and it probably doesn't particularly matter whether it's CENTCOM or PACOM, should own it.
The growth in headquarters staff sizes at the COCOMs and across the entire military has been a major issue of late.

Between 2010 and 2012, staff sizes at the six geographical COCOMs have increased more than 7 percent, adding nearly 1,000 civilian and military positions.

In addition to those numbers, each service operates its own subordinate commands to the individual COCOMs. Many positions at the service commands are redundant to positions at the COCOMs, according to the Government Accountability Office.

"If they were to streamline or combine [COCOMs], you certainly won't have as many components," said Arnold Punaro, a retired Marine Corps major general and former Senate staffer who chairs the Reserve Forces Policy Board. "It depends on how they do it."
The main cost savings to be had is in getting rid of the Service staffs. If there's anywhere that DoD ought to operate jointly it's at the four-star headquarters level.
Pentagon officials overseeing the reorganization should also consider changing the title from combatant commanders to something less invasive, Killebrew said.

"It's a horrible [title] because what most of these commanders do is military assistance and military cooperation with other countries," Killebrew said. "When you say you're a combatant commander the first thing somebody in a small country says is, 'But I don't want to go to war. I just want to talk.'"
From time immemorial, we called them Unified Commands and their bosses commanders-in-chief, or CINCs. Back in 2002, Secretary of Defense Donald Rumsfeld ordered that we stop calling them CINCs since there's only one commander-in-chief, the president. So, we started calling them "combatant commanders." While he was right on the commander-in-chief issue, the resultant name change was awkward, putting a combatant commander in charge of a combatant command, but also politically insensitive. While the combatant commanders are, first and foremost, warfighters, they're also diplomats. The branding is therefore unfortunate externally.