Democratic Death Spiral?
A Democrat sees doom and gloom as far as the eye can see.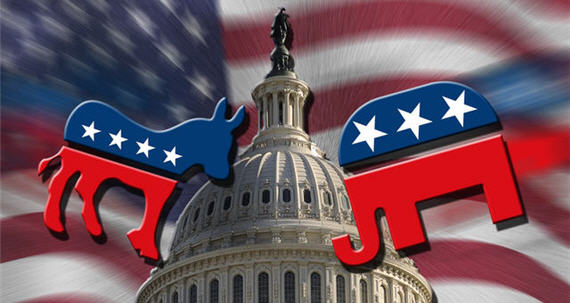 Bernard Finel asks "Will the Dems Cave?" as a rhetorical question. He's a Democrat, or at last anti-Republican, and doesn't see much good news on the horizon.
First, you have the Bush tax cuts. Republicans will pass a permanent extension in the House; they will almost certainly be able to command a majority in the Senate as well. So, will Senate Democrats be willing to filibuster the bill? Because that is the last firebreak. By late Spring, the GOP race will be settled (Romney almost certainly the nominee), and the electoral math is going to suddenly come sharply into focus. Take the Obama states from 2008, adjust for census, then adjust for the fact that Florida, North Carolina, and Virginia are not going to be in play, and what people are going to realize is that Obama has precisely one path to reelection, and that it runs through Pennsylvania, but the point is that it will be very, very, very tight, and there is no way Obama is going to hold firm on allowing what will be portrayed as the "biggest tax hike in history" to occur. Senate Dems will realize that, and without top cover, they won't have stomach to filibuster.
Obama has tried to keep the Bush tax cuts with the exception of the topmost bracket, something even I support. He's framed it as "Making those who have done well pay their fair share." The polls seem to show that he's getting the better of the argument. No matter, though, Republican intransigence is winning the day and not seeming to cost them any support.
Second, you have defense cuts. Same dynamic will apply. Again, there is no way Dems hold the line. They can barely keep Panetta in line as is!
I'm actually not so sure on this one. While the harsh cuts supposedly mandated by sequestration process almost certainly won't go through, there's little choice but to make pretty steep cuts. Our budget is bursting at the seams and we're spending a ridiculous amount on Defense. Then again, as Bernard has argued elsewhere, neglect and mismanagement in recent years means we've got a lot of very expensive weapons systems that need replacing.
Third, Doc fix and AMT adjustment will already have been taken care of certainly. But this will worsen deficit projections making everything else more complicated.
I'm skeptical on doc fix, which is a screwed up way of doing what likely has to be done but can't through the front door. And I despise AMT with a purple passion but most people don't understand it, so it's one way to raise revenues without overtly hiking taxes.
Fourth, you have a jobs bill/stimulus. Look, Dems should be able to win on this issue… but they won't. They've already proceeded too far down the austerity path, and committed themselves too publicly to deficit reduction to pivot effectively here.
Add to that the perception that the last stimulus was a massive boondoggle . . . yeah.
Fifth, health care. I'm really not sure what will happen here. Almost certainly Supreme Court is going to take a nice, big hack at the health care law. They'll probably invalidate the individual mandate on some sort of narrow ground, leaving law technically fixable. But regardless of how they decide on severability, Obama will have no leverage to pass the fixes to bring law into compliance with the Supreme Court decision.
As I've noted before, I think the Dems win on this one in the medium term and win big. I mean single payer big. I just don't see how anything else is sustainable much longer.
But, once the Bush tax cuts are permanent, you've more or less locked in the dismantling of existing entitlements. Whether it happens in Romney's first terms, or somewhere down the road, is an open question. And here is the perverse part. Gutting entitlements will murder the GOP electorally for a decade or more… but that doesn't really matter because once they are gone, our massive debt overhang will make reconstituting them impossible. And just as Presidents like Eisenhower and Nixon ended up expanding and institutionalizing the welfare state, it will fall to Democrats to institutionalize the post-entitlement order.
I just don't see it. Social Security and Medicaid aren't going away and we're aging rapidly. And, again, I think massive socialization of the healthcare sector is inevitable. Further, the Great Recession means that huge swaths of the population have been on unemployment assistance and/or fear that they'll need it in the future. The base for entitlements is bigger than it's been in some time.
And why are we going to get to this outcome? Because for 30 years now, the GOP has pursued a consistent approach — cuts taxes by promising that revenues will increase as a result, squeeze the budget by starving the government of revenue and diverting increasing amounts to interest payment, prevent entitlement reform to ensure that the programs becomes less and less sustainable. That is the power of the long view, which the Democrats with their fetish for tactics — triangulating, pivoting, etc — just don't have.
I'm not sure whether I agree that Republicans have been craftier or more steadfast than Democrats over the longer term. Regardless, Bernard and I both agree that the Republican Party is going to face a crisis at some point relatively soon because of the reckless unsustainability of a fetish for cutting taxes and massive defense spending and a renewed interest in balanced budgets.