Democratic Delegate Math Makes Clear Bernie Sanders Has No Realistic Chance Of Winning
It's time for Bernie Sanders and his supporters to face reality. He's not going to be the Democratic nominee.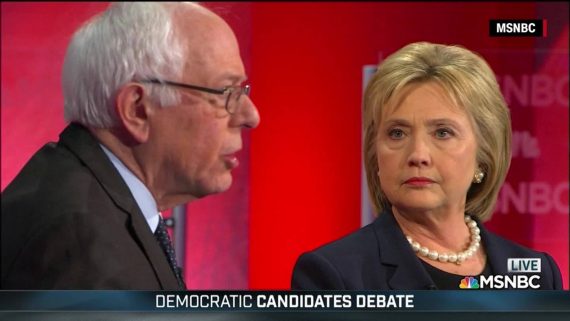 As with the Republican race, we've reached a point in the race for the Democratic nomination where it's worth taking a look at the delegate math to see where the race actually stands. From the beginning, of course, Hillary Clinton has always been in a stronger position in her race than any of the Republicans have been in theirs. Indeed, with the end of March approaching, the inevitable outcome seems clearly than it has ever been. Hillary Clinton is going to be the Democratic nominee for President, the only question is when she reaches the magic number she needs to officially clinch that title.
Taking last night's primaries and caucuses into account, the outcome of the Democratic race seems certain. RealClearPolitics and Politico give Clinton 1,185 pledged delegates so far compared to 897 for Bernie Sanders, added to this are an additional 164 delegates that are not pledged to either candidate. Additionally, Clinton has the support of 467 Superdelegates, giving her a grand total to date of 1,689 delegates, while Sanders has the support of just 26 Superdelegates, putting his grand total at 944. Going forward, I will solely use pledged delegate count since Superdelegates can always change their mind without penalty. So far, the Democratic contest has resulted in the awarding of 2,246 delegates, with another 1,805 delegates yet to be won. As stated above, so far Clinton has won 1,185, representing 52.76% of the pledged delegates awarded. In order to get to the 2,382 delegates needed for a first ballot majority, Clinton would need to win another 1,197 delegates in order to win the nomination, which means that she'd need to win 66.32% of the remaining delegates. In reality, of course, that number overstates Clinton's task, though, because it discounts the impact of the Superdelegates, so its worth noting that even if Clinton didn't get the support from a single additional  Superdelegate, her actual target is 730 additional delegates, which represents just 40.44% of the pledged delegates to be awarded, a goal which seems to be clearly within reach for her. Bernie Sanders has a much tougher task at hand. Not counting his Superdelegates, Sanders would need to win 82.27% of the remaining pledged delegates. Adding his limited number of Superdelegates into the mix doesn't make his task any easier since he would still be required to win 79.67% of the remaining pledged delegates as well as picking up support from a significantly larger number of Superdelegates. To put it bluntly, that isn't going to happen any Sanders and his supporters are fooling themselves if they think it can.
Looking forward on the Democratic calendar, everything seems to be working toward Clinton's advantage. While there has been limited polling out of Wisconsin that shows the race between Clinton and Sanders to be close there, the fact that delegates will be awarded proportionally means that Clinton would still walk away from that contest with some delegates and that Sanders will do little to close the gap. The Mid-Atlantic contests in states like Pennsylvania, New York, and Connecticut on April 26th will likely be fertile ground for Clinton thanks to her ties to the region. Looking further into May and June, Clinton also seems well positioned for victory in states such as Indiana, Kentucky, Oregon, and, finally, in California which in and of itself would probably end up being sufficient to put her over the top even though she likely will have already reached that point thanks to the Superdelegates that will likely start moving to her side in larger numbers over the coming two months. Indeed, the only thing that would seem to be preventing Clinton from wrapping up the nomination earlier is the fact that Democrats don't have any Winner Take All primaries. If they did, then Clinton would have this contest over and done with much sooner. As it stands, though, we're already at the point where a Sanders victory is the stuff of pure fantasy in any case. Whether he realizes that or not is another question.