Republican Delegate Math Continues To Heavily Favor Donald Trump
Looking at the delegate math, Donald Trump's path to victory seems to be becoming clearer by the day.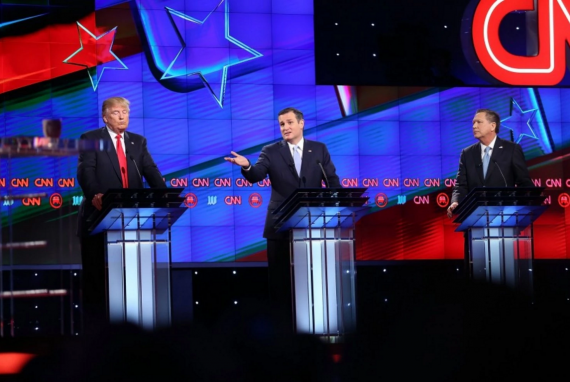 While the national and state polling that the media focuses on remains a worthwhile source of information about the current state of the race for President and where it may be headed in the last two and a half months of the race, we're now at that point where the only numbers that really matter are the number of delegates that the candidates have accumulated, the number that they still need to obtain a majority, and the prospect that they'll be able to get there given the primary calendar looking forward. Taking all of that into account, now seems to be as good a time as any to look at the numbers and see where the respective races stand.
First up, we'll look at the Republican race, where party insiders are desperately hoping to stop Donald Trump from winning the 1,237 delegates he needs for a majority on the first ballot. The most recent example of that can be seen in the announcement overnight that Jeb Bush was endorsing Ted Cruz:
In a surprise announcement, Jeb Bush will endorse Ted Cruz on Wednesday as an antidote to the "divisiveness and vulgarity" of Donald Trump, providing a badly needed boost to the Texas senator – but it's one that comes dangerously late in a game that Trump is dominating.

Cruz, in New York City on Wednesday, planned to celebrate with a victory lap of three network morning shows. The endorsement comes 32 days after a beaten Bush dropped out of the GOP presidential race, and eight days since Sen. Marco Rubio abandoned his own quest after being rebuffed by Bush, his fellow Floridian and one-time mentor.

Bush says in a statement to be released by the Cruz campaign: "Ted is a consistent, principled conservative who has demonstrated the ability to appeal to voters and win primary contests."

"For the sake of our party and country, we must move to overcome the divisiveness and vulgarity Donald Trump has brought into the political arena, or we will certainly lose our chance to defeat the Democratic nominee and reverse President Obama's failed policies," the statement continues.

The news will surely irk Rubio, who could have benefited greatly from Bush's embrace. But a Republican source said: "Jeb came to believe Marco was not up to the job of being President. It was never really under serious discussion." POLITICO reported on Monday that Rubio had rejected the idea of joining a "unity ticket" with Cruz.

Bush and Cruz sealed the endorsement agreement with a phone call on Monday. "They have kept in touch over the last few weeks and Senator Cruz has been diligent about keeping Governor Bush up to date on his campaign," a source close to Bush said.
While Bush's announcement will surprise many, it's unclear that it will have much of an impact on the race going forward. For one thing, Bush's own position in the polls when he dropped out of the race makes it clear that his influence with voters may not be very strong at all. Second, there's been very little indication in this race that endorsements of any kind have had much of an impact on the race at all. Bush himself had more endorsements than any other candidate and yet saw his campaign fizzle out spectacularly. In South Carolina, Marco Rubio had endorsements from several Members of Congress from the Palmetto State, along with the Governor and highly popular Senator Tim Scott, and yet he finished eleven points behind Donald Trump and only a few thousand votes ahead of Ted Cruz. In the current political climate, it appears, endorsements from sitting politicians don't seem to mean very much at all. Finally, in news that is likely to cause headaches for the entire Stop Trump movement, new polling suggests that the second choice of most voters currently supporting either Ted Cruz or John Kasich is Donald Trump, which suggests that even getting Kasich out of the race may not be enough to stop Trump's momentum at this point.
Taking into account last night's primaries and caucuses, the current delegate count according to RealClearPolitics  and Politico gives Trump (739 delegates) a lead of 274 delegates over Cruz (465 delegates). More importantly, though, the night put Trump closer to the point where he will have the 1,237 delegates he needs to win the nomination on the first ballot. As of today, there have been 1,537 delegates chosen on the Republican side of the race, with another 935 left to be chosen between now and June. So far, Donald Trump has won 739 delegates, which accounts for 48.08% of the delegates awarded to date in contests that have largely awarded delegates on a proportional basis. In order to win a majority, he would need to win another 498 delegates, which accounts for 53.26% of the remaining delegates to be chosen in contests that will largely award delegates on a Winner Take All basis. Ted Cruz, meanwhile, has won 465 delegates, which accounts for 30.25% of the delegates awarded to date. In order to get a majority, he would need to win another 772 delegates, which represents 82.57% of the remaining delegates. John Kasich, meanwhile, has only won 143 delegates and is already mathematically eliminated from winning a first ballot majority since he would need to "win" more delegates than remain outstanding.
Given these numbers, it is becoming harder and harder to see how Trump does not win a majority of delegates before the convention starts in Cleveland. After a brief respite, the contest picks back up again with a primary in Wisconsin that in many respects may be the last, best hope of the efforts of the GOP establishment and mainstream conservatives to halt Trump's momentum. With 42 delegates at stake in a modified "Winner Take All" state that also awards some delegates based on a candidates performance in each of the state's eight Congressional Districts, Wisconsin will go a long way toward determining if there is any hope left for Republicans who want to stop Trump from getting the majority he needs to win on the first ballot at the Convention. If Trump wins the state, then he will continue to add to his delegate lead while the odds for Cruz and "Stop Trump" crowd fall further behind. This is especially true given the fact that the calendar for the remainder of April, with contests in New York, Pennsylvania, Connecticut, Maryland, and Rhode Island seems especially well suited for a candidate like Trump,ill-suited for Cruz, and simply too expensive to compete in for a candidate like John Kasich. There are then a handful of primaries in May, including in states such as Indiana, West Virginia, and Nebraska, followed by the end of the race in June where big prizes like California and New Jersey, both of which seem ideally suited for Trump, await. With a calendar like this, it's hard to see how Donald Trump doesn't at the very least come very close to winning the 1,237 delegates he needs if not winning them outright, while the "Stop Trump" crowd is left behind in a cloud of dust wondering just how it is that they managed to let this happen.
There's a possibility all of this could change, of course, but at this point it seems as though that they only thing that would actually stop Donald Trump would be some kind of sea change in the race that causes the people who have been supporting him from the beginning to start peeling away from him. Since many of these people have been on his side for nearly ten months now, it seems increasingly unlikely that this is going to happen, or that there's much of anything that Trump could say or do at this point that would blunt the momentum he's had to date. Indeed, one could suggest that we are now at the point in the race where Republican voters are more likely to line up behind the apparent front runner than they are to support a candidate such as Ted Cruz whose odds of winning the nomination are minimal at best. Unless that changes soon, there really will be no stopping Donald Trump.
Update: The Democratic delegate math is even clearer.