Democrats "Major Announcement" Turns Out To Be Cheesy New Logo
Democratic National Committee Chairman Tim Kaine thinks all his party's problems will be solved with this new web site. Yea, that's the problem you guys have this year, bad web design.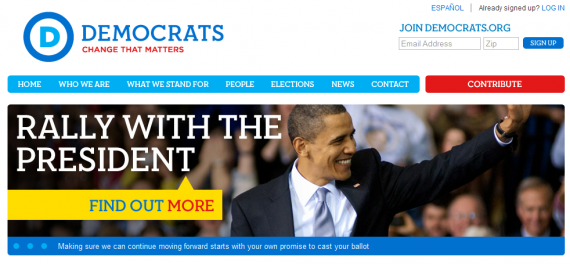 Yesterday afternoon, the political wires were abuzz with news from the Democratic National Committee:
Washington (CNN) — Democratic National Committee Chairman Tim Kaine plans to make what's being billed as a major announcement for the party Wednesday.

Any link one clicked on the party's website early Wednesday touted the announcement, without offering details.

However, a Democratic source with knowledge of the speech said it will be about the future of the party.

The source told CNN that Kaine will announce something that will excite Democrats across the country
What could it be, people wondered. A new grand strategy for the midterms ? Announcements that the President would campaign for Democrats Harry Truman-style from the back of a train ?
Well, no not so much:
Eager to bridge a daunting enthusiasm gap, Democratic National Committee Chairman Tim Kaine recited a list of President Barack Obama's accomplishments Wednesday to an auditorium packed with George Washington University College Democrats.

It came as he unveiled a new website, a new logo and a new slogan for his party: "Change That Matters."
You can see the redesigned website above, here's the logo: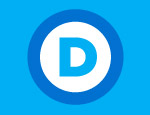 A "D" inside a circle ? That's your answer to what looks like it could be the biggest political setback for the Democratic Party in 16 years ? Yea, you go with that dude.