Democrats Turning on Weiner
Never popular with his colleagues, Anthony Weiner may now be the least liked Member.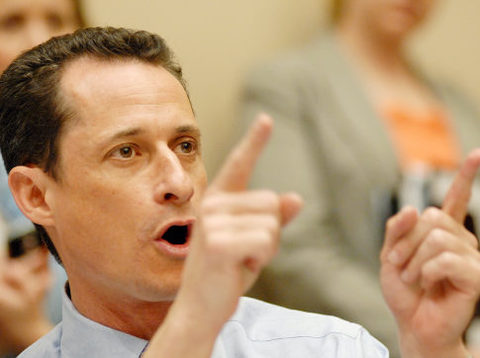 Yesterday, Doug asked "Can Anthony Weiner Survive?" I tend to agree with his answer: Absent revelations Weiner did something more serious than sexting, he may well get off with nothing more than some embarrassment and fewer invites to the late night comedy shows that made him a minor celebrity outside his Gerrymandered district.
But it won't be comfortable for him. In a story titled "Weiner Faces Calls to Resign and Tries to Make Amends," Michael Barbaro and David Chen of NYT flesh out the problems the underwear model has long had with his own delegation.
Mr. Weiner spent much of the past 24 hours apologizing over and over to stunned Congressional colleagues and Democratic leaders angry at him for misleading them and the public. Even neighboring House Democrats seemed shaken, with many of them worrying that worse disclosures may still surface.
In a tense telephone call with Mr. Weiner, during which he apologized, Representative Nydia M. Velázquez of Brooklyn scolded him, as she recalled: "How can you explain that somebody can be so smart but so stupid?" Asked if Mr. Weiner should resign, she replied, "The most important thing in this business is credibility."

[…]

Some New York Democrats have approached former Councilman Eric N. Gioia of Queens about running for Mr. Weiner's seat, according to two people briefed on the conversations. Mr. Gioia, these people said, is open to the possibility. He declined to comment.

Representative Nancy Pelosi of California, the minority leader, was said to be particularly upset with Mr. Weiner, who waited until 15 minutes before his news conference on Monday to inform her, by phone, about his explicit online communications with women. And rather than engage in a discussion about resigning, he instead told her, in no uncertain terms, that he would keep his seat, according to a senior Democratic Congressional official.

Expressions of support from Democrats, many of whom have long grumbled about Mr. Weiner's chest-thumping, go-it-alone style, were conspicuously scant.

At an appearance in Washington on Tuesday, the top Senate Democrat, Harry Reid of Nevada, said he could not overlook Mr. Weiner's conduct. "I know Congressman Weiner," Mr. Reid said. "I wish there was some way I can defend him, but I can't."
And I don't know whether to laugh or cry about this:
One of Mr. Weiner's most emotional apologies was delivered to former President Bill Clinton, who officiated at his wedding in July and is extremely close with the congressman's wife, Huma Abedin, an aide to Secretary of State Hillary Rodham Clinton. The Clintons are deeply unhappy about the situation and with Mr. Weiner, people who had been told of their thinking said. Mr. Clinton declined to comment.
When your sexual indiscretions piss off Bill Clinton, you've crossed a line.
Still, while being unpopular with the other Democrats will make it harder for Weiner to do his job, it doesn't necessarily mean he'll have trouble with his constituents. As Dave Schuler notes in the comments of Doug's post, "He doesn't exactly represent a Bible Belt district." But if the party establishment backs a serious challenger in the primaries, Weiner could be in trouble.