DeSantis: The Next Teddy Kennedy?
Looking for historical analogs and looking at some numbers.
The NYT's Nate Cohn asserts: Ron DeSantis Is Not Scott Walker.
The premise is that there's an important similarity between the two: They both earned the affection of conservatives by "owning the libs" as governors, rather than by giving soaring speeches or otherwise demonstrating the skills to win a presidential nomination.
Cohn correctly notes that, at a minimum, DeSantis faces far fewer challengers than did Walker, and that his relative popularity at this stage of the game suggests a much better position than Walker had at this time. Although I do think there are some analogs as both built national brands via Fox News by using their offices in similar fashions.
Still, from the information Cohn provides, maybe Ted Kennedy is a better fit analogy-wise, since Kennedy challenged a sitting president while DeSantis' primary opponent would be the party's most recent occupant of the White House.
Here are some of the numbers: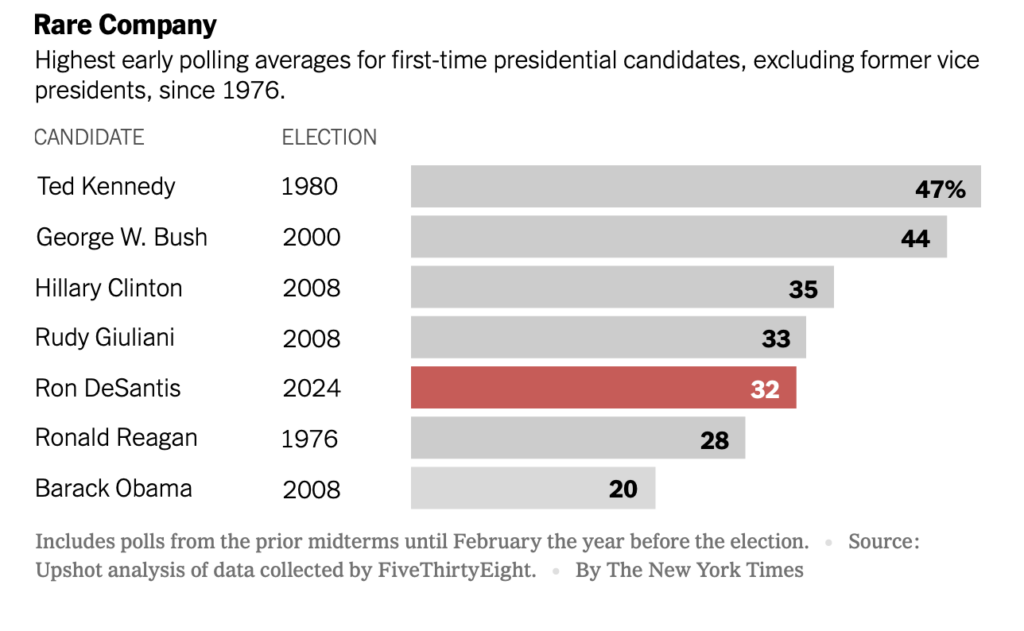 It seems noteworthy to underscore that of those listed, only Bush in 2000 and Obama in 2008 won their party's nomination the first time they ran (and the White House, for that matter).
Note: I don't really think that either the Walker or Kennedy analogy is nesesarily apt, mostly because Trump as an opponent creates a very specific, if not unique, dynamic (not just because of Trump himself, but because he is a former president seeking a non-consecutive term, which hasn't happened in the primary era).
Still, the numbers in the piece are of at least passing interest.