Despite Debate Missteps, Rick Perry Continues To Lead In New CNN Poll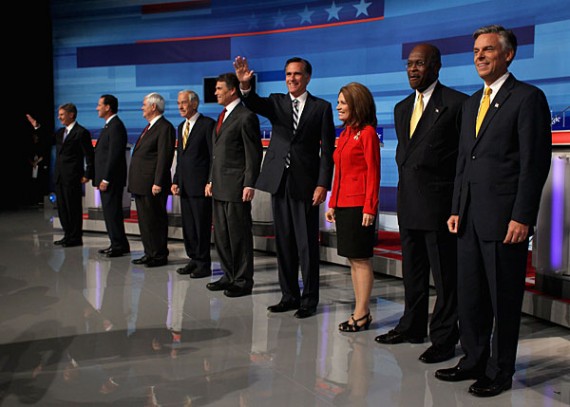 Questions that have arisen about Rick Perry's campaign in the wake of a month of lackluster debate performances and and disappointing finish in Florida's straw poll, but they don't seem to be hurting Rick Perry's status as a frontrunner if the latest CNN/ORC poll is any indication:
According to the survey, which was released Monday, 28 percent of Republicans and independents who lean towards the GOP say they support Perry as their party's presidential nominee, with Romney at 21 percent. Former House Speaker Newt Gingrich is at ten percent, with Rep. Ron Paul of Texas, who's making his third bid for the White House, former Godfather's Pizza CEO and radio talk show host Herman Cain, and former Alaska Gov. Sarah Palin, all at seven percent. The poll indicates that Rep. Michele Bachmann of Minnesota is at four percent, with former Sen. Rick Santorum of Pennsylvania at three percent and former Utah Gov. and ambassador to China Jon Huntsman at one percent.

Palin has flirted with a bid for the GOP nomination, but the 2008 Republican vice presidential nominee has not taken any concrete steps towards launching a campaign. Taking Palin out of the mix produces a similar result: 30 percent for Perry, 22 percent for Romney, 11 percent for Gingrich, and all other candidates in single digits.

The poll was conducted Friday through Sunday, after last Thursday's debate in Orlando, Florida. Pundits and analysts rate Perry's performance in that debate, and in a debate one a week and a half earlier in Tampa, Florida, as uneven. Perry's distant second showing at a much-watched straw poll of Florida GOP activists this past weekend may be a reflection of his debate performances, and his stance on illegal immigration and border security, which were spotlighted in both debates.

"Did Perry's performance in the most recent debate affect the horse race? Maybe yes, but maybe no," says CNN Polling Director Keating Holland. "Perry's support is down just two points, and Romney is up only one to three points – and since all those numbers are well within the sampling error, it doesn't look like much has changed, possibly because average voters aren't as plugged into the debates as political junkies are. If the debates have had an effect, it may be mostly in favor of Gingrich, whose support went from 5 percent in mid-September to 10 percent now."
The bad news in this poll isn't for Perry but for Bachmann, who has seen her support drop from double digits all the way down in to Santorum/Huntsman territory in just under two months. Winning the Ames Straw Poll looks like it's going to be her peak in this race given the combined impact of Perry's entry into the race that same day, and Bachmann's own bizarre statements throughout the last three debates about vaccination and other issues. The Gingrich bump is interesting, and may be attributable to the fact that he's been coming across as the old professorial Gingrich during these debates, which is something that worked well for him in the years after he left Congress.
As for Perry, it's possible that there might be more of a drop for him in the future if his campaign continues to show the signs of disorganization that we've been seeing of late, but as I said yesterday, Perry remains very well-situated in this race despite his missteps. Anyone predicting an imminent Perry collapse is simply not paying attention to the realities of the GOP field.
That doesn't mean Perry's problems are behind him, of course, because there's still the important question of electibility:
The survey indicates that Romney fares best against Obama. It's basically all tied up with 49 percent for Obama and 48 percent for Romney in a hypothetical two-way match-up. According to the poll, Obama holds a five point margin over Perry, 51 percent to 46 percent.

In a hypothetical matchup between Paul and Obama, the president holds a four point margin, 51 percent to 47 percent. Obama handily beats Bachmann and Palin in two-way match-ups. But keep in mind, as always, that polls taken more than a year before the election have little or no predictive value.
Electability is likely to be the biggest issue that will dog Perry throughout this campaign, and at some point, Republicans are going to have to decide which is more important to them in 2012, a good chance at a win on Election Day, or ideological purity.