Detroit Population Fell 25% In Ten Years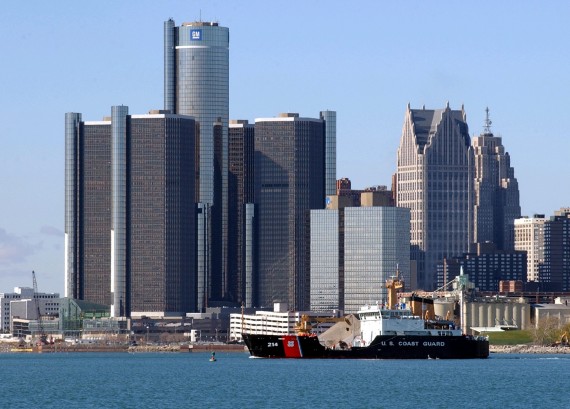 A sad testament to what has become of what was once the capital city of America's Rust Belt:
Laying bare the country's most startling example of modern urban collapse, census data on Tuesday showed that Detroit's population had plunged by 25 percent over the last decade. It was dramatic testimony to the crumbling industrial base of the Midwest, black flight to the suburbs and the tenuous future of what was once a thriving metropolis.

It was the largest percentage drop in history for any American city with more than 100,000 residents, apart from the unique situation of New Orleans, where the population dropped by 29 percent after Hurricane Katrina in 2005, said Andrew A. Beveridge, a sociologist at Queens College.

The number of people who vanished from Detroit — 237,500 — was bigger than the 140,000 who left New Orleans.

The loss in Detroit seemed to further demoralize some residents who said they already had little hope for the city's future.

"Even if we had depressing issues before, the decline makes it so much harder to deal with," said Samantha Howell, 32, who was getting gas on Tuesday on the city's blighted East Side. "Yes, the city feels empty physically, empty of people, empty of ambition, drive. It feels empty."

Detroit's population fell to 713,777 in 2010, the lowest since 1910, when it was 466,000. In a shift that was unthinkable 20 years ago, Detroit is now smaller than Austin, Tex., Charlotte, N.C., and Jacksonville, Fla.

"It's a major city in free-fall," said L. Brooks Patterson, the county executive of neighboring Oakland County, which was also hit by the implosion of the automobile industry but whose population rose by almost 1 percent, thanks to an influx of black residents. "Detroit's tax base is eroding, its citizens are fleeing and its school system is in the hands of a financial manager."

Nearly a century ago, the expansion of the auto industry fueled a growth spurt that made Detroit the fourth-largest city in the country by 1920, a place it held until 1950, when the population peaked at almost two million. By 2000, Detroit had fallen to 10th place.

Depending on final numbers from all cities, Detroit now may have dropped to 18th place, said William Frey, a demographer at the Brookings Institution.
Realistically, it seems unlikely that Detroit will ever really recover from this decline.