Did The United States Betray Chen Guangcheng?
What seemed like a diplomatic success has begun to unravel very quickly.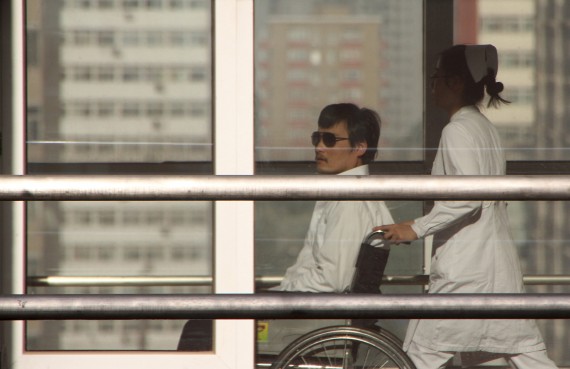 I noted very briefly yesterday the fact that Chen Guangcheng, the blind Chinese activist who had taken refuge in the American Embassy just a week ago after somehow escaping from house arrest, had left the embassy for medical treatment after a deal of some kind had been struck with the Chinese government. That deal allegedly included guarantees of Chen's safety and that of his family, who had stayed behind in his home town after he had escaped. It seemed like a successful end to what could have been a diplomatic crisis. As the day went on, however, the story seemed to unravel and allegations started to fly that called into the question not only Chinese veracity but whether the U.S. had been suckered into getting Chen to agree to a bad deal:
In the hours after he left the embassy on Wednesday with a deal that American officials said included security guarantees for him and his family, there were competing narratives among Chinese rights advocates and elected officials in Washington over whether the arrangement, negotiated by Beijing and Washington, represented an unalloyed victory for Mr. Chen or an expedient and foolhardy concession to China's authoritarian government.

And Mr. Chen himself seemed to be developing second thoughts about whether he could trust Chinese assurances that he and his family would remain safe inside China.

American diplomats and friends of Mr. Chen say that because he was not seeking political asylum in the United States but wanted to stay in China to continue his legal advocacy work, the agreement was the best denouement for a tense diplomatic drama that threatened to upstage a set of meetings this week, the United States-China Strategic and Economic Dialogue, and bruise a relationship increasingly vital to both sides.

"I am pleased that we were able to facilitate Chen Guangcheng's stay and departure from the U.S. Embassy in a way that reflected his choices and our values," Secretary of State Hillary Rodham Clinton said in a statement after speaking to Mr. Chen by phone as he was transported to a Beijing hospital for medical treatment.

But that optimism, initially shared by a number of human rights advocates both in China and abroad, began to fray later in the day after Mr. Chen began telling friends and foreign news outlets that he had changed his mind and was now seeking to leave China with his family.

Mr. Chen on Wednesday night told supporters that he had accepted the deal only after Chinese officials threatened his wife. That account, while denied by American officials, could turn what had at first appeared to be a diplomatic triumph for the United States into a darker, more ambiguous tale.

Teng Biao, a lawyer who has provided legal help to Mr. Chen in the past, said Mr. Chen changed his mind after arriving at the hospital and talking to his wife and supporters. Speaking by phone from the hospital on Wednesday, Mr. Teng said that Mr. Chen grew especially concerned by the sight of so many plain-clothed police officers and by the realization that American officials had left the hospital for the evening. "The Chinese government has a habit of failing to keep their promises," said Mr. Teng, who said he warned Mr. Chen of the potential risks if he stayed in China.

In an interview Thursday morning, Mr. Chen said he was swayed in large part by his wife, who told him how the police had tied her to a chair for two days after he fled and moved into his home. "They even tried to install an electric fence outside my house," he said. "The police essentially moved into my house. They are in my yard and on the rooftop every single day. They eat and sleep there."

Nicholas Bequelin, a senior researcher at Human Rights Watch in Hong Kong, said his initial elation sagged after he participated in a conference call with State Department officials who were trying to explain the deal to American rights groups.  His biggest concern, he said, was that Foreign Ministry officials, not the top Chinese leaders, had provided the assurances for Mr. Chen's protection. Such guarantees, he said, might not be enough to prevent more powerful, and vengeful, officials in public security ministries from subverting the deal. "The Foreign Ministry is low on the food chain in China," he said. "It would take considerable political authority to guarantee Chen Guangcheng's safety in China."

Renee Xia, international director of Chinese Human Rights Defenders, said the Obama administration was naïve for accepting Beijing's assurances that it would give Mr. Chen the freedom to continue his work — and his criticism of China's failure to carry out long-stalled legal overhauls.

"The Chinese promise of Chen's safety and freedom is unenforceable," she said. "The government has no credibility — the record speaks volumes to the contrary — and I think this agreement will come back to haunt the Obama administration."
In The Daily Beast reporter Melinda Liu reports on an exclusive interview with Chen in which he expresses a desire to leave China with his family and says that he felt pressured by American officials to accept the initial Chinese deal:
When U.S. officials escorted him out of the U.S. embassy shortly after 3 p.m. Wednesday, Chen thought he'd extracted a promise that at least one of them would stay with him at the hospital, he said. "Many Americans were with me while I checked into the hospital and doctors examined me. Lots of them," he told me from his hospital bed, where he's being treated for broken bones in one foot, an injury sustained when he fell after climbing a wall during his daring escape from house arrest late last month. "But when I was brought to the hospital room, they all left. I don't know where they went." The ordeal was all the more bewildering because Chen is blind and was hurt during his escape; he needs crutches or a wheelchair to move around.

The hours ticked by, and Chen became more and more agitated. Even though he'd originally told friends and embassy officials that he wished to remain in China, now he wanted to leave. "I hope to seek medical treatment in the U.S. with my family, and then I want to rest," he said. "As for the future, we'll deal with that in the future." At the hospital, Chen's fears mounted as his wife told him she'd been tied to a chair, beaten, and interrogated by Chinese guards after they learned he had entered the U.S. embassy in Beijing last Friday.

(…)

At the embassy, Chen said he came under tremendous pressure from American officials—"not those from the embassy but others "—to leave the diplomatic facility as quickly as possible. From the very beginning, he said, the assumption was that he would stay in China. "I had no information, I got no phone calls from friends, I was isolated," he told me, his voice trembling. "Then I heard about the threat that my wife would be sent back home to Shandong if I didn't leave the embassy. So I left."

He told me there was no explicit threat that she would be submitted to physical violence, "but nobody had to say it, I know what we've experienced all these years back in Shandong. Our home was surrounded by guards, lots of guards. Our friends weren't allowed to visit. If we tried to go out we'd be beaten, often with clubs." Security personnel had even escorted his young daughter to and from school; Chen and his wife hadn't seen their son for two years before their reunion at the hospital.

Human-rights activists are now extremely worried about Chen's fate, and some are astonished at this startling—and dark—turn of events.
As they should be it would now seem. Indeed, in a subsequent interview with CNN International's Stan Grant, Chen said that he now feared for his life.  According to reports, once Chen was dropped off at the hospital the officials from the U.S. Embassy that had been accompanying him had disappeared and he's been unable to meet with any of them since them, although they have apparently spoken with his wife off hospital grounds on more than one occasion since yesterday. What's unclear is whether this lack of access to Chen is a deliberate decision by American officials, or due to the fact that Chinese officials were preventing them from speaking to him.
There's no doubt that Chen's escape placed the United States in a difficult position. Notwithstanding the rhetoric about human rights in China that has come from Washington for years now, starting long before Barack Obama was President, the presence of a man who had been under house arrest in the U.S. Embassy created a serious diplomatic issue for the two nations. The fact that Chen's family wasn't with him made the situation even more difficult since it raised the possibility that they would be used as pawns by Beijing to force Chen to relent, which may be what happened in this case. The fact that all of this was happening while two of the highest ranking members of President Obama's cabinet raised the stakes considerably. Indeed, it  appears rather obvious that Secretary of State Clinton and other State Department officials in Beijing for the meetings became directly involved in the Chen issue almost as soon as they arrived in the country. At least at first glance, it appeared that their intervention had led to a successful resolution of what could have turned into an issue that completely distracted both nations during this week's meetings.
There are a lot of unanswered questions here. One wonders, for example, why Embassy officials didn't insist that the Chinese allow Chen to meet with his wife in private before agreeing to any deal. Had he, and they, known about these allegations that local security forces had beaten her after his escape things might have turned out very differently, or at least an effort would have been made to get better assurances of safety for Chen and his family if indeed they stayed in China. One also wonders if perhaps American officials weren't just a little too eager to get this controversy behind them in order to make sure that they didn't derail discussions with Chinese leadership of what they considered more important issues. Take note, for example, of Chen's statement to Melinda Liu in the interview that he felt pressure from American officials "not those from the embassy but others ."
Finally, one wonders what impact this might have on the Obama Administration internationally and domestically. Frida Ghitis, in an opinion piece at CNN.com, puts it this way:
The Chen case, however, could become iconic. If the Obama administration cannot explain what went wrong, it will have opened itself to criticism from human rights advocates and from Republican rivals, that he badly fumbled.

The Chinese government has demanded an apology from Washington for helping Chen and for interfering in Chinese domestic affairs. But the Obama administration, which claimed it had stayed true to American values in the Chen case, needs to prove that it has the moral strength to stand up for one courageous individual who sought help.

This is not just about Chen. It is about universal principles of human rights, really, and about America's willingness to defend them on the global stage. The whole world is watching.
We can't save every political prisoner in China, but when they show up at the doorstep of our Embassy and we let them in things change significantly. If it turns out that we've turned Chen and his family back over to the wolves that's going to be something the Obama Administration will have to answer for at some point.