'Die Hard' A Christmas Movie? Hardly
In which we ponder the great questions of the day.........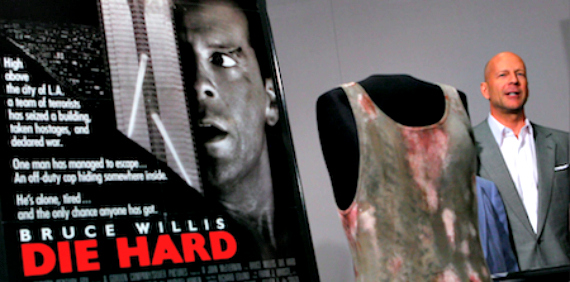 In recent years, I've noticed a lot of people, when asked, listing Die Hard as their favorite Christmas movie. To be honest, when I first noticed it, I largely assumed these were attempts at people being humorous, sarcastic, or just plain contrarian. It's true that the plot of the 1988 Bruce Willis movie does take place during the Christmas season, and indeed involves Willis's character John McClain traveling to his wife's office Christmas party in an effort to reconcile with her only to get caught up in a terrorist attack, spending the rest of the movie attempting to rescue his wife and her co-workers. Indeed, there is even Christmas music included in the background during various points in the film. However, it's difficult to say that Christmas itself is really an integral part of the movie in any significant respect. The attack that is the center of the film could have taken place at any other time of the year, after all, and McClain could have been drawn to his wife's office at any other time of the year, such as a party to celebrate a promotion or some such event. This isn't really true of films that we traditionally think of as Christmas movies, which tend to revolve around something specific to Christmas itself, or some part of one of the many cultural traditions associated with the holiday. Apparently, though, many people are quite serious when they list Die Hard as a Christmas movie despite all of this.
Matt Lewis, however, argues that there are two very specific reasons why Die Hard is not a Christmas movie:
1). The holidays must be an integral part of the storyline. This is sort of like defining pornography — you know it when you see it. But some films use the trappings of Christmas merely as a backdrop or a prop. Die Hard is a terrific film, and it certainly benefits from the music and imagery of the holiday season. But (like Lethal Weapon) this film would have worked without that conceit. John McClane could have just as easily have headed out to Los Angeles for Thanksgiving — or spring break. To be sure, Christmas creates a nice ambiance, but isn't a vital part of this story.

2). The film should be released at Christmastime. One could probably overlook the first concern if the movie had been sold as a Christmas movie. Just like when we interpret the Constitution, it's important to look at the original intent. And it's interesting to note that Die Hard was released on July 14, 1988 — right in the middle of a very hot summer. There was no attempt to label it a holiday film. And it would be revisionist history to suggest otherwise. Compare that to It's a Wonderful Life (December 25, 1946), or even Love Actually (November 6, 2003.)

One could also argue that there should be some sort of lesson derived from the film which is appropriate to the season. But that's a test few modern films (Home Alone, Love Actually, etc.) could pass. Expecting this would probably constitute asking for too much.
Lewis goes on to note that one might also add that there also ought to be some sort of "lesson" that the film teaches, presumably one in line with the Christmas season, but as he goes on to concede there are plenty of Christmas movies that are more "Christmas-y" than Die Hard that wouldn't pass that test. Using the first two criteria, though, both of which seem completely valid to me when coming up with a list of "Christmas" movies. First, it's fairly clear that Die Hard doesn't meet the test. As Lewis notes, and as I note myself above, Christmas is essentially tangential to the movie itself. Second, the fact that the film was released in the middle of the summer and was never marketed as a Christmas movie both strike me as being fairly conclusive on the issue. If the producers and the studio wanted to sell the movie as a Christmas movie, they could have easily done so. They didn't because it isn't a Christmas movie.
In the end, I still go back to the idea that a good deal of the effort to retcon Die Hard into a Christmas movie is some massive exercise in irony and sarcasm simply because it flies in the face of the clear evidence. Nonetheless, Lewis has taken plenty of mostly good-natured heat on Twitter and else since his column and elsewhere so, apparently, there is some cohort out there that wants to consider what is plainly a summer blockbuster action movie with a plot that, tangentially, occurs at Christmas time, into a holiday classic. That's their choice I suppose, but I'm certainly not going to agree with it.