Disney To Acquire Lucasfilm, Promises Star Wars 7 In 2015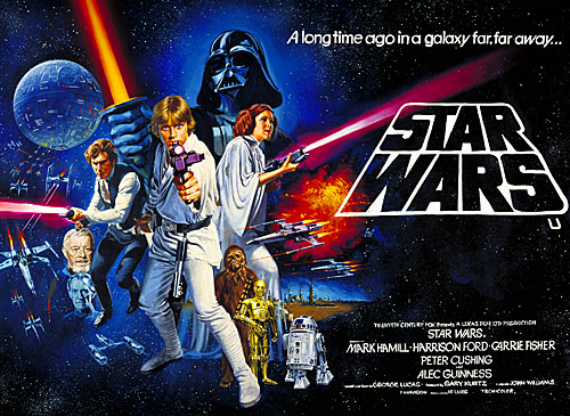 Big business news came after the Closing Bell on Wall Street today when The Walt Disney Company announced that it had entered into a deal to purchase George Lucas's Lucasfilm for over $4 billion dollars:
Walt Disney announced Tuesday that it has agreed to acquire Lucasfilm, the film company founded by Star Wars creator George Lucas, in a cash-and-stock deal worth $4.05 billion.

The deal is a rough equivalent to what the conglomerate paid for Marvel Entertainment back in 2009.

Disney will pay half of the deal in cash and will issue 40 million shares at closing.

Lucasfilm was founded and is owned by George Lucas, producer of Star Wars and Indiana Jones films.

In a statement, Lucas said, "It's now time for me to pass 'Star Wars' on to a new generation of filmmakers."
Indeed, in the Disney Press Release announcing the deal, the future of the Star Wars franchise played a central role:
"For the past 35 years, one of my greatest pleasures has been to see Star Wars passed from one generation to the next," said George Lucas, Chairman and Chief Executive Officer of Lucasfilm. "It's now time for me to pass Star Wars on to a new generation of filmmakers. I've always believed that Star Wars could live beyond me, and I thought it was important to set up the transition during my lifetime. I'm confident that with Lucasfilm under the leadership of Kathleen Kennedy, and having a new home within the Disney organization, Star Wars will certainly live on and flourish for many generations to come. Disney's reach and experience give Lucasfilm the opportunity to blaze new trails in film, television, interactive media, theme parks, live entertainment, and consumer products."

Under the deal, Disney will acquire ownership of Lucasfilm, a leader in entertainment, innovation and technology, including its massively popular and "evergreen" Star Warsfranchise and its operating businesses in live action film production, consumer products, animation, visual effects, and audio post production. Disney will also acquire the substantial portfolio of cutting-edge entertainment technologies that have kept audiences enthralled for many years. Lucasfilm, headquartered in San Francisco, operates under the names Lucasfilm Ltd., LucasArts, Industrial Light & Magic, and Skywalker Sound, and the present intent is for Lucasfilm employees to remain in their current locations.

Kathleen Kennedy, current Co-Chairman of Lucasfilm, will become President of Lucasfilm, reporting to Walt Disney Studios Chairman Alan Horn. Additionally she will serve as the brand manager for Star Wars, working directly with Disney's global lines of business to build, further integrate, and maximize the value of this global franchise. Ms. Kennedy will serve as executive producer on new Star Wars feature films, with Geworge Lucas serving as creative consultant. Star WarsEpisode 7 is targeted for release in 2015, with more feature films expected to continue the Star Wars saga and grow the franchise well into the future.
This prompted Daniel Drezner to send out this tweet:
Asked to comment, Yoda said, "Merger leads to synergy. Synergy leads to Star Wars 7.Star Wars 7 leads to… suffering."

— Daniel Drezner (@dandrezner) October 30, 2012
Putting Star Wars in the hands of Disney certainly guarantees that they're not going to let the franchise just sit there without exploiting it as much as they can, not just in movies but throughout their media empire. It also means that we're likely to see far more vigorous enforcement of Star Wars related trademark's and copyrights, which may very well mean the end of any fan fiction web sites out there, although going after the fans would be an incredibly stupid move on their part. As for the 7th, and likely 8th and 9th, movie, I'm not sure what to think.  I noted here back in 2010 that there were rumors that Lucas was thinking about a third trilogy, something that had been mentioned since the first trilogy was released, but with all of the officially sanctioned fiction that has been released in the last several decades that pretty much establishes what the post Return Of The Jedi storyline is, I'm not sure what room there is for a movie. Additionally, given what we saw from the prequels, I am not entirely optimistic about the project.
But it's coming in 2015, folks. Mark your calendars.