Do High Taxes Chase Out The Rich?
A new study suggests that taxing millionaires sends millionaires to somewhere that doesn't tax millionaires.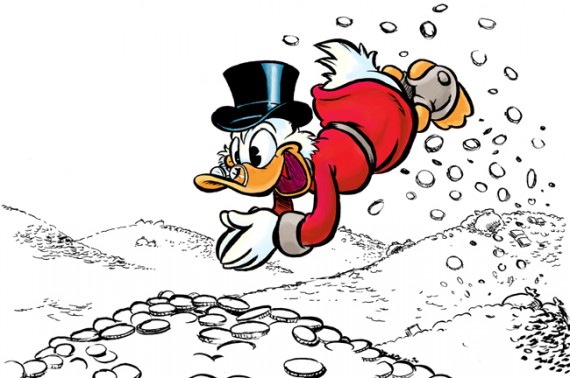 A new study suggests that taxing millionaires sends millionaires to somewhere that doesn't tax millionaires.
CNBC ("In Maryland, Higher Taxes Chase Out Rich: Study"):
A new report says wealthy Maryland residents may be moving out due to recent tax hikes – a finding that is sure to escalate the battle over taxing the American rich.

The study, by the anti-tax group Change Maryland, says that a net 31,000 residents left the state between 2007 and 2010, the tenure of a "millionaire's tax" pushed through by Gov. Martin O'Malley. The tax, which expired in 2010, in imposed a rate of 6.25 percent on incomes of more than $1 million a year.

The Change Maryland study found that the tax cost Maryland $1.7 billion in lost tax revenues. A county-by-county analysis by Change Maryland also found that the state's wealthiest counties also had some of the largest population outflows.

In total, Maryland has added 24 new taxes or fees in recent years, Change Maryland says. Florida, which has no income-tax, has been a large recipient of Maryland's exiled wealthy.
While I'm sympathetic to the finding—it just makes sense that very high taxes will drive people who don't need to live in that area to sustain their income away—the fact that this particular study was conducted by a group with an agenda and that the study fit the group's agenda certainly makes me cautious in taking it as definitive.
Some argue, however, that there is little real evidence that higher state taxes drive out large numbers of high earners. Neil Bergsman, director of the Maryland Budget and Tax Policy Institute, said while a number of people left the state between 2007 and 2010, others moved in. The net loss, he said, is "very small," he said.

What's more, he points out that the wealthy usually move because of a job change, life change or retirement rather than taxes.

"There is no evidence that tax structures are a significant determinant in their location choices," Bergsman said.

What's more, he said, Maryland is still minting high-earners and has among the highest incomes and highest concentration of millionaires in the country.
But, presumably, people with highly marketable skills are more likely to seek jobs elsewhere if they can keep more of their earnings in the new locale. Ditto retirement: a lot of people move to states with low tax rates for the low tax rates. But there are obviously other factors at work.
Maryland is a particularly interesting case because its wealthiest areas are adjacent to the District of Columbia and said wealth is owing to that proximity. Moving from, say, Bethesda, Maryland to McLean, Virginia can be done without changing jobs or social networks.
Indeed, it's quite typical in this area for people who work in DC to live in either DC, Maryland, or Virginia. Some even live further out—Delaware or West Virginia, for example. It's easy to do. In my own office, most of the younger staffers live in the District while those of us with families tend to live in either Maryland or Virginia.
Granting that none of us are subject to a millionaire's tax, that very fact would seem to indicate that tax policy isn't the primary driver of where people choose to live. I live in Virginia because my late wife and I both worked in Virginia when we bought our house and it wouldn't make much sense, for a variety of reasons, to move closer to the office at this juncture. Yes, Virginia's tax rates are more favorable. But it's also cheaper to live in the sort of house and neighborhood I prefer, schools are better, and so forth.
Other studies in New Jersey, Connecticut and Rhode Island have also failed to offer proof that taxes are the main driver of out-migration by the top earners. (See here and here). In some states, weather is a bigger driver of out-migration by the wealthy than taxes.
The two linked articles, both to other pieces by the same author, demonstrate just how hard it is to evaluate the question. For one thing, "millionaires" or "the rich" aren't a constant; a Maryland millionaire who doesn't show up on the list the next year might not be a millionaire that year. And we don't do a great job of tracking individual moves, making it hard to accurately gauge the relative tax burdens before and after. And, of course, the reasons people move are manifold, making it hard to evaluate the motives in any case.