Do Personal Relationships Matter In International, Or Domestic, Politics?
Does it matter if political leaders like each other on some personal level? Sometimes it does.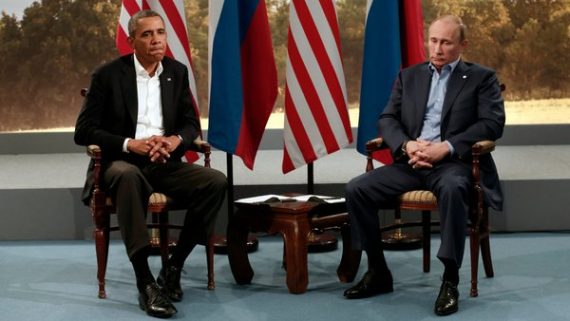 A report in The New York Times today starts off by detailing the racy icy encounters that President Obama has had with the leaders of the United States' two primary competitors for power on the world stage today, China and Russia:
WASHINGTON — Over porterhouse steak and cherry pie at a desert estate in California earlier this month, President Obama delivered a stern lecture to President Xi Jinping about China's disputes with its neighbors. If it is going to be a rising power, he scolded, it needs to behave like one.

The next morning, Mr. Xi punched back, accusing the United States of the same computer hacking tactics it attributed to China. It was, Mr. Obama acknowledged, "a very blunt conversation."

Ten days later, in Northern Ireland, Mr. Obama had another tough meeting with a prickly leader, President Vladimir V. Putin of Russia. At odds with him over the Syrian civil war, Mr. Obama tried to lighten the mood by joking about how age was depleting their athletic skills. Mr. Putin, a decade older and fending off questions at home about his health, seemed sensitive on the point. "The president just wants to get me to relax," he said with a taut smile.

While tangling with the leaders of two cold war antagonists of the United States is nothing new, the two bruising encounters in such a short span underscore a hard reality for Mr. Obama as he heads deeper into a second term that may come to be dominated by foreign policy: his main counterparts on the world stage are not his friends, and they make little attempt to cloak their disagreements in diplomatic niceties.
Now, to be honest, I'm not so sure that it's all that important that the President of the United States have friendly personal relationships with the leaders of China and Russia. After all, all three men represent nations that have their own interests. Sometimes those interests are at least parallel if not identical, but quite often those interests are at odds and that requires discussions that, while diplomatic, are often quite blunt. Granted, there have been times in the past when leaders of adversarial nations did seem to develop some sort of personal chemistry that helped guide the way through tumultuous times. Most notably, such a relationship seems to have clearly been established in the final years of the Cold War between Mikhail Gorbachev and both President Reagan and President George H.W. Bush. Boris Yeltsin also seemed to get along with President Clinton fairly well, but then Yeltsin was quite often mercurial and bizarre. For the most part, though, I don't think it can really be said that our Presidents have had good personal relationships with the leaders of adversarial nations, or that it would be particularly helpful if they did.
Additionally, it's arguably the case that the personal relationship with the leader of an adversarial power on the world stage is typically a reflection of the relationship between the nations. The personal relationship between President Obama and Vladimir Putin is, as the photo above illustrates quite well, icy to say the least but, then again, so is the relationship between the United States and Russia on a whole host of issues. As for China, our relationship with them is, well, complicated seems as good a word as any, so "it's complicated" would seem like an appropriate Facebook era description of the relationship between President Obama and President Xi.
Daniel Drezner, however, points out that the Times story points out something that may be of more concern:
My concern reading Baker and Landler's story isn't about the lack of warmth between Obama and great power rivals, but rather the lack of warmth between Obama and U.S. allies.  The story notes that relations with French president Francoise Hollande are strained for a number of reasons.  Obama has made committed numerous small faux-pas with his British counterparts as well.  Landler and Baker fail to identify any personal relationship between Obama and an allied leader that is particularly warm (though Chuck Todd suggests Angela Merkel).  The only "warm personal relationship" the press has identified between Obama and a current world leader is Indian Prime Minister Manmohan Singh.  Unfortunately, as Indian foreign policy analysts like to stress, the United States is not their ally and New Delhi is not ready for prime time on the global diplomatic stage anyway.

It would seem that Obama has a deficit of close personal allies and confidantes at G-20 meetings or other confabs.  Which isn't exactly a big deal but seems a bit problematic.  Sometimes advice from staffers, underlings, or even cabinet members can be dismissed in a way that advice from a nominal peer cannot.  All leaders — especially powerful ones — are served well by a coterie of allies who can speak truth to power.
In some sense, this observation about President Obama is one that has carried over to domestic policy as well. Virtually from the time he took office in 2009, observers of domestic politics and especially Capitol Hill have noted that the President has been extremely reluctant to engage in the kind of one-on-one contact with Members of the House and the Senate that previous Presidents have. In many cases, that personal contact has allowed past Presidents to develop personal relationship, even across the political aisle, that allowed them to influence events in Congress. The examples from recent history are well known. Despite their often bitter political disagreements, President Reagan and Tip O'Neill developed a common bond from their shared Irish ancestry that allowed them to work together on two controversial budget plans in a row in the early 1980s, and a plan to save Social Security from an imminent fiscal crisis. President George H.W. Bush's long service in Washington allowed him to develop personal relationship with many people on both sides of the aisle and, of course President Clinton was perhaps the best at playing this game since Lyndon Johnson. Even President George W. Bush managed to develop a relationship with an ideological rival like Ted Kennedy that aided in passage of more than one piece of major legislation.
President Obama, on the other hand, seems to eschew even trying to make these kind of contacts. It took him nearly three years to have a one-on-one meeting with Senate Minority Leader Mitch McConnell, arguably one of the most powerful people on Capitol Hill even when the Democrats controlled both Houses of Congress. The day that he ended up inviting John Boehner to play golf was such a break from his normal routine that it became a top news story. Even with members of his own party, the complaint often heard from Capitol Hill reporters passing along what they're told is that the President prefers to have his aides deal even with top Congressional leaders rather than getting involved personally, even when getting involved personally would actually help the situation far more than sending yet another Deputy Chief of Staff to take a meeting.  Some might argue that there's really no point in the President trying to establish a working relationship with adversaries on the Hill given the hostility that they project on a daily basis. Perhaps that's true, but it strikes me that there's no reason to have at least not given it a try. Moreover, it's important to realize that the rhetoric you hear from leaders like Boehner and McConnell in public is largely a reflection of how far they feel their caucus will allow them to go. In private, during negotiations, there's at least some possibility of developing a personal relationship that can make the difficult task of trying to govern in a nation as divided as ours just a little bit easier.
To his credit, President Obama has seemed to change in this regard in recent months. He's hosted dinners with several groups of Republican and Democratic Senators over the past few months, and invited a group of GOP Senators to join him on the golf course, something which resulted in one Senator getting a hole in one. Will things like this help move things like immigration reform through Congress? That's hard to say, but it can't really hurt either can it?
On the international side, it's obvious that Obama lacks the kind of close relationship that President Reagan had with leaders like Margaret Thatcher, Brian Mulroney, and Helmut Kohl, or that President's Clinton and George W. Bush had with Tony Blair. Arguably, that has made the job of international diplomacy more difficult, especially when one is dealing with difficult issues like the war in Syria, or embarrassing ones like the recent revelations over NSA surveillance, which has not been well-received in Europe at all. Of course, As Drezner points out, those kind of relationships aren't always a good thing either. The relationships between Tony Blair and Bush 43 produced, as he put it, "mixed results" to say the very best. At the same time, though, it does strike me that having good relationships with the leaders of nations that we may need help from some day is probably a good thing in the long run.