Do We Really Need A "Foreign Policy" Debate?
Does it make sense to divide the Presidential debates between "domestic policy" and "foreign policy?" Yes, and no.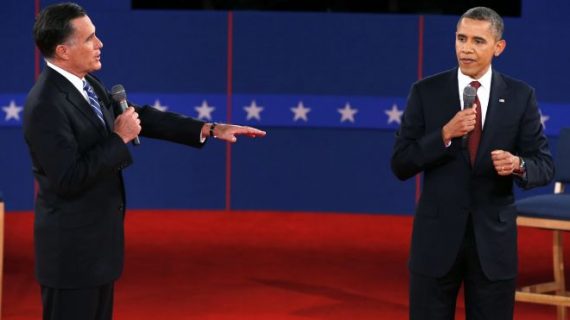 Ezra Klein argues that it doesn't make sense to divide our Presidential debates into "domestic policy" and "foreign policy" categories:
The first presidential debate focused on "domestic policy." Tonight's presidential debate will focus on "foreign policy." I'm going to focus on the fact that this distinction is ridiculous.

Washington's definitions of "domestic policy" and "foreign policy" haven't kept up with the real world. When you hear the term "domestic policy" in the Beltway, it means economic policy, health-care reform, financial regulation, energy. "Foreign policy" means, broadly speaking, our policy towards the countries we are already at war with, or are considered likely to eventually go to war with. But the actual policies don't break down so neatly.

"The domestic/foreign distinction is completely misleading," says Heather Hurlburt, director of the National Security Network. "It keeps you from having intelligent conversations. There's a whole set of issues that structurally don't get seen if everything is a domestic or a foreign issue."

At the first debate, the very first question was about "jobs." So jobs are a domestic issue, right?

"That debate was bizarre," says C. Fred Bergsten, director of the Peterson Institute for International Economics. "There was nary a question about how the world economy affected the U.S. economy. Yet we all know the Euro crisis is the number one threat to the world economy and the U.S. economy."

Or take financial regulation, which also came up in the first debate. The candidates argued over who would do what with the Dodd-Frank financial reforms. Yet if you talk to the people trying to implement those reform - or any reforms - they'll tell you that an enormous amount of their time and energy goes into coordinating with other countries and worrying about foreign firms.

"Capital markets are the most globalized of all," says Bergsten, "so it's folly to think you can truly regulate financial stability unless you do it on a global basis. When Barney Frank was writing Dodd-Frank, he said the reason they were leaving a lot of big issues open was to promote a maximum degree of international compatibility."
The piece goes on in a similar vein.
I understand the point that Klein is making here. We live in an interconnected world and that what we considered "domestic" issues — jobs, the economy in general, the future of economic growth, our financial system, and related issues — are heavily influenced by things that happen overseas. That's been the case for some time. However, when these debates get divided by general subject matter like this, I don't think it's intended to mean that the candidates cannot mention international issues that impact things here in the United States. Indeed, I seem to recall both candidates doing exactly that in the first "domestic issues only" debate and in last week's "Town Hall" debate in response to questions about domestic policy. Indeed, it's rather difficult to have a conversation about American competitiveness without discussing International Trade issues and, as Mitt Romney is wont to do, China. On the other side of the coin, there are many domestic issues that influence "foreign policy" questions, not the least of them being the fiscal problems that our nation is having and the question of what, if any, international commitments might need to be scaled back in order to bring our budget under control.
However, I think that Klein is overreacting somewhat here. The number of of issues that a President has to deal with are innumerable, but the number of debates that get held during a General Election campaign is limited. For many reasons, I think that our current system of three Presidential debates and one Vice-Presidential debate is the high end of what we're likely to ever see. Part of this is a matter of sheer practicality. Given the size of the country and other considerations, the idea of having more debates than these is probably impractical. Additionally, a debate that lasts longer than 90 minutes is likely to be one that drags on far too long to begin with. For that reason, it makes some degree of practical sense to divide the topics of these debates to some degree so that the candidates have time to actually discuss issues in something other than sound bites. "Domestic Policy" and "Foreign Policy" are such open ended topics to begin with that it would seem to me that creating an open ended debate format where any topic could be discussed would end up being a confusing waste of time. Indeed, the "Town Hall" debate has exactly that format and it has consistently been the least informative of all of the Presidential debate formats going all the way back to its introduction in 1992.
So yes, Ezra Klein is right to lament the sometimes artificial division between "domestic" and "foreign" policy, but as a practical matter for organizing debates it strikes me that the divisions work out just fine.