Does Debate Performance Matter?
These debates matter (if by "matter" we mean "affect the views that voters have of the candidates").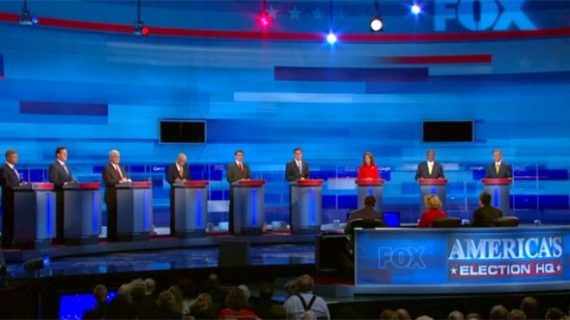 Yesterday, Doug Mataconis asked: Does A Bad (Or Good) Debate Performance Prove Anything?
My answer to the exact question as asked:  no, it doesn't prove much of anything.  I prefer the question to be asked as follows:  "does a bad (or good)debate performance prove anything matter?(fixed to reflect what I meant to type)."
There are at least two basic ways to answer that question.  The first is whether the debates actually mater in terms of telling us anything about a given candidate's ability to run for office as well as their ability to serve.  The second is an empirical question of the political impact of debate performance.
The first question requites a somewhat subjective response and is complicated by the two factors noted above in regards, specifically, to primary elections:  voters are evaluating candidates on their ability to both run in the general election as well as to serve in office.  At this early stage of the game, the former is likely more important to voters than is that latter at this stage.  We are still months away from any real votes being cast.  As such, poor performance in debates is clearly going to matter to primary voters who want to choose a candidate who can be seen as capable of making a serious run in the general election (the dreaded "electability" dimension).  Primary voters also want to hear about the candidate's policy views (which speaks to how the candidate will allegedly govern).
Perry's latest debate performance impacted (negatively) both of these areas.  His tongue-tied attempt to take down Romney raises questions his ability to campaign (and, more to the point, his ability to stand on a stage next to a sitting president* and adequately compete with him).  In terms of policy, Perry said some things (on immigration in particular) that does not resonant with large segments of the GOP primary electorate.
As such, I think that Perry's debate performances have mattered.
On the empirical front, political scientist Charles Franklin has looked at the polls and have noted that the Perry v. Romney contest has narrowed after each debate (and his figures do not take into the most recent debate):
It will interesting to see, from an empirical point of view, if this trend continues.
Franklin further weighs in in the following post: Has Perry Support Declined? (lots more graphs—so do click through).
So, in sum, yes:  these debates matter (if by "matter" we mean "affect the views that voters have of the candidates").
Now, I suppose we could argue about whether this could be the case or not, but that is another issue.
—
*I know a lot of readers are so anti-Obama that the assumption is that anyone can compete with him.  But it has to be remembered that there is a great difficult for any challenger to have to stand on a stage with POTUS.   No one should pretend like Obama's resume is insufficient (the "community organizer" card is utterly irrelevant now).  Any candidate that the Republicans nominate has to be in a position to convince a large number of voters that said candidate is an adequate replacement for the current occupant of the White House.  This is harder than it looks.   There is a reason why incumbents have a fairly high re-election rate.