Donald Trump Raises $51 Million In June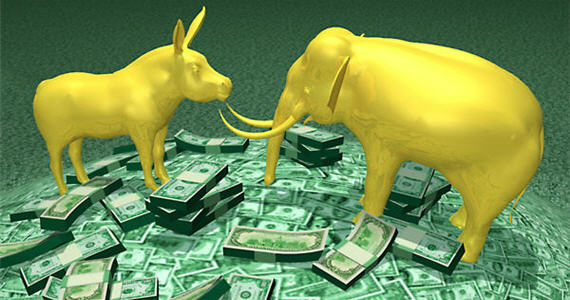 Donald Trump raised a surprisingly robust $51 million for his campaign and the GOP in June:
Donald Trump raised more than $26 million through online and mail solicitations in June and another $25 million at events with the Republican National Committee, his campaign announced Wednesday, a hefty haul that his allies hope will put to rest anxieties in the party about his fundraising prowess.

The combined $51 million falls short of the $68.5 million that Democratic contender Hillary Clinton and the Democratic Party collected in June, which included $40.5 million she raised directly for her campaign. But it was the biggest monthly take by far for the presumptive GOP presidential nominee, who did not begin to hold fundraising events until late May. And it suggests Trump has the ability to quickly inject large sums of money into his campaign coffers by tapping into the fervor of his supporters.

Much of the campaign's money appears to have come in during the final 10 days of the month, when Trump's operation began aggressively soliciting money online for the first time. The Trump campaign announced Wednesday that more than 400,000 supporters made donations in June, with more than $3 million coming in just one day. That indicates that the billionaire will be able to post far larger totals in the coming months if he continues to actively urge his backers to give.

Aides said the pace of donations has continued in July and they believe Trump could build the kind of online fundraising juggernaut that drove Sen. Bernie Sanders's Democratic nomination bid.

"We're extremely pleased with the response," said Steven Mnuchin, Trump's national finance chairman, noting the campaign just kicked off its online fundraising efforts two and half weeks ago. "We are seeing similar levels to level of success that Bernie Sanders was able to attract from his supporters."
When compared to the $70 million that Hillary Clinton raised during the same period or the $100 million that Mitt Romney raised during the same period four years ago, this isn't entirely impressive, of course, but it does seem to indicate that the Trump campaign and the RNC have resolved the fundraising issues that were plaguing them in the immediate aftermath of Trump clinching the nomination. The problem that Trump faces is that it is unlikely that he'll be able to out-raise Hillary Clinton, who already has a significant advantage in terms of money raised and cash on hand to the point where she can afford to run an anti-Trump television ad blitz this early in the election cycle. As long that advantage exists, Trump will face an uphill battle.