Donald Trump's Favorite Foreign Policy Adviser Is….. Donald Trump
Advisers? Donald Trump doesn't need no stinkin' advisers.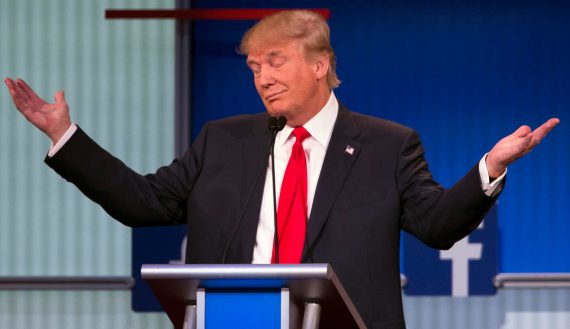 Donald Trump says that when it comes to foreign policy, he doesn't really need a team of advisers because he already consults the authority that he trusts the most, himself:
Donald Trump finally shared the name of someone he consults on foreign policy: himself.

Asked on MSNBC's "Morning Joe" who he talks with consistently about foreign policy, Trump responded, "I'm speaking with myself, number one, because I have a very good brain and I've said a lot of things."

"I know what I'm doing and I listen to a lot of people, I talk to a lot of people and at the appropriate time I'll tell you who the people are," Trump said. "But my primary consultant is myself and I have a good instinct for this stuff."

The New York real estate mogul has kept mum on his foreign policy team, despite promising in early February to release a list of his advisers in "about two weeks."
Trump has been dodging the question of who his top foreign policy advisers might be for more than a month now. It appears to have started in early February when Trump appeared via telephone on Morning Joe and was asked by co-host Mika Brezenski to name the members of his foreign policy team, something he had been avoiding doing for months. It was at that point that Trump said that he would be revealing that list of people, along with a more detailed foreign policy platform in "two weeks," a promise Trump repeated that same week during an appearance on Fox News Channel. Of course, two weeks came and went an Trump did no such thing, and Brezinski has made a point to return to the question each time Trump has been on the show since then, getting the same "it's coming soon" response from Trump that she got six weeks ago each time. That changed the yesterday when Trump basically insinuated that he doesn't necessarily need to consult anyone on foreign policy because he's so smart that he can just consult himself.
If nothing else, this kind of answer is consistent with the arrogant self-assurance that has marked Trump's personality and public persona since long before he ever entered the political arena. It's also consistent with other comments that Trump has made on this issue since entering the race for President. Back in August when his campaign was just two months old, Trump told NBC News's Chuck Todd that he watches "the shows," meaning the Sunday morning news talk shows, in response to a question about where he got his information about foreign and military affairs. At the time, Trump's comment was rightfully treated with derision but he continued to provide answers like that to similar questions and it had absolutely no impact on his standing in the polls or, as we've seen, his ability to win primary elections despite never having run for office before. It's also consistent with a general ignorance about foreign and military affairs that that he has displayed in the past. In an era where voters are used to seeing candidates trot out impressive lists of advisers in a number of policy areas, in no small part to show that they would be surrounded with a strong and competent team of people whose job it is to help them make decisions once they become President. Not so for Trump. For Trump, he would have us believe that he is the sole brain behind the operation and that he alone is responsible for all the decision making and would continue to be should he be elected President.
The thing is, Donald Trump almost assuredly knows that this position is utter nonsense.
Whatever Trump would have the public believe about his business acumen, the truth is that he obviously wouldn't be able to do his current job without people under him whose job it is to advise him and carry out the decisions made at the top, and that this includes people who know things that Trump himself doesn't. Whether its lawyers, accountants, engineers, architects, or other professionals, it's obvious that Trump has thousands of professionals who work underneath him or for him who provide him with advice in highly specialized fields that he can't possibly be fully knowledgeable in, including fields like the legal aspects of his business, the tax implications of decisions he might make, or the engineering and architectural details of the buildings he builds.
No Chief Executive can be expected to possess all of the information and knowledge they could possibly need to make a decision. This is even more true of the President of the United States, who at any given time may be required to deal with foreign policy issues from the far corners of the world, complex economic and fiscal issues, issues regarding health care policy, agriculture, or education, and a whole host of other areas, including many that likely can't even be anticipated at this point. This is why there are dozens of advisers working in the White House alone, not to mention the vast army of expert in the Cabinet Departments, the military, and the Federal bureaucracy. Additionally, more often than not, the people who a candidate is consulting while running for office end up being the core of the group of advisers that follow them into office. That's why the question of who might be advising a candidate in a particular policy field is an important question that candidates can be expected to be asked during the course of the campaign Why Trump is refusing to tell people who might be advising him on foreign policy matters, and then providing such a flippant response to the question, is unclear. At the very least, though, one can assume that either he thinks the list of advisers would hurt him in some way, or a real answer to the question would reveal that he still isn't approaching this process seriously even as he stands on the precipice of becoming the Presidential nominee of a major political party. The media ought to continue pressing him on this issue until he provides a straight answer.