No, We Shouldn't Use The No-Fly List To Decide Who Can't Buy A Gun
The no-fly list is a flawed, arbitrary mess that has kept innocent people from flying for years. Using it to deny people rights recognized by the Constitution is, quite honestly, insane.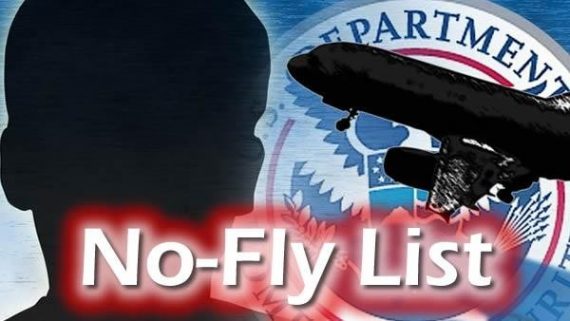 In the wake of the shootings in Colorado Springs and San Bernardino, the President, Democrats in Congress, and others have once against focused on the issue of making changes that would strengthen the nation's gun control laws and somehow stop the rash of mass shootings, which have not been as prevalent as some would have us believe, and gun violence, which has actually declined substantially over the years notwithstanding the media coverage that makes it seem otherwise. One of the proposals that seems to be gaining traction this time, no doubt because it has been poll-tested, is the idea of adding people on various no-fly and terror watch lists from legally purchasing firearms, an idea which President Obama seems to be self-evidently valid:
WASHINGTON, D.C. – President Obama is moving cautiously toward acknowledging that radical Islamist-inspired terrorism could be a motive for the mass shooting in California this week.

The president also used his weekly radio address to urge Congress to close what he called a "no fly" gun loophole.

The president said people on Transportation Security Administration's (TSA) "no fly" list can walk into a gun shop and buy a gun.

"If you're too dangerous to board a plane, you're too dangerous to buy a gun," the President said.
Notwithstanding the President's argument, the Senate rejected the idea when it voted on a number of gun control proposals on Thursday:
The fallout from the murders this week in San Bernardino and at a Colorado Planned Parenthood clinic before that has followed the usual script: House Speaker Paul Ryan, R-Wisconsin, has pushed legislative efforts to improve mental health care; Democrats have offered measures to tighten rules governing the accessibility of guns.

Among them: an attempt by Sen. Diane Feinstein, D-California, this week to deny firearms and explosives to people on the Justice Department's consolidated Terrorist Watch List.

This is a database created after 9/11 of people either known or suspected to be involved in terrorism. Among other roadblocks, it adds them to the government's no-fly list, barring them from boarding an airplane. The George W. Bush administration supported a similar effort.

The GAO has found that between 2004 and 2010, about 91 percent of the gun purchases by people on the watch list went forward.

Feinstein has offered the legislation before and it met a similar fate this week, losing 45-54.Every Democrat but one – Sen. Heidi Heitkampf of North Dakota ‑ voted for it, while every Republican but one – Sen. Mark Kirk of Illinois, who is facing a tough re-election next year in a blue state – voted against it.

Feinstein blamed the defeat on the politically powerful National Rifle Association, which has opposed her measure in the past over the constitutional right to bear arm.

"If you need proof that Congress is a hostage to the gun lobby, look no further than today's vote blocking a bill to prevent known or suspected terrorists from buying guns and explosives," Feinstein said after the vote. "If you're too dangerous to board a plane, you're too dangerous to buy a gun."

Sen. John Cornyn, R-Texas opposed her bill, arguing that it was unconstitutional. He offered an alternative that would authorize the attorney general to call for a three-day delay in a gun purchase by someone on the watch list and then a ban if deemed necessary. That also was defeated.

Critics argue that the watch list can wrongly include people and that banning anyone on it from purchasing a gun would violates their Second Amendment rights.

Republican presidential hopefuls Ted Cruz of Texas, Marco Rubio of Florida, Rand Paul of Kentucky and Lindsay Graham of South Carolina all voted against the Terrorist Watch List measure.
On the surface, the idea that people who are on a list that says that they cannot fly on an airplane that was created in the wake of the September 11th attacks are not barred from legally purchasing a weapon is one that likely doesn't make a lot of sense to most Americans. After all, if the government believes for some reason that it's too dangerous to let you on a airplane, then surely you should be considered too dangerous to own a firearm. The problem with this analysis is that it both mistakes the purpose of the no-fly list and makes assumptions about the accuracy of that list and the process by which someone gets on it that aren't necessarily true. As a result, what the President, Senate Democrats, and others are essentially saying is that a flawed list that was created for purposes that have nothing to do with gun control or national policy toward guns, and which has a process for determining who gets put on the list that the government refuses to reveal should be used to deny people recognized Constitutional rights as if they were equivalent to felons with violent criminal records or others who have demonstrated quite clearly that they should be barred from owning weapons legally.
Virtually from the time that it was established in the wake of the September 11th attacks, there have been reports about people who quite obviously have no connection to terrorism or criminal activity finding out that they've been put on the mysterious list that bars people from flying, often not learning this fact until they've actually arrived at an airport and tried to get on an airplane. Indeed, a Google Search for "no fly list false positives" reveals some 65,000 entries that include links to such accounts, and the long, convoluted, and difficult process that a person who obviously shouldn't be on the list must go through to get taken off the list, or just accept the fact that if they want to get anywhere they'll have to find some alternate means of transportation. While the government is still quite secretive about how one might get on the list, it's clear from what we do know that it does not take very much, and that raises questions about not only the list itself but also the appropriateness are using it for anything other than air travel monitoring. In a piece from July 2014, for example, The Guardian's Spencer Ackerman describes the various ways that a person could potentially end up on a list barring them from getting on an airplane. It would surprise many people, I think, to learn that what you post on social media could result in one getting put on the list, as could having been charged with a crime even if you are acquitted of all charges. Ackerman also notes that the standard by which someone ends up on the list falls far below probable cause or even reasonable suspicion that one may be a threat and, in the end, it almost seems as if the entire list is arbitrary. In a second piece that was posted at The Guardian earlier this year, Ackerman notes that the government has admitted in recent litigation that it uses so-called "predictive assessment" to put people on the list rather than any hard evidence, and there doesn't seem to be much of any investigatory follow-up to determine if the assessment has merit. A July 2014 piece from The Huffington Post has a similar description of how the list is compiled and how one can end up on it, and notes that even just an anonymous tip from someone that isn't followed up on could be enough to get someone on the list. Among other things you'll find in that Google Search I noted above are numerous tales of people wrongfully put on the list who were forced to go through the long process of trying to get off of it, including a report from The Nation about two peace activists who discovered they were on the list when they tried to travel from San Francisco to Massaschusetts for a family visit. Not surprisingly, all of this has led to numerous lawsuits, including one in which a Federal District Court Judge in Oregon found last year that the process for getting off the no-fly was unconstitutional because, among other things, it failed to provide the due process rights guaranteed by the Constitution.
Given all of these issues over the years, the idea of expanding the no-fly list to allow its use for purposes other than controlling and monitoring air travel raises some rather obvious concerns.
For example, Paul Heroux, a Democratic State Representative in Massachusetts, wonders if we expand the use of the no-fly list to gun purchases then what shouldn't it be applied to, and notes that a lot of the proposals we're hearing right now seem to be grounded more in fear than logic and reason:
Along these lines of thinking, if this is good policy – and I am not yet sure if it is – should we also deprive someone who is on the no fly list welfare benefits? What about public housing? What about access to public college education? Could denying these things to a suspect push them over the edge to become a criminal?

If it is acceptable to deny someone innocent a firearms ID because it comes at the greater good of justice, along these lines of thinking, how about deprive them the right to appeal their placement on the no fly list? Would we torture suspects on the no fly list for information about ISIS or al Qaeda even if we are increasing the odds we are going to include someone who is a false positive and should not be on the no fly list?

This line of thinking is not unlike the question about getting rid of the death penalty because we may execute one innocent person.

Do we start depriving citizens of due process because we are afraid of what others might do?

(…)

As of right now, terrorists are winning. Terrorism is about causing terror or severe crippling fear. Terrorism is the deliberate use of violence of threat of violence intended to cause fear for political purposes.

But alas, we can't be a virtuous righteous nation only when it is easy and convenient, or when we are not afraid. We can't claim to be free but then violate Fourth Amendment rights, or Second Amendment rights, or the Eighth Amendment, or any other rights when we are afraid. If we deny rights when we are afraid we are not free from fear or the terrorist.

I am not concerned about who is or isn't on the no fly list; lists can and are often wrong. But I do want to keep guns out of the hands of people who will abuse them. I'm not sure if a list created from unknown methods that has proven to be wrong on many occasions is a good way to achieve that.
Eugene Volokh, meanwhile, argues quite convincingly that bills like the one Senator Feinstein is backing are arguably unconstitutional:
The Feinstein proposal would have provided that the government could bar gun sales to a person if two conditions were met:

"the Attorney General" "determines that the [buyer] is known (or appropriately suspected)" to have been involved in terrorism-related conduct "or providing material support support or resources for terrorism," and

if the Attorney General "has a reasonable belief that the [buyer] may use a firearm in connection with terrorism."

That's a very low bar — denial of a constitutional right based on suspicion (albeit "appropriate[]") about a person's connections, and belief (albeit "reasonable" belief) about a person's possible future actions. Indeed, most of the time this would come into play only as to people for whom the government doesn't have proof of terrorist activity. If the government had proof, presumably the people would be prosecuted. (If the government has proof but isn't prosecuting because it hopes that quietly watching them would help catch more or bigger fish, then barring gun purchases would be a bad idea, since that would alert the person to the government's plans.)

I can't see how that's constitutional. And though the bill would have let the buyer go to court to challenge the attorney general's decision, the attorney general would simply have had to show by a preponderance of the evidence that the two elements were satisfied — that the attorney general appropriately suspected the buyer and that she had a reasonable belief about what the buyer may do. Plus the evidence supporting the attorney general's position might never be shared with the buyer, which may make it impossible for the buyer to fairly challenge it, or aired in open court.

The "no-fly" list itself can be criticized on these grounds; see this article at Reason (Scott Shackford) or the ACLU's critique. Courts have been hearing challenges to that list.

But the problem would be even more serious when we're dealing with the denial of an explicitly guaranteed constitutional right, and not just the denial of the admittedly very important ability to fly on airplanes.
The arguments that both Volokh and Heroux strike me as being quite persuasive. As I said above, the idea that someone who has been deemed 'too dangerous to fly' should also not be able to buy weapons has an intuitive ring to it that seems correct. That's why I suspect that polling on the issue would show that most Americans support the idea. The fact, however, that we have learned quite clearly over the past fourteen years that the 'no fly list' is riddled with errors and inaccuracies, that one can end up on the list because of mistake or due to seemingly innocuous activity, that there is no notice provided to American citizens who are put on the list that this has happened to them and no opportunity given to prevent that from happening, that most of them time people do not find out they have erroneously been put on the list until they actually get on an airplane, and that the process to get off the list is convoluted, seemingly arbitrary, and lacking in due process, argues strongly against using this list for any purpose other than the one it was created for. Additionally, it's worth noting that The  and thus would not have been impacted by the proposal that President Obama and Senator Feinstein are making. All of these criticisms, of course, raise questions about whether the no-fly list in its current form is proper to begin with, but that is a different issue for another day. For the purposes of this argument, though, advocating the use of such an inherently flawed process to deny innocent American citizens their rights is little more than demagoguery and suggests that the people backing it, including the President of the United States, are not serious about addressing a problem but instead interested in scoring political points.