Donald Trump Doesn't Know Much About Foreign Policy
In an interview, Donald Trump reveals that when it comes to foreign policy he has no idea what he's talking about.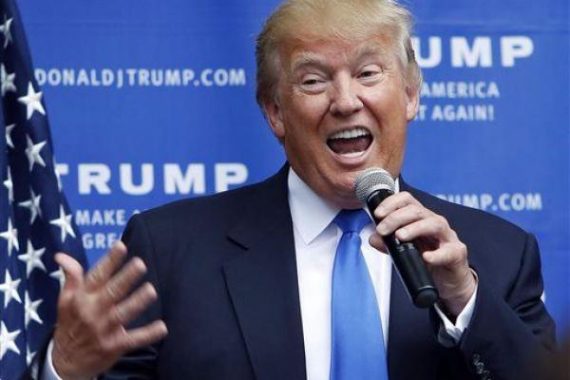 During a interview last night with conservative talk radio host Hugh Hewitt, Donald Trump demonstrated what can only be called an appalling lack of knowledge about foreign policy issues:
Donald J. Trump revealed gaps in his mastery of international affairs during a radio interview on Thursday, appearing to mistake the Quds Force, an Iranian military group, for the Kurds, a Middle Eastern people, and growing testy over questions about foreign leaders.

"You're asking me names that — I think it's somewhat ridiculous," Mr. Trump told Hugh Hewitt, a popular conservative radio show host. "As far as the individual players, of course I don't know them. I've never met them. I haven't been, you know, in a position to meet them."

At one point, Mr. Hewitt asked Mr. Trump if he was familiar with Gen. Qassim Suleimani, the shadowy commander of Iran's paramilitary Quds Force.

"Yes, but go ahead, give me a little, go ahead, tell me," Mr. Trump replied.

"He runs the Quds Forces," Mr. Hewitt said.

"Yes, O.K., right," Mr. Trump said.

But Mr. Trump seemed to think Mr. Hewitt was referring to the Kurds, a group with its own language and culture.

Mr. Trump asserted that "the Kurds, by the way, have been horribly mistreated."

Mr. Hewitt interrupted. "No, not the Kurds, the Quds Forces, the Iranian Revolutionary Guards Quds Forces."

Mr. Trump tried to recover from the live, on-air tutorial. "Yes, yes," he said.

He added, "Oh, I thought you said Kurds, Kurds."

Mr. Trump, a real estate developer and brand manager who has never worked in government, has relatively little experience dealing with foreign governments. But he has boasted of his global reach and international experience as a businessman.

Mr. Hewitt said he was not interested in "gotcha" questions but wanted to be sure Mr. Trump had a baseline of knowledge about foreign leaders.

"On the front of Islamist terrorism, I'm looking for the next commander in chief to know who Hassan Nasrallah is, and Zawahiri, and al-Julani, and al-Baghdadi. Do you know the players without a scorecard, yet, Donald Trump?" Mr. Hewitt asked.

Mr. Trump's answer was strikingly dismissive. "No, you know, I'll tell you honestly, I think by the time we get to office, they'll all be changed. They'll be all gone."
Here's the interview:
Trump, of course, responded to his embarrassing performance the way he always does, by attacking the person asking the questions and accusing Hewitt of asking "gotcha" questions. In reality, of course, these are questions about the details of some of the most important foreign policy issues facing the country that anyone purporting to run for President should at least have basic understanding of. Perhaps the best demonstration of that came later in the evening when Hewitt interviewed Trump's fellow Republican candidate former Hewlett-Packard CEO Carly Fiorina and she, at the very least, was able to demonstrate a fairly well-educated grasp of the issues and the parties involved in the war on ISIS and other foreign policy questions that Trump stumbled over. Fiorina, of course, has no more practical experience with foreign policy than Trump does, the difference is that she seems to have obviously taken the time to educate herself about the issues to be able to speak intelligently about them. Trump. on the other hand, speaks in vague generalities using slogans while simultaneously calling everyone who's running against him, including people who quite obviously known a lot more about these subject then does, "idiots" and "fools." This is fairly consistent for Trump, of course, whose campaign to date has largely avoided specifics on most issues beyond presenting an immigration plan that even more Republican analysts agree is little more than pie-in-the-sky nonsense
The reality, of course, is that something like this is not likely to deter the true believers among Trump's supporters. His entire campaign over the past two months has been nothing but slogans, insults, and vague generalities. During the performance at the August 6th debate, Trump gave no indication of where he stood on any real policy specifics beyond the same vague generalities that we've been hearing from him all along. Throughout this time, political pundits, including many on the right, and some of Trump's opponents have been bringing attention to Trump's lack of specifics and the fact that he doesn't demonstrate much of a grasp of how either domestic politics or foreign policy actually work. Despite all of that, his poll numbers continue to rise. In a new Monmouth University poll released yesterday, Trump is at 30% nationally and has a 12% lead on his closest competitor, Dr. Ben Carson. In the RealClearPolitics average, Trump is now at 27.2% and has a 14 point lead over Carson. None of the other candidates are even in double digits. In the Huffington Post's Pollster average, which measures a broader range of polls, he is at 32.5%, nearly 20 points ahead of Carson with no other candidates besides Carson in double digits. As with his comments about Mexicans, John McCain, and Fox News host Megyn Kelly, Trump's supporters, and a significant part of the Republican, obviously don't care that Trump does not have a clear grasp on policy, so it's unlikely that this latest incident is going to have that much of an impact on his standing in the polls.
Trump's encounter with Hewitt yesterday, which was not the first time he'd appeared on the show, is made more interesting by the fact that Hewitt will be among the people asking questions at the September 16th debate at the Reagan Library. Joining Hewitt will be CNN's Jake Tapper and Dana Bash. Just as the first debate focused on many on the inevitable questions about Trump that has surfaced since he had entered the race, it's likely that we'll get questions in the second debate that are more focused on the policy issues. Trump's opponents will also likely seek to contrast themselves with him by demonstrating a knowledge of policy areas that we're unlikely to see from him even if he does prepare for this debate. In the end, though, it's not at all clear if Republican voters will care. The base of the Republican Party has hitched its star to Donald Trump, regardless of his past record of supporting policies more at home in the Democratic Party, his inconsistencies, his questionable record, his habit of insulting anyone who dares to ask him a question, or the fact that he clearly doesn't know what he's talking about once you start asking him specifics. It seems unlikely that they're going to abandon him now. What that says about the Republican Party in 2016 is something I'll let the reader conclude on their own.